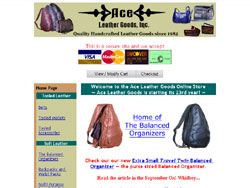 Ace Leather Goods
Gordy's approach to web design is a welcome breath of fresh air. He is almost rogue is his belief that simple is better, and has proven to us that it is true. He looks at building a website as a process that is on going, not an event that happens once. He is straightforward in what he says he will do. He breaks the design process up into manageable stages that are easy to understand and get done. Our experience with him is that he finds out what our vision for our site is, helps to separate it out into stages, gives us a price quote on how much each stage will cost, then keeps us on task to make sure that it gets done in a timely manner.
We have had an amazing amount of feedback from customers that find our site to be one of the easiest they have found to maneuver through.
Andrew and Kathleen Gilkerson
Ace Leather Goods, Inc.