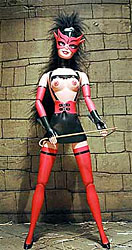 barbies from hell
Ooh, Barbie, that's no way to treat a lady
IT'S ENOUGH TO make Barbie and her long- serving boyfriend, Ken, blush with embarrassment.
These dolls are her unofficial new cousins - but would look more at home in a sado-masochist's dungeon than in a girl's bedroom.
They were created by British artist Susanne Pitt, who has just won a New York court battle over copyright against US toy giant Mattel for the right to sell her creations.
[more]
thanks to follow me here...