let there be light
More excuses for letting life get in the way of blogging. There, that is out of the way. I did make an improvement on the light I can carry around. I had been using my venerable Vivitar 283. For a small package, it does put out light.
But, in the end, it's still a flash meant to go on a hotshoe and isn't as powerful as I need. So the FlashMaster™ now is sporting a Metz 45 CL-1.
Quick action on a post on Large Format Forum scored this beauty. (I noticed I had forgotten to attach the flash cord for these pictures.) It has light. It's good for 150 feet at ISO 100 and over 400 feet with ISO 400 film loaded. In addition to throwing out some serious light, it has a lot of other features that make it very useable. The top of the head had two lugs for attaching a neck strap.
The base plate also has a lug for attaching a neck strap. This lets the camera/flash unit balance nicely. The base plate is wide enough to hold the camera steady. The base plate is also detached easily from the flash.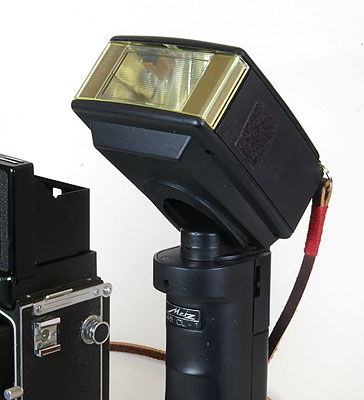 Like many flashes the head rotates up to vertical for bounce flash.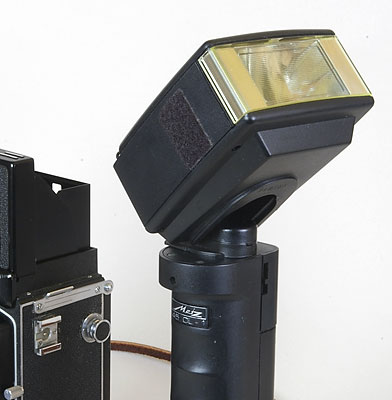 Unlike many flashes the head also rotates around a full 360 degrees so you can bounce flash from behind. It takes 6 AA batteries in the base of the handle. It also has numerous battery accesories inlcuding a battery pack. The AA batteries will give 100 full power flashes and up to 2,000 flashes at partial power. A twin lens reflex and a hand-held flash gun is a pretty powerful tool.