movie recommendation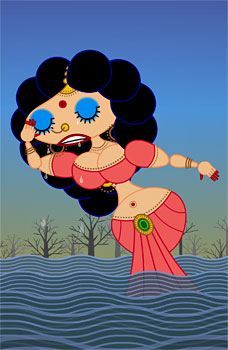 Sita Sings the Blues
This is the best movie you can't see. Well, you can't see it if you only see your movies in movie theaters. This is an independent animation of the Ramayana, along with a bit of autobiography. Nina Paley spent 5 years doing this on her home computer. Disney should be envious. You can't see it because of copyright restrictions on songs Annette Hanshaw sang in the 1930s in a case of copyright protection gone wrong. But you can see it online and you can buy a DVD from Nina. I highly recommend it. So does Roger Ebert.



Having a wonderful time, wish you could hear
by Roger Ebert
"It hardly ever happens this way. I get a DVD in the mail. I'm told it's an animated film directed by "a girl from Urbana." That's my home town. It is titled "Sita Sings the Blues." I know nothing about it, and the plot description on IMDb is not exactly a barn-burner: An animated version of the epic Indian tale of Ramayana set to the 1920's jazz vocals of Annette Hanshaw. Uh, huh. I carefully file it with other movies I will watch when they introduce the 8-day week.
"I get an e-mail from Betsy, my old pal who worked with me on The News-Gazette. "Did you see the film by the mayor's daughter?" This intrigues me. The daughter is named Nina Paley. I do a Google run and discover that Hiram Paley was mayor from 1973-1977. I am relieved. This means the "girl" probably didn't make the film as a high school class project. In fact, by my rapid mathematical calculations, she may have been conceived in City Hall. I used to cover City Hall. Worse things have happened there.
"By this point, I'm hooked. I can't stop now. I put on the DVD and start watching. I am enchanted. I am swept away. I am smiling from one end of the film to the other. It is astonishingly original. It brings together four entirely separate elements and combines them into a great whimsical chord. You might think my attention would flag while watching An animated version of the epic Indian tale of Ramayana set to the 1920's jazz vocals of Annette Hanshaw. Quite the opposite. It quickens. I obtain Nina Paley's e-mail address and invite the film to my film festival in April 2009 at the University of Illinois, which by perfect synchronicity is in our home town.
"To get any film made is a miracle. To conceive of a film like this is a greater miracle. How did Paley's mind work? She begins with the story of Ramayana, which is known to every school child in India but not to me. It tells the story of a brave, noble woman who was made to suffer because of the perfidy of a spineless husband and his mother. This is a story known to every school child in America. They learn it at their mother's knee. Paley depicts the story with exuberant drawings in bright colors. It is about a prince named Rama who treated Sita shamefully, although she loved him and was faithful to him.

"Of course there is a lot more to it than that, involving a monkey army, a lustful king who occasionally grows 10 heads, synchronized birds, a chorus line of gurus, and a tap-dancing moon. It coils around and around, as Indian epic tales are known to do. Even the Indians can't always figure them out. In addition to her characters talking, Paley adds another level of dialogue: Three voice-over modern Indians, ad-libbing as they try to get the story straight. Was Sita wearing jewelry or not? How long was she a prisoner in exile? How did the rescue monkey come into the picture? These voices are as funny as an SNL skit, and the Indian accent gives them charm: "What a challenge, these stories!" "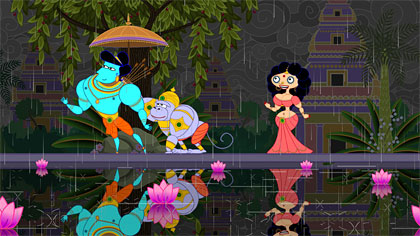 Rama, Hanuman the Monkey Warrior, and Sita
The Sita Sings the Blues website has information on where you can download copies of Sita Sings the Blues.



"I hereby give Sita Sings the Blues to you. Like all culture, it belongs to you already, but I am making it explicit with a Creative Commons Attribution-Share Alike License. Please distribute, copy, share, archive, and show Sita Sings the Blues. From the shared culture it came, and back into the shared culture it goes.
"You don't need my permission to copy, share, publish, archive, show, sell, broadcast, or remix Sita Sings the Blues. Conventional wisdom urges me to demand payment for every use of the film, but then how would people without money get to see it? How widely would the film be disseminated if it were limited by permission and fees? Control offers a false sense of security. The only real security I have is trusting you, trusting culture, and trusting freedom."
Or you can see the whole thing on YouTube: Sita Sings the Blues
The best bet is to order a DVD through the website and watch it on a High Def TV. Beautiful!! Let's hope the copyright restrictions are taken care of (= lots of money) and it can be released so that we can see it on the big screen.