Archives
pen and ink
I like fountain pens and wood pencils. What can I say, I'm an old fashioned kind of guy. That and fountain pens and good wood pencils just feel good. I've posted recently about my pencils and pencil sharpener but not about my fountain pen. That's because it's been lost.
It's a Rotring 700 and I found it again. I must have bought it it the early 1990s. It wasn't cheap, but it's built like a tank. It would disappear for months or years at a time. It must go on walkabouts. Then I would find it in a drawer or box and start using it again. The only problem was that it has a broad nib. I don't know why I got a broad nib but it's really to broad for me know. I've been using a Pilot G2 rollerball, which is the most satisfying of the ball points but it is no fountain pen. I wanted a finer tip fountain pen so I went googling for fountain pens. I quickly found the "worlds most wanted pen": the Parker 51. And a beauty it is. Smooth and sleek with a hooded nib. So streamilined. So 1940s.



A Parker 51 Fantasy Trip - Part 1

The Parker 51 was introduced to the world in 1941, a pen that would herald the modern age of the fountain pen and a pen that would be emulated and outright copied ever since. Truly one of the watershed designs, the Parker 51 is one of the most recognizable products ever made.

The hooded nib design was such a radical change from traditional open nibs, that virtually every other pen manufacturer followed suit with something similar. The design's influence continues in many

Parker chose the name "51" both as the anniversary of the company's 51st year, and as a global brand name that would not require translation. The 51 remains one of the longest continuing production designs, with the original Vacumatic filling pen being produced until 1948, the original Aerometric design produced until 1969, and a final squared ended design, similar to the Parker 61 produced until 1972.


[more]
A Parker 51 Fantasy Trip - Part 2


A Parker 51 Fantasy Trip - Part 3



| | | |
| --- | --- | --- |
| | THE PARKER "51" is considered by most collectors to be the best pen ever made. Developed in 1939 and introduced in the U.S. market in 1941, it soon became widely imitated by most pen manufacturers. None were successful to any significant degree in competing against the famed Parker "51". To this day, its shape and design remain widely recognizable and it seems to never become dated. My main collecting interest is the Parker "51" and its many variations, from pre-production varieties all the way to the last U.S. models produced around 1972. My pursuit includes its history and advertising ephemera. I became fascinated with the Parker "51" in the mid-1990's. Although my collection is continually growing, I will probably never own every specimen ever made. I use a Parker "51" every day, modified to fit my taste, such as a custom Torelli-made hand hammered copper cap with a smooth fine nib (I write a lot of numbers for a living...) or a "51 Imperial" converted from an original Parker Vacumatic, with a stub nib (for those million dollar contracts...) | |
[more]
I eBayed for a Parker 51 but they are more expensive than I could afford and I had questions of using an old pen. Then I ran across a less expensive copy of the Parker 51, the Parker 21.



I eBayed for a Parker 21 and the prices were what I was looking for but I didn't want to end up with an old pen that might need work. Fortunately, I found a new alternative, the Hero 100.



| | | |
| --- | --- | --- |
| | The two samples, a Hero 616 and Hero 100, are both Aerometric type copies of the Parker 51. These are older models, and may no longer be in production. I was able to try out both of them extensively as daily users and compared them with two Parkers, a black and a Flighter Aerometric. This gave me the chance not only to review the pens, but also compare them to the original. | |
[more]
eBaying for a Hero 100 showed prices as low a $20 which was tempting but I ran across a couple of mentions of an inexpensive version of the Hero 100: the Hero 329.



| | | |
| --- | --- | --- |
| | Both are nice modern copies (homages?) of the Parker 51. My reference information (buy them here and here) says that the original Parker factory closed, and the Hero pen factory opened using the same equipment, which explains why they are so similar. Of course, this may be incorrect, but I believe it to be at least somewhat reliable. Both pens are black with lustraloy look-alike caps. Both use aerometric fillers, and both have hooded nibs. Also both are inexpensive, with the 100 retailing for under $25, and the 329 retailing for $5. | |
[more]
| | | |
| --- | --- | --- |
| | Hero '329′ was a fountain pen my family brought over from Vietnam. I used the jet black from 1990-1993. I dropped it on the hard concrete floor of the studio. The nib chipped and the top of the barrel cracked. It pains me to this day when I think how clumsy I was and still am to some extent. The hero was my constant companion. I wrote with it, sketch with it. | |
[more]
I eBayed for a Hero 329 and found them for $9. I bought one from waimar in Hong Kong. It came to $15 with shipping.
It arrived a couple of days ago and I love it. It arrived with a nice hand written note thanking me for the purchase and noting that they also had a website: Waimar Gift Land. (They have some nice Mao pins.) Someday I might splurge for a Hero 100 but the inexpensive Hero 329 does what I want a pen to do. And, if it goes on a walkabout, it won't cost an arm and a leg to replace.
It's a much finer point than the Rotring 700.
I've had this bottle of ink for several years. It has a reputation for being the blackest ink for fountain pens. Googling for Aurora ink will find you many places to buy it. Good stuff.
I have a bunch of Pilot G2 pens I don't need anymore.
oil
Oil Hits $100 a Barrel for the First Time

Oil prices briefly reached $100 a barrel on Wednesday, a long-awaited milestone in an era of rapidly escalating energy demand and tightening supplies.

Crude oil futures for February delivery hit $100 on the New York Mercantile Exchange shortly after noon when a single trader bid up the price by buying a modest lot and then sold it immediately at a small loss. Prices eased somewhat in later trading, settling at $99.62.

But while the trader was apparently looking for vanity bragging rights, the spike in crude prices of $3.64 for the day reflected deeper worldwide trends, including the surge in energy demand from China, India and the oil-producing countries themselves.

"We're starting the year with a bang," said Fadel Gheit, senior energy analyst for Oppenheimer & Company. "It's the same usual suspects: the bad, bad world out there, a cold winter and declining oil inventories."

The immediate impetus for the price rise appeared to come from an attack by rebels in the Nigerian oil center of Port Harcourt and rough weather in the Gulf of Mexico that slowed Mexican oil exports.


[more]
This is old news, being a week old. The price has fallen back down to $96.64. It will only be a matter of time when it stays over $100.
photography
[more]
thanks to Conscientious
global climate change

IT MAY be time to stop describing south-eastern Australia as gripped by drought and instead accept the extreme dry as permanent, one of the nation's most senior weather experts warned yesterday.

"Perhaps we should call it our new climate," said the Bureau of Meteorology's head of climate analysis, David Jones.

He was speaking after the release of statistics showing that last year was the hottest on record in NSW, Victoria, South Australia and the ACT.

NSW's mean temperature was 1.13 degrees above average. "That is a very substantial anomaly," Dr Jones said. "It's equivalent to moving NSW 150 kilometres closer to the equator."

It was the 11th year in a row NSW and the Murray-Darling Basin had experienced above normal temperatures. Sydney's nights were its warmest since records were first kept 149 years ago.

"There is absolutely no debate that Australia is warming," said Dr Jones. "It is very easy to see … it is happening before our eyes."

The only uncertainty now was whether the changing pattern was "85 per cent, 95 per cent or 100 per cent the result of the enhanced greenhouse effect".


[more]
thanks to Politics in the Zeros
music
Hallelujah Chorus Nuns
housing
Record 10,700 homes lost in '07
Lee foreclosures may get worse, experts say

A record wave of foreclosures in 2007 crested in the last three months of the year — but experts warn the worst may still be yet to come.

The monthly numbers were leveling off as the year ended, but that may not last.

"I think that's just the lack of productivity because of the holidays," said mortgage broker Jeff Tumbarello of Network Funding Solutions in Fort Myers. "I think there's a glut of foreclosures; the system just can't file them."

For the year, there were a record 10,700 in Lee County, according to statistics released Thursday by the Southwest Florida Real Estate Investors Association. That's compared to 3,923 in 2006, according to records.

December saw 1,441 foreclosures, including 433 on homes that were the primary residence for a family. For the year, there were 7,324 single-family foreclosures. That's 4 percent of the county's 180,305 single-family homes.

Most of the year's foreclosures were filed since August, Tumbarello said. Prior to that, the monthly numbers were in the hundreds.


[more]
thanks to Politics in the Zeros



Bob Morris had interesting comments to make on the above article:

That wave is nowhere near creating, as millions of ARM resets come due this year, which means sharply higher mortgage payments for those whose home is no doubt dropping in value too. Many will walk away from the house, either voluntarily or involuntarily.

So, what happens to communities like Fort Meyers when huge numbers of foreclosures tanks their real estate market and economy? Blocks and blocks of mostly vacant homes and a city government no longer able to provide basic services because the tax base evaporated are some obvious results. This will trigger a further exodus of residents and businesses, making things even worse.

I genuinely think we will be seeing dead towns as a result of the real estate collapse. What happens when large numbers of people lose their homes? Where do they go? Will we have any real safety nets for them to bounce off of?


[more]
music
Sony BMG Plans to Drop DRM
The last major label will throw in the towel on digital rights management and prepare to fight Apple for valuable download revenues

In a move that would mark the end of a digital music era, Sony BMG Music Entertainment is finalizing plans to sell songs without the copyright protection software that has long restricted the use of music downloaded from the Internet, BusinessWeek.com has learned. Sony BMG, a joint venture of Sony (SNE) and Bertelsmann, will make at least part of its collection available without so-called digital rights management, or DRM, software some time in the first quarter, according to people familiar with the matter.

Sony BMG would become the last of the top four music labels to drop DRM, following Warner Music Group (WMG), which in late December said it would sell DRM-free songs through Amazon.com's (AMZN) digital music store. EMI and Vivendi's Universal Music Group announced their plans for DRM-free downloads earlier in 2007.


[more]
thanks to Politics in the Zeros
[cue Happy Days Are Here Again] I've been a long subscriber to eMusic, which sells MP3s that have no digital rights management. They can be played on any MP3 player. Most of what they have are from independent labels. Now Amazon is selling MP3s without digital rights management from the major labels. eMusic charges $.33 a track and Amazon seems to charge $.89 and $.99 per track with discounts on albums. Led Zeppelin IV for $7.72. Not only is DRM dead but CDs must be an endangered species.
words
The essential exchange of the New Hampshire Democrats' debate
by James Fallows

Then, after an appeal by John Edwards to the Teddy Roosevelt tradition of head-on trust-busting, this response from Obama:

Look, I think it's easier to be cynical and just say, "You know what, it can't be done because Washington's designed to resist change." But in fact there have been periods of time in our history where a president inspired the American people to do better, and I think we're in one of those moments right now. I think the American people are hungry for something different and can be mobilized around big changes -- not incremental changes, not small changes....

[T]he truth is actually words do inspire. Words do help people get involved. Words do help members of Congress get into power so that they can be part of a coalition to deliver health care reform, to deliver a bold energy policy. Don't discount that power, because when the American people are determined that something is going to happen, then it happens. And if they are disaffected and cynical and fearful and told that it can't be done, then it doesn't. I'm running for president because I want to tell them, yes, we can. And that's why I think they're responding in such large numbers.

Of course each of them was right. Each expressed part of the job of a president, or any leader. Words and deeds. Talk and action. Poetry and prose. Presidents obviously do best when they can do both.

But only Obama captured what is unique about a president's role. A President's actions matter -- Lyndon Johnson with his legislation, Richard Nixon with his opening to China -- but lots of other people can help shape policies. A President's words often matter more, and only he -- or she -- can express them. Grant led the Union Army, but Abraham Lincoln, in addition to selecting Grant, wrote and delivered his inaugural and Gettysburg addresses. Long before Franklin Roosevelt actually did anything about the Great Depression, his first inaugural address ("the only thing we have to fear...") was important in itself. The same was true of Winston Churchill just after he succeeded Neville Chamberlain. It would be years before the Nazi advance would be contained, but Churchill's words and bearing were indispensable to Britain's recovery.


[more]
thanks to Bad Attitudes



Fallows and Obama are right. Words do matter. Roosevelt was before my time but his "We have nothing to fear but fear itself." must have electrified the country at the height of the depression. I know it affects me now. I do remember John Kennedy's "Ask not what your country can do for you; ask what you can do for your country." I was a Senior in High School. It was an inspiration to a whole generation. Yes, now we know what a terrible womanizer he was, that he was very ill, and probably headed for a failed Presidency; had he not been shot. But those words still hold true and still raise metaphorical goosebumps. We are in sore need for words and change. Edwards is my choice but we could do a lot worse, and are, than Obama, who knows how to rally people behind him. Bring on the words! It's been so long, so long.
photography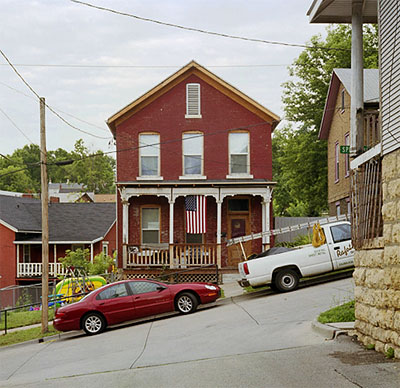 [more]