Archives
Stick Figures
Katie sent this to me. Caution—contains graphic adult content.
Why stick figures are extinct!
Weblogs
New blogs in my rotation. They have been added on the left. consumptive.org, DumbMonkey, (LILEKS) James : the Bleat, and MorfaBlog.
Goodnight.
Americana—With A Twist
I've linked to this before but he has redone his site and some old sections are gone while new sections have arrived.
Scenes from an alternate universe. The ad copy begins this way:
More "Family Cars" Park Here...
It's a pretty good sign, when you see a pram parade lined up outside a store, that mothers are inside doing a smart bit of shopping. --Life, 1950
This is the sort of image that makes no sense today, no sense at all. The idea that women would leave their kids outside the grocery store - well, you might as well send out invitations to all the creeps & tot snatchers. But obviously things were different in 1950, or this ad would have struck the majority of Life subscribers as ludicrous nonsense.
Good God!
Temple reveals secrets of the one God
Archaeologists believe they have uncovered origins of monotheism in northern Jordan
thanks to follow me here...
Grease Is Green
Greasel Diesel Engine Conversion Kit
If you want to run your diesel engine on alternative fuel, and want a simple alternative to Biodiesel, The Greasel conversion kit is for you.
The Greasel conversion kit is a ready-to-install kit that will allow you to run any diesel on free waste vegetable oil.
[read more]
Israel/Palestine
The carnage increases.
From intifada to war
Violence between Israelis and Palestinians is continuing to intensify. The Israeli government has again said it will step up military efforts to settle the conflict, which more and more resembles all-out war
Israel descends into chaos
· 40 Palestinians killed
· Five young Israelis shot dead
· Sharon vows escalation
Robert Fisk: Bush is doing nothing to stop Israel's immoral civil war
Much more in two Israeli papers.
Ha'aretz and The Jerusalem Post
Matter of Scale
U.S. military spending on the war in Afghanistan...
at least $2.5 billion
U.S. government spending on emergency humanitarian aid to Afghanistan...
$0.320 billion
Wholesale price, per pill, Bayer Corporation charges for the anthrax- fighting antibiotic Cipro...
$4.67
Approximate price that generic drugmakers say they could profitably charge for making the drug...
$0.40
thanks to Worldwatch
War Against Some Terrorists
From Suez to the Pacific
US expands its presence across the globe
Today, almost six months after the attacks on New York and Washington, the US is putting in place a network of forward bases stretching from the Middle East across the entire length of Asia, from the Red Sea to the Pacific.
US forces are active in the biggest array of countries since the second world war. Troops, sailors and airmen are now established in countries where they have never before had a presence. The aim is to provide platforms from which to launch attacks on any group perceived by George Bush to be a danger to the US.
[read more]
A Brief History of U.S. Interventions:
1945 to the Present
The engine of American foreign policy has been fueled not by a devotion to any kind of morality, but rather by the necessity to serve other imperatives, which can be summarized as follows:
* making the world safe for American corporations;
* enhancing the financial statements of defense contractors at home who have contributed generously to members of congress;
* preventing the rise of any society that might serve as a successful example of an alternative to the capitalist model;
* extending political and economic hegemony over as wide an area as possible, as befits a "great power."
This in the name of fighting a supposed moral crusade against what cold warriors convinced themselves, and the American people, was the existence of an evil International Communist Conspiracy, which in fact never existed, evil or not.
The United States carried out extremely serious interventions into more than 70 nations in this period.
[read more]
thanks to Fred Lapides at American Samizdat
Robert Fisk: America's morality has been distorted by 11 September
'It's as if all the lessons of history, in Afghanistan and the Middle East, have been tossed into a bin'
n Afghan fields, the poppies blow. Yes, even as the Americans are moving deeper into the Afghan trap, the warlords and gangsters running much of the western-supported Afghan government are ensuring a bumper new crop of heroin for the world's markets.
The UN have warned of this, of course, but nothing is being done. The "war against terror" comes first. The broken roads and highways of Afghanistan are now ribbons of anarchy and brigandage and murder across the country. The pathetic little force of peace-keepers in Kabul cannot control all of the capital, let alone the rest of the country. The Interim President, Hamid Karzai, can scarcely control the street outside his office. But the "war against terror" comes first.
[read more]
thanks to also not found in nature
And a couple of links on that great idea of invading Iraq.
Saddam's Real Opponents
What you don't know about the Iraqi opposition.
thanks to Cursor
Idea: Let's not invade Iraq right now
thanks to Dumbmonkey
Maps
Things have been a little busy lately. It's those pesky deadlines again. That and pretty pictures. Mark Woods, at wood s lot, mentioned this site. This is, without a doubt, just about the most amazing thing I have seen on the web.
The David Rumsey Historical Map Collection focuses on rare 18th and 19th century North and South America cartographic history materials. Historic maps of the World, Europe, Asia and Africa are also represented. The collection categories include old and antique atlas, globe, school geography, maritime chart, state, county, city, pocket, wall, children and manuscript maps. Genealogy and family history can be studied on the maps. The online collection is an expanding cross section of digital images designed to highlight the depth of the collection. The digital images and descriptive data are © Cartography Associates. Read more about the collection. New! Read Article about the collection.
New! 1012 new maps added December 15, 2001 to the David Rumsey Collection. Total maps online is now 6480. Read More
[read more]
The first amazing thing is that this dude obviously has a lot of money and likes to collect really cool maps.
The second amazing thing is that he wants everyone to see the collection and to be able to use it—for no charge. Emphasis on *use*.
You view these maps through a Java browser. Select the map and then you can zoom in to incredible levels of detail.
This is an 1866 map of Washington.
Now we are zoomed in to the area north of Seattle. That's Whidbey Island, where I live.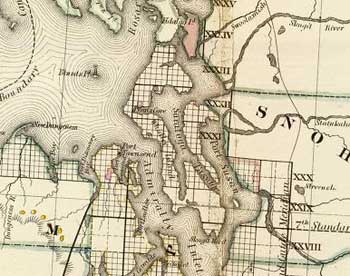 This is zoomed in all the way.
These maps really are works of art.
But wait! There's more! The have a new and improved Java browser that you can download that makes it easier to move around the maps and it lets you download high quality images. I downloaded the above map at the highest level of resolution. It was an almost 23mb jpeg file. Opening it in Photoshop expanded it to a 215mb file. *BIG!* You can see the texture of the paper. I just enlarged it to 100%, went full screen, and used the hand tool to wander around the map. Beautiful! The image expanded, at 72 pixels/inch, to 135 inches by 106 inches, or 9,779 pixels by 7,696 pixels. Lotsa pixels. It helps to have DSL and 512mb of RAM.
But Wait! There's More! They are just starting to take this to the next level. They are combining these old maps with satelite imagery.
GIS and Historical Maps from the David Rumsey Collection
New Feature! Introducing a special GIS (Geographic Information System) Browser that allows integration and interaction of historical maps with current geospatial data and other historical maps. Examination of the maps in GIS reveals changes in the history of the areas shown on the maps.
Eleven historical maps of the San Francisco Bay area from 1851 to 1926 from the David Rumsey Collection are now available for viewing in the GIS Browser. Additional historic maps of U.S. cities will be added in the near future, including New York, Boston, Washington, Los Angeles, and others.
The current geospatial data that can be overlaid and compared to the historical maps includes roads, lakes, parks, state boundaries, digital orthophotos (aerial photography), topographic mapsheets, digital elevation models and satellite imagery.
[read more]
I could go on but I have some maps to look at.
The More Snow Report
I don't think I will be doing any riding today. This is the biggest snow of the year. It isn't slowing down. Those in Buffalo may not be impressed but it doesn't take much for Puget Sounders to get excited.
Snow Report
This is March. It's snowing! It started two hours ago.
Art
Cellblock Visions
Prison Art in America
Phyllis Kornfield's book, Cellblock Visions, is a lively collection of inmate artwork, created behind bars, from county jail to death row – the alternative artworld flourishing today in American prisons. Men and women inmates, having no previous training, turn to art for a sense of self-worth, an opportunity to vent rage, a way to find peace.They transcend the cramped space, limited light, and narrow vistas of their prison studios. They triumph over security bans with ingenious resourcefulness - extracting color from shampoo – making paint out of M & Ms – weaving with cigarette wrappers. (...)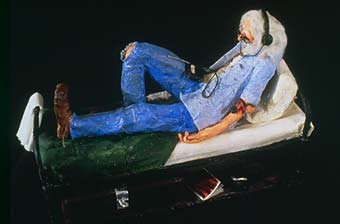 Dominic Vincenzo "Released by Death" toilet paper, acrylics
Released by Death is stamped on an inmate's final papers when the prison sends out his dead body. This old con secured his own release by overdosing on drugs. He goes out, at ease, listening to music on his walkman.
[read more]
thanks to Andrew Abb at American Samizdat
Read this one quickly too—they rotate their articles and don't archive—really a bummer.
West of Eden
Scott Greene: Complex Intentions in a Spirit of Romanticism
In West of Eden, painter Scott Greene makes use of 19th century Romanticism to challenge the ambiguities inherent in our contemporary (American) human experience. Often witty, sometimes tragic, Greene creates a language of illusion that gives new context and meaning to notions of beauty in relation to nature.
Nomad Cow
oil on canvas 20.5" x 28"
Scott Greene has a site that should be around longer.
Scott Greene - Recent Paintings
Catching the Light
Astrophotography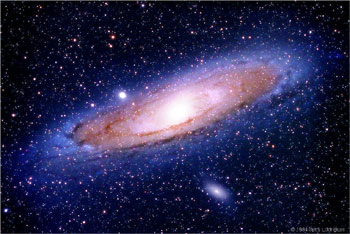 M31
[read more]
thanks to consumption.org
Economy
The Bushies are trying to wish the recession over.
Reports of recovery are much exaggerated
Be very sceptical of predictions of a strong US economic resurgence, warns the Observer's economics editor, William Keegan
Well, I wonder. Can this be the same US economy that has a balance of payments deficit of 4% of gross domestic product and rising, where there is no sign whatsoever of a recovery in business investment after the 1990s bubble, where General Motors says it has about 1m units of excess capacity in North America, and where protective tariffs on steel imports of up to 30% are about to be imposed?(...)
Mark my words: there are turbulent times ahead for the US and world economies as the foreign exchange markets gradually begin to question the American economy's insatiable appetite for overseas finance, and those imbalances begin to unwind - as all historical experience suggests they must.
[read more]
STEEL TARIFFS TO BOOST U.S. CAR, APPLIANCE PRICES
President George W. Bush said he will impose tariffs of up to 30 percent on steel imports, giving U.S. steel producers a gift they've long awaited.(...)
The European Union is expected to file a complaint about these new tariffs with the World Trade Commission, and Japan and South Korea, two other steel-producing countries, will probably also complain.
[read more]
So much for free markets. I think free markets must only work in one direction for the Republicans.
Environment
Read this one quickly—they rotate their articles and don't archive—bummer.
Bearing Witness
by Terry Tempest Williams
FOR MANY AMERICANS, the Bush- Cheney Energy Plan is an abstraction at best, and at worst, a secret. For those of us living in the redrock desert of southern Utah, it is an earth-shaking reality as seismic explorations are underway in sensitive wildlands adjacent to Arches National Park and Canyonlands.
In a memorandum sent by the Bureau of Land Management to field offices on January 4, 2002, it stated, "Utah needs to ensure that existing staff understands that when an oil and gas lease parcel or when an application for permission to drill comes in the door, that this work is their No. 1 priority."
[read more]
Israel/Palestine
The violence continues to escalate.
Powell says Sharon must take 'hard look' at policies
Prime Minister Sharon has to take a hard look at his policies to see whether they will work," U.S. Secretary of State Colin Powell told a congressional hearing.
"If you declare war on the Palestinians and think you can solve the problem by seeing how many Palestinians can be killed -- I don't know that leads us anywhere," he said.
[read more]
More force brings more resistance
Meanwhile, nobody is even considering this possibility. Everyone is watching what appears to be the growing entanglement of Sharon's policies. "Balata and Jenin were the beginning of the end to the Israeli occupation," blared a headline in a prominently-positioned article in Al Iyam, while other Palestinian publications printed a list of the largest refugee camps in the West Bank and Gaza, with their hundreds of thousands of residents. The message was: If Sharon continues with his "war in the camps," which he began at Sabra and Chatila, he has no chance of wiping them all out.
What Israel calls "the target bank," from which the IDF selects objectives at which to strike, is presented by the Palestinian spokespersons as the entire Palestinian nation. The cartoonist at Al Quds drew a picture of the masses filling the streets and houses in a Palestinian city and wrote a caption that read: "The list of wanted men."
It is against this backdrop that the Palestinian public is amazed by the voices in Israel demanding that the IDF be sent out to win a decisive victory. Military victories are only possible in wars between armies, not in the kind of campaign underway in the West Bank and Gaza, they say.
[read more]
At least the peace movement seems to be gaining.
After Four Mothers, the Seventh Day arrives
On March 4, 1997, a name was coined for a protest group whose activities contributed to the historic decision to pull out of Lebanon - the Four Mothers Movement. Zohara Antebi, one of the four, sees symbolic significance in the fact that five years to the day, another new movement that also calls for withdrawal - this time from the territories - has been established.
It is called The Seventh Day - the day that will follow and complete the Six Day War, 35 years after it began.
[read more]
War Against Some Terrorists
Ground war isn't what U.S. wanted
The fierce combat unfolding in the mountains of eastern Afghanistan is just what the Pentagon had hoped to avoid: a battle in which superior air power and technology aren't trump cards, and hundreds of U.S. troops are fighting hardened guerrillas in rocky terrain, thin air and brutally cold weather.
The large ground assault near the town of Gardez is taking the U.S. military into precisely the sort of conditions that felled the Soviets in Afghanistan during the 1980s and the Clinton administration assiduously avoided in Kosovo.
It also is the ground war al-Qaida apparently wanted.
[read more]
On December 14, Rabih Haddad, a prominent community leader and religious cleric in Anne Arbor, Michigan, was preparing to celebrate a major religious holiday with his wife and four children when a knock came at his door. There stood three INS agents who had come to take him away. Mr. Haddad is now being held in 23-hour solitary confinement several hundred miles away from his family, whom he is allowed to see only 4 hours a month. Mr. Haddad has been in jail for 76 days and has never been charged with a crime.
[read more]
thanks to DANGEROUSMETA!
The Bush Doctrine: War for the appearance of purpose
In peacetime, George W. Bush would have been best compared to the amiable Calvin Coolidge. It is not peacetime, although it is certainly not wartime, either. It is that gray area Bush has badly defined as a war that may have no end, in territories that may have no boundaries, against enemies that may have no allegiances (and in some cases no uniforms). No comparison to previous presidents works, because none has put the United States in such an unwinnable corner before. A few have projected the same arrogance and the same vague certainties as Bush has in his war on terrorism. But they had competition on the world stage.
The Bush White House has none, and an "exaggerated sense of power and mission," in William Fulbright's words, is a monopoly's worst enemy.
[read more]
thanks to follow me here...
In the context of such unsteadiness, the revelation of US officials ordered into mothballed bunkers might reinforce the image of a callow, frightened president who, after all, spent the first day of this crisis on the run. But is something else at work here? Odd how all of these Bush-sponsored manifestations of a nation under siege shore up the state of emergency on which this government has come to depend for its exercise of power. If officials are in bunkers for the first time in the nation's history, how dare anyone raise questions about the policies those officials pursue?
[read more]
thanks to follow me here...
Katie, my daughter, sent this to me. It's titled Why men should never babysit. What's her point?
Some Things A Little Lighter
I've not been feeling well the last couple of days. Maybe it's reading about what the Israelis and Palestinians are doing to each other. Maybe it's been reading about all the other wonderful things going on in Afghanistan, India, and Washington D.C. Maybe it was something I ate. Anyway, here are some things that aren't those.
Caddy's Big & Tall
It's a truck that's hard to miss. Plus, you can frighten small children and suburban livestock with it.
Cadillac's brand manager says, "Cadillac research showed that there was a real need for the EXT." A real need for a Cadillac pickup? Really? If so, then here are a few things that I really need: An air-conditioned front yard. Iguana-skin patio furniture. Stigmata. Mint-flavored Drano. Gold-plated roof gutters. A 190-hp MerCruiser SaladShooter. A dog with a collapsible tail. An office desk that converts into a Hovercraft. Chrome slacks. A lifetime subscription to Extreme Fidgeting. A third arm. A fourth wife. A smokeless Cuban Robusto. Reusable Kleenex. (Were you under the impression that this was to be an editorial, John?—Ed.)
I actually drove the Escalade EXT. It is very quiet. It has a remarkably supple ride. Its tires work well on dry pavement. It's a serene freeway cruiser, in the manner of modern Greyhounds that are simple to nurse downstream as long as you're not impinging on vast portions of the adjacent lane. Over 40 mph, the steering is beset by an on-center dead spot, though this may be an option.
A "Road Sensing Suspension System" (RSSS) comes standard. Sure enough, it senses roads. But can it sense outdoor carpeting, corduroy, Florentine velour, or the decorative lava around Mrs. Zeile's marigolds? All we can report for sure is that the EXT is a dream on gravel. "Not bad for a solid rear axle," someone noted, though it wasn't me. You know you're on gravel only because of a tinkle-bing-da-da-bingle of rocks bouncing off the polished-steel exhaust tip, which is as big as a soup tureen. Otherwise, the EXT is a magic-carpet ride because it crushes its own gravel as it goes.
[read more]
thanks to MetaFilter
MorfaBlog turned me on to consumptive.org. Mr. Consumptive (James Luckett) is an English speaker living in Japan. He is also into photography with some of his images and some wonderful links such as...
Which led me to some great pinhole camera links...
An *expensive* but elegant pinhole camera...
Which had some great images taken with this camera.
Photographs made with Pinoramic 120 Cameras
This is one by Chris Faust.
Scanning some of my old images has been getting me wanting to start taking large format images again, now that I know I can finally print them like I have always wanted. I still need to get printers and calibration equipment for printing what I have, but I am planning. Definitely 4x5 and probably a field camera. Toyo, Horseman, and Linhoff all are wonderful but *so* expensive. They all look like the old Speed Graphic. The last Speed Graphic was the Super Graphic, which can be had for a lot less and has all the movements I need. There are a couple available on Ebay. Not yet.
But, in looking a some amazing pinhole cameras, I found...
Zero Image, which has a tasty 4x5 at a reasonable price.
I've wanted to do pinhole for a long time. It might be a nice way to get back into 4x5.
EmptyBottle.org (formerly known as Waeguk is not a soup) pointed to a play by The Accordian Guy.
Sacrelicious!
Moses (turning to a new sheet of paper): Ah, something I understand. As you know, sir, my adoptive father -- the Pharoah -- had me taught by the finest tutors and scholars in all of Egypt.
God (rolling eyes, muttering): Oh this should be good for a laugh...(Looks at Moses with a sly grin.) Very well then. Why don't you tell me what you know about the Earth?
Moses (eagerly): Very well, Sir! It's a big flat disc. The sun and moon circle it, each taking turns travelling across a big bowl we call the sky, above which there's a lot of water...
God: I think your tutors rode the short chariot to school.
Moses: Sir?
God: Nothing. Say, Moses, what holds up the Earth? What supports this big flat disc?
Moses: Our best research indicates that a turtle does, Sir. We even have independent confirmation from the Babylonians.
God: A turtle.
Moses: Yessir. A really big one. (Moses holds his arms outstreched to explain the size of the turtle.) Twenty, maybe thirty thousand cubits a side.
God (learning forward): Let's assume for a moment that it is a turtle that holds up the earth. What does this turtle stand on then, hmmm?
Moses (almost leaping from his chair): I knew you were going to ask me that, Sir! That's the really clever part – it's turtles all the way down!
God: Oh, Jesus Christ.
Another door opens and through it, Jesus pokes his head into the office.
Jesus: Mmmmmyes?
This fine play is in The Adventures of AccordionGuy in the 21st Century, where Accordian Guy states...
Back in high school, after reading Space- Time and Beyond for the umpteenth time and drinking one too many zombies with my friend Henry Dziarmaga, we came up with the theory that in the infinite set of universes -- the multiverse -- there was one particular universe in what happened to us right here was being watched as a TV show over there. We then made a solemn vow to live in such a way that we kept our ratings up.
This is the continuation of that story.
I know the feeling.
There—I feel much better now.

Africa
''Western values becoming discredited in eyes of Africans''
Human rights for several decades have been the flagship of Western values among oppressed masses in Africa. People demanded political representation and democracy. Opposition politicians demanded freedom of speech and association and a free press. Workers demanded labor and social rights. Women demanded gender equality. Western governments, the UN and organizations willingly supported them.
But somehow, Africans found out, not all human rights were equally important to Western pressure groups and governments. Social rights, it appears, are sleeping human rights outside the Western world. Labor rights were from time to time branded as communism, which was bad. So bad, that not even the other human rights counted if a dictatorial African government did all it could to fight communism.
[read more]
thanks to also not found in nature
Food
The secret life of chips
There are some hungers that can only be satisfied by gobbling down a bag of chips, hot from the fryer and dredged with salt and vinegar. So what is it about fluffy starch coated in fat that makes such gluttons of us all? William Leith delves into the mystery of the most addictive finger food known to humanity
For my young American readers (yes, I mean you Robby, Eliot ,and Cameron) these are chips as in "fish and chips".
thanks to Dumbmonkey
Old Computers Never Die, They Just Lose Their Drive
A computer nostalgia site. I remember when...
I bought my first computer in 1985...
It had 128kb of RAM. It had internal and external floppy drives. It was hot! Hard drive? We don't need no steenking hard drives!
I have a friend that still has one. I need to get it from him.
thanks to MetaFilter
Israel/Palestine
There are too many people in Israel that are living in the past. They think that this is still 1967 or 1973 and more force will subdue the Palestinians. There are those in Israel that realize there is no military solution. Not enough yet. It will get much worse. These are recent pieces in the left-wing Israeli paper Ha'aretz.
Where have all the young men gone?
The IDF attack on the Balata refugee camp caused plenty of destruction, but didn't find many fighters.
Background / Sharon could now be facing his moment of truth
Security cabinet decides on continuous military pressure on PA
Along with the hatred and anger
Official gov't response: Saudi plan endangers Israel's security
The PA believes full-scale war is coming
Language
Nick Davies, at MorfaBlog, is a teacher of the Welsh language and finds interesting articles on language.
'Rings' presents challenge to subtitlers
Gollum, the cave-dwelling creature drawn by the ring's call, goes by a katakana rendering of his name in the movie, but was known as "gokuri" (the sound made when swallowing) in the book.
Likewise, Aragorn's nickname of Strider was rendered in katakana, whereas the original translation referred to him as the more poetic "haseyo" (a person who runs fast). Toda worried that while die-hard fans of the book would feel more comfortable with haseyo, the general public would not understand its meaning, let alone be able to read the characters.
"There were many people who wanted to stick to the original Japanese translation," said Toda, "but some things look really strange on screen. Subtitling isn't a literal translation and you cannot translate word-for-word."
[read more]
Music
Looking Grim at the Grammys
Ralph Stanley's performance of 'O Death' wasn't the only ominous note. This may have been the swan song for the music industry as we know it. But does anybody care?
thanks to MetaFilter
Diversion
Stare hard at the picture... Look at it very VERY closely without looking away.
thanks to D r. M e n l o
The Big One
Has the US lost its way?
Does everybody hate America? Maybe the world is just concerned at the lack of visionary leadership from such a powerful nation
'By what right,' an angry environmentalist demanded at a recent conference I attended, 'do Americans place such a heavy footprint upon God's Earth?' Ouch. That was a tough one because, alas, it's largely true.
We comprise slightly less than 5 per cent of the world's population; but we imbibe 27 per cent of the world's annual oil production, create and consume nearly 30 per cent of its Gross World Product and - get this - spend a full 40 per cent of all the world's defence expenditures. By my calculation, the Pentagon's budget is nowadays roughly equal to the defence expenditures of the next nine or 10 highest defence-spending nations - which has never before happened in history. That is indeed a heavy footprint. How do we explain it to others - and to ourselves? And what, if anything, should we be doing about this?
[read more]
Korporatism and Kulture
The Privatization of Our Culture
This essay is not about terrorism. It is not about little kids who say the darndest things. Neither is it terribly concerned with why a man in a cape and a rubber mask with pointy ears failed to save the day on September 11. So what is the point? Here is a convenient thesis statement for you: The discoveries, eureka-moments, fables, characters, songs and jokes that form the only common ground we share as citizens -- the set of ideas collectively known as "The West" -- are now the property of a few multinational corporations. Our entire culture has fallen into private hands, taking with it our right to tell our stories, our right to keep our personal lives personal, even our right to heal our sick. THIS SUCKS. THIS IS VERY BAD.
It need not be the end, however. Not if we as citizens, as Westerners, as participants in our own culture, can find the will and the resolve to reclaim what is ours.
[read more]
thanks to follow me here...
The Final Frontier
NASA Contacts Pioneer 10 Spacecraft
NASA successfully bridged 7.4 billion miles of space to contact the Pioneer 10 spacecraft on the 30th anniversary of its launch, mission managers said Saturday.
[read more]
Israel/Palestine
The tragedy, on both sides, escalates.
9 Israelis killed in shooting attack north of Ramallah
Nine Israelis were killed and six were injured, four of them seriously, in a shooting attack Sunday morning on an IDF roadblock north of the West Bank city of Ramallah, near the settlement of Ofra. Another Israeli was killed when Palestinian gunmen opened fire on an IDF position south of the Kissufim crossing in the Gaza Strip.
A total of 20 Israelis have been killed in four attacks in less than 24 hours, including nine people killed in a suicide attack in Jerusalem on Saturday evening and a policeman shot dead in the Judean Desert on Saturday afternoon.
[read more]
12 Palestinians, IDF soldier die in refugee camps operation
An IDF soldier and 12 Palestinians died over the weekend in the operation against the Balata and Jenin West Bank refugee camps.
[read more]
The 18th month of the violent conflict between the Palestinians and Israel, a stand-off which has already cost close to 300 Israeli lives and more than 1000 Palestinian fatalities, began with an IDF operation in the Balata refugee camp (in the Nablus area) and the Jenin refugee camp. These camps are strongholds of organizations that use terror against Israel - Tanzim and Hamas. These organizations control the camps to an extent that even deters members of the Palestinian Authority's security apparatus; and the Tanzim branch does not heed orders given by various PA leaders.
This is anarchy wrapped within anarchy. The PA apparatus is not cracking down on organizations that adhere to their own independent agendas; and these organizations are not imposing their authority on local militias in places such as Balata. Assuming that the IDF would refrain from entering refugee camps, especially Balata, terror groups stepped up their activity in them - they manufactured Kassam missiles as well as explosives (such as those used in suicide bombers' belts), and they plotted and worked out the logistics of attacks.
[read more]
It is difficult to comprehend how, among the nearly 5,000 inhabitants of Beit El, there is not a single righteous man in Sodom, no one who will stand up and admit wholeheartedly that his settlement, and all others like it, is the cause of all this suffering. How is it that there is not a single settler in Beit El who is losing sleep over the women in labor who cannot get to the hospital, the sick people who die along the twisted dirt paths, the children who must walk to pay a holiday visit to their grandmother?
It must take a large degree of cold-heartedness to drive on the paved road leading from your house and see the large numbers of people who are forced to walk in the mud and rubble just because of the existence of your settlement - and to keep on believing in the justice of that distorted path; to see all that suffering through your window without batting an eyelash. The dispute with these settlements cannot be a political discussion only, but also a deep moral dispute because of the human suffering they impose on their neighbors.
Now, however, it is not only the suffering of the neighboring Palestinians that is on the heads of the residents of Beit El, but also the blood of the soldiers killed defending them.
The truth must be said: If Beit El, Talmon and Dolev were not there, the checkpoints of Ein Ariq and Surda would not be there either. They have no connection to the security of the state and the seven soldiers killed there up to now would not have been killed. Does the fate of these Israeli soldiers not give rise to any second thoughts in Beit El, either?
[read more]