Archives
Bob Dylan
I should mention, before the day is over, that Dylan is 61 today. Check out the Highway 61 Revisited and other Dylan links at Booknotes.
Intellectual Property Rights
Lawrence Lessig is one of the more interesting voices on the inadequacy and abuses of current copyright laws. He is doing more than talk — he is doing something about it.
The Creative Commons project was officially announced, and its new website was launched, on Thursday, May 16. See http://www.creativecommons.org.
Creative Commons plans to provide a free set of tools to enable creators to share aspects of their copyrighted works with the public or to dedicate them entirely to the public domain. Stanford Law School Professor and Creative Commons Chairman Lawrence Lessig described the new project this way when he spoke at the O'Reilly Emerging Technology Conference: "Our tools will make it easier for people to make some or all of their rights available to the public for free. If, for example, an artist wants to make her music available for non-commercial use, or with just attribution, our tools will help her express those intentions in a 'machine-readable' form. Computers will then be able to identify and understand the terms of the license, making it easier for people to search for and share creative works."
The tools aren't in place yet but there are some very interesting background papers covering the issues surrounding intellectual property rights and public domain.
Jackalopes
A number of years ago I traveled through the Bad Lands and stopped at Wall Drug and discovered the jackalope.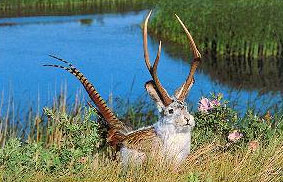 It turns out that others have been concerened about the origin of the jackalope. (Hard to believe.)
The jackalope is commonly believed to have originated in the folklore of the midwestern United States (Here are several pictures of jackalopes). Mounted heads of this legendary animal (a jackrabbit with the horns of a young antelope or deer) are offered for sale at truck stops, roadside restaurants (and now on the WWW) all over the country; even U.S. presidents have owned mounted jackalopes. There are also several www sites devoted to jackalopes and they are occasionally covered in popular articles. Like snipe hunts, jackalope hunts have been used as a ritual form of hazing in rural communities.
However, a far older reference to a horned rabbit ("raurackl" in German) is shown in the picture on the right. It was painted by Joris Hoefnagel in the late 1500's. Albrecht Durer aficionados will note Hoefnagel's copy of Durer's famous rabbit at the left of this picture (see it in it's full glory at The National Gallery of Art www site.) Fritz Koreney (Albrecht Durer and the Animal and Plant Studies of the Renaissance,Little, Brown and Co., Boston, 1985, p. 138) notes that the raurackl, or "stag- hare," was legendary among Bavarian hunters. Perhaps immigrants to the U.S. from Bavaria brought the raurackl legend with them and it has become our modern jackalope.
[read more]
----------
A recent post at reenhead.com confirmed it.
So, when I was a kid, I lived in Munich for some time. One day, we discovered the Jagdmuseum - Hunter's Museum - right in the city center. Anyway, we went from exhibit to exhibit, which featured various items from 14th century guns to deer and other nifty things that 10 year olds appreciate. At the end of the museum, the lights dim and you enter a room full strange looking birds. Ok, so I'm looking at the birds, thinking that they're some new owl species - YIKES! That's not a fucking owl! It's got teeth and horns, and webbed feet, and a beaver tail, and and and....
They're called wolpertinger, and they only appear late at night when the Bavarian hunter is drunk on Hefeweizen.
Wanna see what they look like?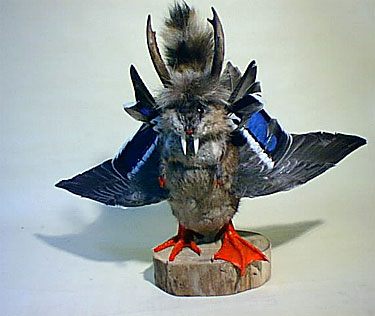 [read more]
Censorship
DISPATCH: The Tyranny of the Unimaginative
If you think the creep of invisible censorship won't affect you, think again. The private control of so many of the tools of communication has made insidious forms of censorship commonplace. Just this week Google took exception to me expressing my personal opinion about a news event and suspended my ad campaign on their site. As of today, when you type in the words "Anita+Roddick" into the Google search engine, you won't find AnitaRoddick.com until the ninth or tenth page of search results. I am virtually invisible.
Yet again, I said something that makes people nervous. The truth tends to do that. This time, it's a comment I made on my website about the apparently homicidal actor John Malkovich which has caused the world's leading search engine to refuse to run ads for AnitaRoddick.com.
It began on Monday when I posted a short comment on this site about Malkovich's public threat to shoot Scottish MP George Galloway and Independent reporter Robert Fisk. In that three-sentence notice, I called Malkovich a "vomitous worm."
[read more]
thanks to the bitter shack of resentment
Stephen Jay Gould
Salon has a nice piece about Stephen Jay Gould.
A scientist for the rest of us
Whether infuriating sociobiologists or enchanting readers, Stephen Jay Gould liked messes and knew how to make hard thought look like fun.
Stephen Jay Gould, who died on Monday, belonged to no particular scientific sect and founded none. Almost all his battles were fought on his own. But the happy elegance of his style and the bewildering range of his interests allowed him to recruit the sympathies of every benevolent, well-read humanist to his various causes. No wonder he was hated so. He was the scientist for the rest of us.
[read more]
----------
Here is a great piece of his from The New York Review of Books.
My father was a court stenographer. At his less than princely salary, we watched Yankee games from the bleachers or high in the third deck. But one of the judges had season tickets, so we occasionally sat in the lower boxes when hizzoner couldn't attend. One afternoon, while DiMaggio was going 0 for 4 against, of all people, the lowly St. Louis Browns (now the even lowlier Baltimore Orioles), the great man fouled one in our direction. "Catch it, Dad," I screamed. "You never get them," he replied, but stuck up his hand like the Statue of Liberty — and the ball fell right in. I mailed it to DiMaggio, and, bless him, he actually sent the ball back, signed and in a box marked "insured." Insured, that is, to make me the envy of the neighborhood, and DiMaggio the model and hero of my life.
I met DiMaggio a few years ago on a small playing field at the Presidio of San Francisco. My son, wearing DiMaggio's old number 5 on his Little League jersey, accompanied me, exactly one generation after my father caught that ball. DiMaggio gave him a pointer or two on batting and then signed a ball for him. One generation passeth away, and another generation cometh: but the earth abideth forever.
My son, uncoached by Dad, and given the chance that comes but once in a lifetime, asked DiMaggio as his only query about life and career: "Suppose you had walked every time up during one game of your fifty-six–game hitting streak? Would the streak have been over?" DiMaggio replied that, under 1941 rules, the streak would have ended, but that this unfair statute has since been revised, and such a game would not count today.
My son's choice for a single question tells us something vital about the nature of legend. A man may labor for a professional lifetime, especially in sport or in battle, but posterity needs a single transcendant event to fix him in permanent memory. Every hero must be a Wellington on the right side of his personal Waterloo; generality of excellence is too diffuse. The unambiguous factuality of a single achievement is adamantine. Detractors can argue forever about the general tenor of your life and works, but they can never erase a great event.

In 1941, as I gestated in my mother's womb, Joe DiMaggio got at least one hit in each of fifty-six successive games. Most records are only incrementally superior to runners-up; Roger Maris hit sixty-one homers in 1961, but Babe Ruth hit sixty in 1927 and fifty-nine in 1921, while Hank Greenberg (1938) and Jimmy Foxx (1932) both hit fifty-eight. But DiMaggio's fifty-six–game hitting streak is ridiculously and almost unreachably far from all challengers (Wee Willie Keeler and Peter Rose, both with forty-four, come second). Among sabremetricians[1] — a contentious lot not known for agreement about anything—we find virtual consensus that DiMaggio's fifty-six–game hitting streak is the greatest accomplishment in the history of baseball, if not all modern sport.
[read more]
Israel/Palestine
Was Barak telling the truth?
The ex-PM's disparagement of the Palestinians began long ago
"Repeatedly during [the] interview," Morris reports, Barak spoke of the Palestinians as products of a culture "in which to tell a lie ... creates no dissonance. They don't suffer from the problem of telling lies that exists in Judaeo-Christian culture. Truth is seen as an irrelevant category. There is only that which serves your purpose and that which doesn't." Curiously, Morris, who did more than anybody to dispel official Israeli lies about the war of 1948, does not record his own reaction to these racist stereotypes.
Polite western society no longer tolerates such characterisations of entire cultures, although I suspect things may have changed, at least in the US, since September 11. But in Israel the public denigration of Arab culture was historically acceptable, since, like all colonial movements, Zionism had to dehumanise the indigenous inhabitants of its country of settlement in order to legitimise their displacement. Thus, as many studies have shown, depictions of the Arabs as conniving, dishonest, lazy, treacherous and murderous were commonplace in Israeli school textbooks, as in much of Israeli literature in general.
[read more]
----------
The final touches of putting 3.5 million people in prison.
Israelis Consider New Limits on West Bank Palestinians
The Israeli Army is stringing barbed wire around this city as part of what aid workers fear are sweeping new restrictions that will further squeeze the Palestinians' already crippled economy and perhaps stoke more violence.
The barbed wire, evidently intended to prevent Palestinian attacks, blocks what used to be a way to sneak in and out of Ramallah without passing checkpoints. It is likely only to increase the frustration at the nearby Kalandia checkpoint, the only approved way to and from Jerusalem. The checkpoint is already the source of deep Palestinian frustration and recently seems to have become more permanent with the addition of various concrete blocks to channel traffic.
[read more]
----------
Israel and South Africa
Apartheid's Accidental Prophecy
The apartheid government of South Africa came to power in 1948, the same year that the State of Israel was created in Palestine. Having lived and witnessed the legacy of Zionism, I wonder sometimes if this shared birth year was not an accidental prophecy.
Both governments were born on the miserable premise of entitlement for a select group of people. This entitlement, to land rights and resources, spawned laws and societies that measured human worth by human irrelevancies. In the case of South Africa, it was skin color. In the case of Israel, it is religion. In both lands, the privilege accorded to the chosen group came at the expense and detriment of the natives--the 'un-chosen.'
[read more]
----------
Sharon's War Plans
The Great Reformer?
When the inhabitants of Bethlehem came out of their homes, after the long weeks during which Israeli soldiers shot at everything in town that moved, they discovered that the landscape had changed. While they were imprisoned in their homes, the army had been working day and night to separate them from the world by a trench two meters deep and a murderous wire fence, sharp as a razor, that could cause anyone entangled in it to bleed to death. The town and its suburbs (Bet-Jala, the Aida and other refugee camps) had become a big prison.
This week, members of the Palestinian parliament tried to get to the session that dealt with "reform". The trip to Ramallah, half an hour in ordinary times, took them four hours, including a series of humiliations at the many army checkpoints.
Bethlehem is a suburb if Jerusalem. Hundreds of threads tie it to the city. All these threads are cut now. Jerusalem is further from Bethlehem than the dark side of the moon.
This kind of fence is being erected now in many places around the country, cutting the Palestinian enclaves off not only from Israel, but from each other, too. The slogan is "separation", and that sounds good to Israeli ears. "We are here and they are there," as the lamentable Ehud Barak used to declare. The real situation is quite different: "We are here and we are there." Because the separation is not only unilateral, but also unidirectional. Palestinians are forbidden to cross into Israel, but the settlers and soldiers cross into Palestine.
[read more]
Pico Iyer
One of my favorite writers is Pico Iyer. He is billed as a travel writer but he is *much* more. Here is a great interview with him...
Postmodern Tourism:
An Interview with Pico Iyer
A longtime essayist, and the author of four books, Iyer is one of the most eloquent and incisive observers of the new cultural mix that characterizes today's borderless world. His writing moves from travel reportage to social criticism to philosophical rumination, always with a keen eye for odd juxtapositions. Whether he is speaking German to a tipsy police chief i Cuba, eating enchiladas in Nepal, or reading a Jackie Collins novel at a public library in Bhutan, his world is one where the foreign and the familiar always coexist in unexpected ways.
(..)
I think one of the startling things for somebody arriving at Los Angeles Airport today from Tibet, say, is that suddenly half the faces they see are Chinese -- exactly the people they have been trying to flee from. Also, everywhere they turn they see kimchi restaurants and mee krob and sushi, and they wonder, "What is this America that we've landed in? This is not the hamburger-and-french-fry-paradise that we imagined." So I think people's minds are going to have to assimilate in the sense that all the world is international now. The whole world has gone global. I think cities like San Francisco and Los Angeles are the models of our future.
As you suggested, it brings with it many perils, but it's also in our hands to enjoy all the possibilities that were completely denied our grandparents who, whether they wanted it or not, were in almost every case rooted in a very single culture.
[read more]
thanks to wood s lot
Scooters
My primary transportation is a 1982 BMW R100RS. Best transportation device I've ever owned. However, the most fun transportation device I have ever owned was probably my 1962 150 Vespa. The Vespas of that vintage had such beautiful round lines. Riding it always put a big grin on my face. Definitely *not* a bike to take out on the highway but I was living in Seattle at the time (Wallingford) and driving it around town was a blast.
I saw an ad on MetaFilter today for...
Buy with confidence from probably the largest restorer of classic Lambretta and Vespa scooters in the world. Check out our online build-to-order scooter restoration service where you custom-design your Lambretta or Vespa scooter with exactly the colors and options you want, and we build and deliver it. -Or see what's already available. And as a parts manufacturer, we also offer you Lambretta and Vespa parts direct at great prices. See our parts section for your model.
[read more]
The company is in Saigon and run by a Canadian. The scooters look beautiful with some nice updates. The picture is of a scooter like my old Vespa. Their price for a Vespa 150 VBB Standard (picture above) is $2,199 base. My heart is going pitter pat.
War Against Some Terrorists
Military Sees Iraq Invasion Put on Hold
Joint Chiefs Sought Delay, Citing Manpower Needs
The uniformed leaders of the U.S. military believe they have persuaded the Pentagon's civilian leadership to put off an invasion of Iraq until next year at the earliest and perhaps not to do it at all, according to senior Pentagon officials.
[read more]
Graphic Arts
I've seen a lot of Hiroshige, but I didn't know about these prints. These are great! And they have small and large scans.
Ando Hiroshige (1797 - 1858)
A Shoal of Fishes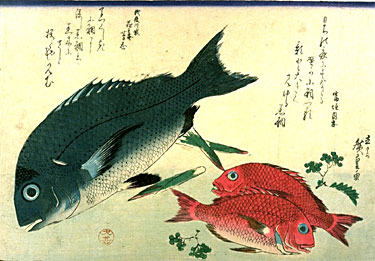 thanks to Liberal Arts Mafia
----------
The Hiroshige site is part of Connecticut College's Wetmore Print Collection & Black Print Collection, which has other tasty morsals.
----------
----------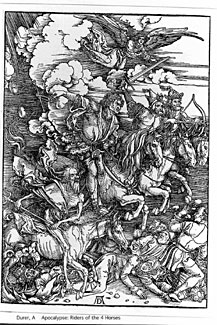 I am not a crook
Under Cheney, Halliburton Altered Policy on Accounting
During Vice President Dick Cheney's tenure as its chief executive, the Halliburton Corporation altered its accounting policies so it could report as revenue more than $100 million in disputed costs on big construction projects, public filings by the company show. Halliburton did not disclose the change to investors for over a year.
At the time of the change — which was approved by Arthur Andersen, the company's auditor at the time — Halliburton was suffering big losses on some of its long-term contracts, according to the filings. Its stock had slumped because of a recession in the oil industry. Two former executives of Dresser Industries, which merged with Halliburton in 1998, said that they concluded after the merger that Halliburton had instituted aggressive accounting practices to obscure its losses.
[read more]
Israel/Palestine
Middle East: The Sky's the Limit
Israel's economy is a shambles. But the perks to people willing to settle in the occupied territories keep coming. Is this any way to make peace?
Lisa Nhmani would have preferred to stay in Jerusalem but she couldn't afford to buy a house for her family of five. The four- bedroom homes she was seeing ran about $250,000, much more than the Nahmanis could manage. She began looking at neighborhoods beyond the Green Line—the border that divides Israel from the occupied West Bank—and at settlements deeper in Palestinian territory.
THE DIFFERENCES WERE ASTONISHING. In a town like Maaleh Adumim, the largest settlement in the West Bank, the schools and health services were better (funded more generously by the government), and the houses were cheaper, in part because the government subsidizes construction. As a bonus, she discovered, Israelis who moved to the West Bank got a 7 percent reduction in income tax. Just because they were settlers.
[read more]
thanks to Cursor
----------
State Dept. report: Weakening of PA increased attacks on Israel
The U.S. State Department on Tuesday said that Israel had made Yasser Arafat's Palestinian Authority less effective by destroying its security infrastructure, and it absolved Arafat and his senior associates of responsibility for attacks on Israelis in 2001.
According to the annual "Patterns of Global Terrorism 2001" report, IDF operations in the Gaza Strip and West Bank damaged Arafat's ability to reign in terror, and contributed to an increase in terror attacks against Israel. The attacks sometimes faced criticism from the United States. "Certainly the military activity there did do a great deal to damage the security capability and the security apparatus of the Palestinian Authority," Taylor said. The report went on to state that weakening the PA had assisted Hamas and other terrorist organizations in rebuilding terrorist infrastructure.
[read more]
----------
Letter From Israel
Fundamentalist Settlers Have a Borough Accent
Blame Brooklyn
No matter who is right, there are sure to be hardcore settlers who would refuse to obey any government order to evacuate. They may not have political or military power, but they have an incredibly big stick—the threat of civil conflict. If only we could send them back to Brooklyn.
[read more]
----------
Letter From Jenin
A City of 14,000 Stories
The governor of Jenin, Zuhair Al- Manasreh, a gentle bear of a man, is testy this afternoon, his deep baritone punctuated by bursts of nervous laughter. "You have not even seen the mukhayyam [refugee camp] yet? Well, let's speak later, after you visit." His former office was demolished in an Israeli attack some five months ago. We talk in his large office, spare save for a Palestinian flag, off-peach curtains, and five bullet holes that unceremoniously pierce four separate white walls. He has had a million things to attend to since the May 17 withdrawal of the Israeli forces from this hilly Palestinian town, home to roughly 30,000 people, after this latest "targeted operation." Al-Manasreh's constituents, still reeling from a previous Israeli incursion, seem unable to regain their balance.
"This time, they destroyed five houses, arrested 40 people, and injured three," says Al-Manasreh. "The Israelis gave no reason for the attack, and they have stopped giving reasons."
[read more]
Lunacy Break
1.THE NICE PAINTER AND HIS WIFE
[CH and AW are in the countryside, painting landscapes]
CH That's a lovely green, isn't it?
AW That's lovely. So lush. Just bursting with life.
CH Yes, and the thing is - the funny thing with colour - is that I just need to mix in a little bit of purple to set the green off.
AW Mm. As a sort of visual echo to the purple in the heather, hm?
CH Yes, that's right. That's right. Now I must... not get too carried away with the green. Remember to leave some room... for that road and that little house, over there.
AW Mm. I love the, er, dark V that hill's making on the horizon.
CH Yes, it's very dark, isn't it? It's, er, almost... black.
AW Johnny!
[read more]
thanks to MorfaBlog
TestingTesting
It turns out that the RealAudio server for TestingTesting has been down for most of the day. It's back up so *now* you can listen to Monday's show with the TestingTesting House Band.
Zoe just sent me this one.
I have no faith in the ability of the U.S. government to keep out terrorists. But I have absolute faith in the ability of New York co-op boards to keep out terrorists.
The F.B.I. has warned apartment managers in New York that the evildoers might try to get a place, furnish it with explosives and blow up the building.
But first the Qaeda rats would have to find an empty, affordable apartment. Then they'd have to get past the withering front line of real estate agents. Finally, they'd have to penetrate the maximum security defenses of Manhattan co-op boards.
There's screening and then there's screening.
[read more]
TestingTesting
Zoe finished the pictures for Monday's TT and they're up. See what was going on in my living room. The pictures are great! Thanks to Zoe.
Unstable Fringes
While Israel and Afghanistan have been taking center stage — and while Iraq and Iran are being pushed onto the stage — the region's fringes are starting to come undone. These bear watching.
Turkey
PM's illness puts Turkey on the brink of collapse
The coalition government in Turkey held a summit meeting in a hospital ward yesterday as the increasingly frail Prime Minister, Bulent Ecevit, faced growing calls to step down due to ill health.
The country's political and economic future may well hang on Mr Ecevit's health, and his illness has set alarm bells ringing in Ankara and abroad.
[read more]
Kashmir
India Prepares Troops for 'Decisive Fight'
India's Prime Minister told troops on the front line with Pakistan on Wednesday the time had come for a "decisive fight" to end Islamic militant attacks New Delhi blames on its neighbor.
Atal Behari Vajpayee's tough talk added to fears India was preparing for war to force Islamabad to curb Pakistan-based Muslim activists fighting India's rule in disputed Kashmir.
[read more]
----------
Too little, too late
Kashmir could become the world's most dangerous region - and the west's lack of interest is partly to blame
Last weekend India expelled Pakistan's high commissioner to New Delhi, Ashraf Jehangir Qazi. This modest diplomatic gesture fell well short of the swift military strike which many hardliners in India's ruling Hindu nationalist BJP party demanded. But many analysts believe a war has merely been postponed, most probably to September or October. Privately, India's generals admit the army needs a few more months to prepare.
At the border, where nearly 1 million troops from both sides have been dug in since January, Indian gunners are shelling Pakistani bunker posts. Thousands of villagers have fled. Pakistan is reported to be moving its Shaheen nuclear missiles into position.
[read more]
War Against Some Terrorists
This futile campaign
Western intervention has done little for the Afghans and less to beat terrorism
There was almost relief in Brigadier Roger Lane's voice on Friday morning as he told the Today programme that they'd finally found and killed some AQT - al-Qaida/Taliban - in the remote mountain valleys of eastern Afghanistan. They had engaged their enemy, hitherto as elusive as the snow leopard, and around 1,000 British soldiers were being flown in for the battle. Twenty- four hours later, Operation Condor, as it was named, looked about as farcical as every other operation in Afghanistan has done in the past six months.
[read more]
I'm behind on doing Work That Pays Me Money but these are some important links to throw out.
Stephen Jay Gould, Biologist and Theorist on Evolution, Dies at 60.
If you haven't read him, do so.
Articles in New York Review of Books. Several are available online.
Stephen Jay Gould links. Links of *lots* of Gould stuff to read.
And then go to your favorite local or online bookstore and buy a Stephen Jay Gould book.
---------
kill your tv dot com linked to this great interview with Noam Chomsky.
----------
There two great posts by Tom Tomorrow at This Modern World. His comments about the links are so good so I will just link to his links...
What did the President know and when did Dick Cheney explain it to him?
Later...
Yo!
From ancient Greece ... through Renaissance Europe ... to the 20th Century in the United States ... the YO-YO has a long and rich tradition. A toy ... a pastime and diversion ... an exercise in dexterity ... a sometimes frustrating challenge ... a collectable ... all of these and more are embodied in the yo-yo. And ... interestingly enough ... the yo-yo continues to evolve and captivate new generations as time goes on.
[read more]
thanks to reenhead.com
----------
The above site has a long list of links including...
[read more]
Yo-Yos have change a little since I last looked. Some really cool ones — up to $125.
TestingTesting
The archive for tonight's show is up. Pictures will hopefully be up tomorrow.
TestingTesting
TestingTesting comes around every two weeks and tonight is the night. TestingTesting is an hour long (or so) music show I webcast from my living room. We usually have a special guest backed up by the TestingTesting House Band but tonight will be special — the TestingTesting House Band will be the special guest. That will be Derek Parrott on guitar and vocals; Joane Rouse on mandolin and vocals, and sometimes guitar, dobro, and banjo; and Steve Showell on mandolin, fiddle, guitar, and vocals (usually) and sometimes penny whistle. The TestingTesting House Band will be playing at the Folklife Festival Saturday night and will be playing their Folklife Festival set, tonight, that they have been working on. This means they have actually be practicing! Click on in. Enter you comments in the guestbook so that I can read them to the House Band — live!
You will be able to see them live at the Folklife Festival at the Seattle Center. They will be playing at the Exhibition Hall Lawn Stage Saturday night at 8:20pm. Come on down and meet the entire TT crew!
Wealth and Democracy
This is a must read. It's all from jp of American Samizdat (and dumbmonkey.)
The Power Elite
WEALTH AND DEMOCRACY
A Political History of the American Rich
By Kevin Phillips
It is a truth universally acknowledged that as individuals become more successful, more established and older, they generally become more attached to a socio-economic order that rewards success. It is unusual and extraordinary, therefore, for an individual, while living comfortably, to grow increasingly critical of the existing order.
Such is the case with Kevin Phillips, who has been one of the most distinguished and thought-provoking commentators on the American political scene for more than 30 years. With roots firmly anchored in the Republican Party, Phillips became a young chief political analyst during the 1968 presidential campaign, which culminated in Richard Nixon's victory. In light of that campaign, he wrote his first major work, "The Emerging Republican Majority" in 1969, a daring book that peered through the tumults of radical protest, the women's movement, human-rights campaigns and antiwar feelings to see that the Democratic party was losing much of its traditional base and that the South and West could fall increasingly into the Republicans' lap.
Twenty-one years and four books later, a different sort of Phillips emerged in the form of "The Politics of Rich and Poor." The title itself was a giveaway: In some Republican circles, the mere mention of "the poor" is bad form, but here was Phillips discussing the socioeconomic clefts that had emerged by the end of the Reagan era and raising the issue of fairness. This did not cause the already rich and successful to pause, nor did those who frantically endeavored to emulate them during the Wall Street boom of the 1990s lose their eagerness to become rich. It did, however, make Phillips something of a maverick and a doomsayer. One critic called him a Nostradamus. Cassandra might have been better.
[read more]
----------
NOW with Bill Moyers
Transcript: Kevin Phillips
----------
Rags to riches stories have always been the favorite folklore of the American economy. But what happens when the riches end up in just a few pockets and the rest are left wearing the rags? That's what Wealth and Democracy, a Political History of the American Rich, a new book by Morning Edition commentator Kevin Phillips, tries to figure out. Host Bob Edwards talks with Phillips about his book and the somewhat controversial theories it contains.
[read more]
Ant Art
The World Flag Ant Farm,
1990. Ant, colored sand, plastic box, plastic tube, plastic pipe and video documentation on LCD monitor, each plastic box 24X30 cm (total 170).
[read more]
----------
'World Flag Ant Farm', (detail).
----------
'Union Jack Ant Farm' (detail.)
---------
all Ant Art thanks to plep
Art Art
Avant-garde and Russian Art 1900-1930
[read more]
thanks to wood s lot
Biology
Momo-whiskers
I have read that hamster's whiskers shows the width that they can pass through.
But Momo forgets.
One day Momo tried to go into the cleaner hose. As he has the big hip, he could't go into it.
And in his effect to go, he could't get his head out.
When I ran to him in a hurry, his head gone out of the hose,and he rolled backward.
[read more]
thanks to MetaFilter
shrub
On the 20th July last year, 43 year old James H. Hatfield, journalist and author of 'Fortunate Son', a biography of George W. Bush, was found dead in his hotel room in Springdale, Arkansas, the victim of apparent suicide. Hatfield's story is tied to the book he wrote and, through it to the career of the President. Hatfield, a writer with a somewhat chequered past, wrote a biography of George W Bush, while Dubya was still Governor of Texas. Amongst a host of bald and shocking facts about him it contained the allegation that in 1972 Bush senior had arranged for a Texas judge to have his son's conviction for possession of cocaine expunged from the records, in return for which Junior performed works of public service. This last was already documented; the fact that he worked for a while in the early seventies in an outreach centre for teenagers in one of Dallas' poorest districts has often been touted by republican publicists eager to round off some of their leader's corners. Needless to say, it stands out like a sore thumb.
[read more]
thanks to also not found in nature
Environment
Reluctant crusader
Forty years ago, Rachel Carson became the unlikely founder of the radical ecology movement when she published Silent Spring. Poet John Burnside writes that her message is even more powerful today
In 1962, a powerful group of chemical industry representatives, government officials and salaried "experts" on the environment set out to prevent the publication of a much-loved naturalist's last book. The naturalist in question was Rachel Carson, bestselling author of books about the sea; the last book was Silent Spring. It is a moment every life-respecting person cherishes: like the lone protester in Tiananmen Square, halting a column of tanks with nothing more than his hopelessly vulnerable body, Carson placed herself - her reputation, her failing health - in the path of the juggernaut that, at the time, everyone still blithely referred to as "progress" - and slowed it a little.
[read more]
thanks to also not found in nature
Food
GM crop protesters to be silenced
Secret plans are being prepared to stop Britons challenging the safety of GM crops at public hearings, a confidential document seen by The Independent on Sunday reveals.
The internal memorandum circulating in the Department for the Environment, Food and Rural Affairs, proposes an "urgent" change in the law by November to crack down on objections to the crops, before they are grown in Britain.
[read more]
Graphic Arts
Another excellent Lileks production.
It's just a guess, but I'm sure I'm right: New York produced more postcards than any city in the world. It has the planet's best collection of jaw-dropping monuments; every street has a building ten times as tall as the highest steeple back home. To send a card from New York was to tell the folks you were at the center of the universe. You were in the canyons of the giants. And the weather's fine!
[read more]
thanks to newthings
----------
[read more]
thanks to consumptive.org
Israel/Palestine
U.S. sending mixed signals on Arafat
Two seemingly contradictory messages have reached Israel in recent days from high level officials of the U.S. administration. One told an Israeli official that the U.S. "won't cry if Arafat collapses on his running machine" while another said that "Israel is making a mistake" by declaring that the Palestinian Authority chairman is irrelevant, "because it results in just the opposite."
In a closed-door session, a high-ranking American official told his Israeli interlocutor that "the U.S. must find a way to channel the anger and frustration in the Palestinian Authority into political and economic reforms. We won't cry if Arafat falls tomorrow on his running machine, but until then an alternative leadership must be encouraged." But the official warned that Israel and the U.S. cannot be seen as identifying any alternative Palestinian leaders, for fear they would be branded as traitors.
[read more]
----------
Why Israel's 'seruvniks' say enough is enough
The laywer representing Israeli conscripts who refuse to serve beyond the 1967 ceasefire lines explains why a growing number of soldiers are disobeying orders, in order to protect the basic values on which Israel was founded.
It is said that in the first few years of the Israeli occupation of the West Bank and Gaza Strip, no one seriously thought of holding on to these territories forever. It was at the time widely assumed, that these newly conquered lands were to be handed back to the Arabs as part of a peace agreement. I don't remember those days.
I was raised in a different Israel. In my Israel the small fundamentalist group of Jewish settlers has always enjoyed more political power than their relative share in the Israeli population. In my Israel both left-wing and right-wing governments enabled the colonialisation of these occupied Palestinian lands. My Israel paid, and is still paying, a heavy moral price for ruling another nation by the force of the sword. My Israel, built on the founding values of humanism, pluralism and democracy is being lost.
[read more]
----------
AGAINST ETHNIC PANIC.
Hitler Is Dead
Has history ever toyed so wantonly with a people as history toyed with the Jews in the 1940s? It was a decade of ashes and honey; a decade so battering and so emboldening that it tested the capacity of those who experienced it to hold a stable view of the world, to hold a belief in the world. When the light finally shone from Zion, it illuminated also a smoldering national ruin; and after such darkness, pessimism must have seemed like common sense, and a holy anger like the merest inference from life. But it was in the midst of that turbulence, in 1948, that the scholar and man of letters Simon Rawidowicz published a great retort to pessimism, a wise and learned essay called "Am Ha-Holekh Va-Met," "The Ever-Dying People." "The world has many images of Israel," Rawidowicz instructed, "but Israel has only one image of itself: that of an expiring people, forever on the verge of ceasing to be.... He who studies Jewish history will readily discover that there was hardly a generation in the Diaspora period which did not consider itself the final link in Israel's chain. Each always saw before it the abyss ready to swallow it up.... Often it seems as if the overwhelming majority of our people go about driven by the panic of being the last."
[read more]
thanks to MetaFilter
Satan's Work
Is Breastfeeding a Gateway Sin?
Church authorities were prompted to make a public statement against breastfeeding last Tuesday when it was found that a number of church ladies had been breastfeeding their children well into adulthood. "Little Randy is nearly 15-years old now," said church mother, Ida Jenkins. "I still breastfeed the boy because I read in some secular magazine somewhere that the nutritional benefits of breastfeeding never really end." It was found that Mrs. Jenkins was nourishing young Randy 'round the clock by draining her teat into sippy cup and packing it in his Veggie Tales lunchbox. "The youngster was sharing it with other students," said Landover Baptist Junior High School Principal, Gil Higglesworth. "I got suspicious after taking a sip of it myself."
thanks to MetaFilter
Things Go Better With Coke
Poor areas got old Coke, workers say
For years, he says, he stripped expired soda cans from their cardboard sheaths, stuffed them into fresh boxes with new dates stamped on the side, then piled them on store shelves as if they were new. As long as they had no leaks, dented cans sometimes were repackaged, too. It was all part of what co- workers called the fire sale.
"I knew what we were doing was not right," said Wright, a Coke deliveryman for 14 years. "But every time I brought it up, I'd hear: 'I'm the boss. You do what I say.' "
Marching with bullhorns and spreading their message over talk radio, dozens of Coke drivers, plant workers and salespeople are accusing their bosses of inching up profits for almost a decade by pawning off expired soda cans and bottles on minority communities across North Texas.
[read more]
Wal-Mart
Boycott Wal-Mart
Why you should wipe that smiling yellow face off your shopping list.
Of the 10 richest people in the world, five are Waltons--the ruling family of the Wal-Mart empire. S. Robson Walton is ranked by London's "Rich List 2001" as the wealthiest human on the planet, having sacked up more than $65 billion in personal wealth and topping Bill Gates as No. 1.
Wal-Mart and the Waltons got to the top the old-fashioned way--by roughing people up. The corporate ethos emanating from the Bentonville headquarters dictates two guiding principles for all managers: Extract the very last penny possible from human toil, and squeeze the last dime from every supplier.
With more than one million employees (three times more than General Motors), this far-flung retailer is the country's largest private employer, and it intends to remake the image of the American workplace in its image--which is not pretty.
[read more]
thanks to random walks
Portraits
I wasn't feeling real well today so I sort of lazed around in an unfocused way until I discovered this site. I had been wandering around in photo.net reading pieces on portraits that Philip Greenspun had written where he mentioned...
Elsa Dorfman, Portrait Photographer
The site is chock full of the amazing work she has done on the 20 x 24 Polaroid. There are only 5 in the world and she has one of them. I spent hours wandering around her site. Many articles and movies by and about Elsa. And those portraits!
The person she has photographed the most is her friend Allen Ginsberg.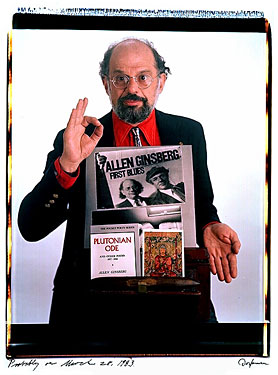 It was hard to take a bad photograph of Allen. Nobody did. Maybe it was because Allen was a photographer from way back. He loved to take pictures. Unrestrained, he could snap, snap and take rolls of film. His images of Kerouac, Cassidy, and Bourroughs are the ones we have in our memory of those days. For the last decade or so he always had a camera with him. He went from a Rollei to lighter and lighter and smaller and smaller cameras. And he used whatever was his camera du jour all the time, even at my house in the last month of his life (though no darkroom experiences for him, ever).
Elsa wrote about seeing Allen's possessions on the block.
Watching Allen Ginsberg Being Auctioned Off at Sotheby's
The catalogue came on the morning of Yom Kippur. I had already lit candles for Allen, Bruce Cratsley, my mother and my father. It was a beautiful day. I was going to think about the past year and the coming year alone in the house and in my garden.
What I did is sit on the couch in the living room, the couch we call the Allen couch because Allen slept on the couch and stayed in the living room for many days when he visited his Boston doctors. I curled up with the catalogue that Bill Morgan had spent a year putting together.
I recognized so much of the stuff. In fact, it was the familiarity that threw me off . It was like looking at the catalogue, if there had been one, of my mother's yard sale when she moved from Newton to Cape Cod. Actually, I couldn't bear to go to my mother's yard sale. I couldn't bear to see all the things she had loved with little price tags, selling for a tenth of what she had paid for them. It wasn't the price, it was the selling. It was the letting go.I remembered the chase, the finding, the saving for, the story of each item.
The section on Allen is interesting as are the articles (check out the movies) but in the end it's the portraits done in her simple style (white backdrop, even lighting, and simple poses) that I find mesmerizing.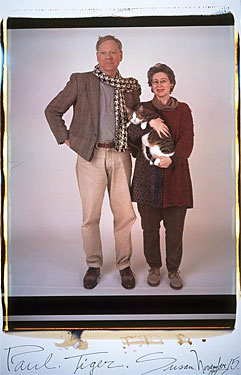 [read more]
Israel/Palestine
On the other side, Sharon floated the test of reforms as the threshold condition for entering into a diplomatic process. The expression "reforms" has, as usual, a double meaning. For Israeli ears, there is only one reform. It makes no difference to Israel who the members of the Palestinian parliament will be, who the mayors are, whether the status of women will be recognized or whether Palestinian child labor is prohibited. After all, Israel is not interested in democracy for democracy's sake, but rather in "reform" that will depose Arafat and remove him from the public discourse.
American ears hear "reform" differently. They were quick to praise Arafat's speech, his condemnation of terror and decision to implement reforms in the American sense - those aimed at building a more soundly functioning Palestinian government, unified security forces, and transparent economy deserving of foreign assistance in advance of establishing a Palestinian state, which has become a firm stance in American policy. But reality in Palestine has its own voice, and it is unlike the voice of either Sharon or the American administration.
[read more]
----------
Israel forces internal movement permits on Palestinians
The Israeli army has been tightening its grip on movement of Palestinians in cities and towns in the West Bank by insisting that they obtain new freedom-of-movement permits from the regional administration to travel from one city to another.(...)
According to a source from a donor country, the result has been to effectively cut the territory into cantons. Under the new system, goods can be transported within the territories only using a "back-to-back system" in which a truck goes to a certain location where goods are unloaded to another awaiting truck, which then carries the merchandise further.
[read more]
----------
The real disaster is the closure
1. The ongoing damage to the Palestinian economy from the sieges and closures is much more than the physical damage created by the military operations, including Operation Defensive Shield. In the first 15 months of the intifada, from October 2000 to December 2001, the physical damage to infrastructure and Palestinian institutions was an estimated $503 million. Last week, an estimate of $360 million was published, referring to the physical damage resulting from the military actions in March and April this year. But in the first 15 months of the intifada, at least $2.4 billion in damage was done to the economy, in terms of lost gross national revenues because of the mounting restrictions on freedom of movement imposed by Israel on the Palestinians in, and out, of the territories. Roberts, who is British, and usually careful with his words, calls the closure policies "the silent destruction."
[read more]
----------
Analysis / A process advancing in diplomatic treacle
The Likud central committee meeting last week demonstrated that the domestic political system and regional diplomatic contacts are now interlinked and can no longer be separated. The result - the slow pace of movement toward a settlement between Israel and the Palestinians will become even slower.
[read more]
What did he know, and when did he know it?
Bush told in August of specific threat to US
The "smoking gun" briefing received by President George Bush just a month before 11 September carried the heading, "Bin Laden determined to strike in the US", and focused on al-Qa'ida's ability to strike within the US mainland, it was revealed yesterday.
Despite White House claims that the briefing document related primarily to the threat of an attack on a US target overseas, the document also made very clear Mr bin Laden's desire "to bring the fight to America". It also emerged yesterday that the FBI had been aware for several years that al-Qa'ida was using US flying schools to train its pilots and, as early as 1996, it was told of a specific threat to use a plane in a suicide attack against the CIA's headquarters.
The latest revelations could prove very damaging to Mr Bush, who has insisted that, had he known al-Qa'ida was planning such an attack, he "would have done everything in [his] power to protect the American people". Earlier last week, Mr Bush's national security adviser, Condoleezza Rice, told reporters that the information given to the President was not specific.
[read more]