Archives
Sculpture
Projecting beauty and inner emotional spirit as well as a fragile vulnerability, the images of these antique wax figures were captured by Barbara in a dimly lit mannequin warehouse in downtown Detroit. There they sat covered with plastic for decades, until a few years ago when they were sold to collectors.
Unlike the frozen lifeless mannequins of today, these European busts were posed for, many at the turn of the century, by flesh and blood women. Made with human hair, each strand inserted with a hot needle, teeth made from denture material, glass eyes, and realistic expressions, these figures possess a haunting, enigmatic aura. Indeed, without their facial imperfections, caused by heat and jostling, many of these ethereal beauties could be mistaken for their real counterparts.
Look into their faces and let them tell their stories.
[read more]
thanks to consumptive.org
India/Pakistan
Under the nuclear shadow
Arundhati Roy, Booker prize-winning author, looks at the conflict over Kashmir from her home in New Delhi
This week as diplomats' families and tourists quickly disappeared, journalists from Europe and America arrived in droves. Most of them stay at the Imperial Hotel in Delhi. Many of them call me. Why are you still here, they ask, why haven't you left the city? Isn't nuclear war a real possibility? It is, but where shall I go? If I go away and everything and every one, every friend, every tree, every home, every dog, squirrel and bird that I have known and loved is incinerated, how shall I live on? Who shall I love, and who will love me back? Which society will welcome me and allow me to be the hooligan I am, here, at home?
We've decided we're all staying. We've huddled together, we realise how much we love each other and we think what a shame it would be to die now. Life's normal, only because the macabre has become normal. While we wait for rain, for football, for justice, on TV the old generals and the eager boy anchors talk of first strike and second strike capability, as though they're discussing a family board game. My friends and I discuss Prophecy, the film of the bombing of Hiroshima and Nagasaki, the dead bodies choking the river, the living stripped of their skin and hair, we remember especially the man who just melted into the steps of the building and we imagine ourselves like that, as stains on staircases.
[read more]
---------
Eyeball to Eyeball, and Blinking in Denial
AS India and Pakistan, fledgling nuclear powers, edge closer to war, the rest of the world looks on aghast at a possible nuclear exchange that could kill millions of people. British and American envoys are rushing to the region in last-ditch efforts to avert catastrophe. On Friday, the United States government urged tens of thousands of Americans living in India to leave.
But here in India's capital — a plausible bull's- eye — there has been no panic. The sweltering city moves to its usual somnolent summer rhythm. At a recent seminar titled "Preparing to Survive," the subject was earthquakes and cyclones, not nuclear firestorms and radiation sickness.
And that is in large measure because India's ruling elite and many of its leading strategic thinkers are in nuclear denial.
[read more]
Photography
These photos were either lost, forgotten, or thrown away. The images now are nameless, without connection to the people they show, or the photographer who took them. Maybe someone died and a relative threw away their photographs; maybe someone thought they were trash.
Some of the photos were found on the street. Some were stacked in a box, bought cheap at a flea market. Showing off or embarrassed, smug, sometimes happy, the people in these photos are strangers to us. They can't help but be interesting, as stories with only an introduction.
[read more]
thanks to BookNotes
I had once a job like this web site. It was 1972 and I was working night shift at a photo lab. I was running the copy camera — I would spend the night putting pictures up on the easel, adjusting the lights, making the exposure, advancing the film, and taking the picture down. It was my dance of voyeurism. My favorites were the snapshots of people — just like the ones in this site. Pictures of important events — to the people in the picture. Mysteries. I loved them.
----------
Small Town America
Stereoscopic Views from the Robert Dennis Collection
A few big cities -- and many more small towns -- long ago made the Mid-Atlantic states of New York, New Jersey, and Connecticut one of the most densely populated regions in North America. This website presents 12,000 photographs of those three states as they were captured in stereoscopic views from the 1850s to the 1910s. In addition to showing buildings and street scenes in cities, towns, and villages the photographs show farming, industry, transportation, homes, businesses, local celebrations, natural disasters, people, and costumes. The photographs belong to the Robert N. Dennis Collection of Stereoscopic Views in the Photography Collection, Miriam & Ira D. Wallach Division of Art, Prints & Photographs at The New York Public Library.
[read more]
thanks to consumptive.org
----------
The above collection is part of a larger site with some other goodies.
The New York Public Library
Photographic Services & Permissions
A vast array of images from the thirteenth century to the present can be found at The New York Public Library. Thousands of original photographs, color transparencies and book images from the Research Libraries are available for reproduction and for research/scholarly/commercial use. Only a small portion of the Library's visual holdings are online.
[read more]
----------
One of my favorite photographers is a part of the New York Library collection...
Berenice Abbott
CHANGING NEW YORK 1935-1938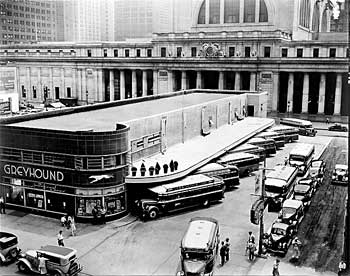 American master photographer Berenice Abbott (1898-1991) is probably best known for Changing New York, her 1935-1938 Federal Art Project documentation of the city's rapidly changing built environment. Abbott became interested in photographing New York in 1929 when, as a fashionable portrait photographer, she visited the city after a nearly a decade in Paris and saw that the nineteenth century city she had once called home was becoming almost overnight a leading metropolis. Allied intellectually with modernist European photography, she was nonetheless eager for a new arena in which to exploit her developing aesthetic. Re- established in New York, her solid international reputation as a classical portraitist generated commercial assignments from Fortune and elsewhere, and in 1932 she took up an 8 x 10 inch view camera, destined to become her standard equipment for nearly the rest of her career.
However, by the mid-1930s the Depression had forced the federal government to include artists and related workers among the recipients of unemployment relief. Abbott successfully applied to the Federal Art Project (FAP) of the Works Progress Administration to carry out Changing New York and in the fall of 1935 began the program that occupied her for the next three years.
[read more]
These images are also available in the book New York in the Thirties (Formerly Titled: Changing New York
----------
Abbott's pictures are amazing but she is also known for discovering and rescuing the pictures of the Parisian photographer Eugene Atget — who was also a very big influence on her New York pictures. Atget isn't part of the New York Library collection but here he is anyway.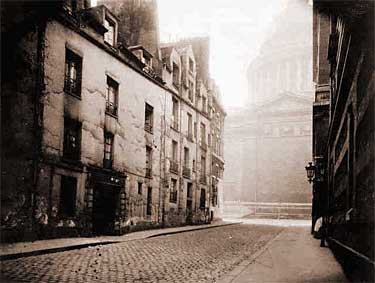 Eugene Atget photographed Paris for thirty years. With a singleness of purpose rarely excelled, he made his incredible monument to a city. When he died in 1927 he left approximately 2000 eight by ten inches glass plates and almost 10,000 prints, not counting the plates deposited in the Palais Royale archives. Here is one of the most extraordinary achievements of photography. Yet we know almost nothing of Atget as a person and less of Atget as a photographer. His history is to be read in his work.
[read more]
Atget's Paris pictures are in a remarkable book that I have wanted for several years now — Atget Paris. It's in my Amazon wish list. Anyone who wants to make me really really happy could buy it for me. I would be your best friend.
While looking for Atget links I found this amazing site...
The Atget Rephotographic Project
The photographs displayed here are the result of an ongoing project begun by students in the first Paris program group in 1987, the rephotography of sites photographed by the French photographer Eugene Atget who, between 1900 and 1926, made approximate 6,000 photographs of Paris. Using reproductions of Atget's photographs, students attempted to locate his "tripod holes" and to replicate the exact view and framing of his original scene. The result is a comparison which affords us an experience not unlike that of the time traveler in H.G. Wells' "The Time Machine" for whom a fixed point in space becomes the focus of one's historical imagination.
[read more]
----------
Back to the New York Library collection — they also have two excellent Lewis Wickes Hine collections.
Lewis Wickes Hine's "Work Portraits"
Lewis Wickes Hine
The Construction of the Empire State Building, 1930-1931
HIs Empire State Building pictures are in the book The Empire State Building. Also check out Men at Work : Photographic Studies of Modern Men and Machines
Srew Us Economics
"US Jobless Claims Hit 19-Year High" — Financial Times, May 30, 2002
"US Productivity Rate Best in 19 Years" — AP, May 31, 2002
YOU'LL HAVE TO GO
Productivity and Unemployment Both Going Up, So...
With the latest reports showing U.S. business productivity growing at its strongest pace in 19 years, while the number of Americans filing for unemployment has also surged to its highest level in 19 years, economists today concluded that everyone should be fired.
"The numbers clearly show businesses have been getting more and more out of fewer and fewer employees," said Harvard economist Neil Fischer. "So it doesn't take a genius to determine that employees are a drag on productivity, and that were the economy to reach total unemployment, it would therefore reach total productivity."
When discussing economics with
children, it's best to strap them in
tightly so they can't get away.
[read more]
----------
Crunching numbers
Shouldn't Halliburton be blaming Cheney instead of its accountants?
Still, Halliburton is a special case, because its CEO during most of those Accounting-a-Go-Go years that climaxed with the Enron scandal was Dick Cheney. Cheney now runs the country, they say, adopting the role of mild-mannered vice president in order to disguise his superpowers. And on Thursday Halliburton revealed that its accounting practices beginning in the Cheney era are under investigation by the Securities and Exchange Commission.
[read more]
thanks to Cursor
---------
Corporate Welfare at its Worst
The United States has a $6 trillion national debt, a growing deficit and is borrowing money from the Social Security Trust Fund in order to fund government services.We can no longer afford to provide more than $125 billion every year in corporate welfare-- tax breaks, subsidies and other wasteful spending--that goes to some of the largest, most profitable corporations in America.
One of the most egregious forms of corporate welfare can be found at a little-known federal agency called the Export-Import Bank, an institution that has a budget of about $1 billion a year and the capability of putting at risk some $15.5 billion in loan guarantees annually.At a time when the government is underfunding veterans' needs, education, healthcare, housing and many other vital services, more than 80 percent of the subsidies distributed by the Export- Import Bank goes to Fortune 500 corporations.Among the companies that receive taxpayer support from the Ex-Im are Enron, Boeing, Halliburton, Mobil, IBM, General Electric, AT&T, Motorola, Lucent Technologies, FedEx, General Motors, Raytheon and United Technologies.
[read more]
----------
Why Is Washington Ignoring The Warning Signs Of Economic Devastation?
Hindsight -- it's all the rage in Washington. But though the story of the missed terror warning signals is eating up all the headlines, there is another story of warning signs being ignored by our elected officials that's getting hardly any ink at all, even though these signs are multiplying at an alarming rate.
Here are a few of them: in the last two years, 433 public companies -- including Enron, Global Crossing, and Kmart -- have declared bankruptcy. Two million Americans have lost their jobs. Four trillion dollars in market value has been lost on Wall Street. And each day brings a fresh, stomach-turning revelation of the rampant corruption infecting corporate America. Despite these ominous flashing red lights, it now appears almost certain that no real reform legislation will come out of Congress before the November elections.
Think of that. After the outrage generated by Enron, Arthur Andersen, Merrill Lynch, and all the other corporate scumbags undermining the modern private enterprise system, the end result will be a continuation of the rotten status quo. And that means fresh disasters down the road. Yet we have the information to, as the phrase of the moment goes, "to connect the dots" right now.
[read more]
thanks to Cursor
----------
Over the past several years, Stiglitz, a celebrated theorist who was awarded the 2001 Nobel Prize in economics for his work on asymmetric information, has grown accustomed to being at the center of controversy. From 1997 to 2000, he served as senior vice president and chief economist at the World Bank--a title that did not stop him from publicly criticizing the bank's sister institution, the International Monetary Fund. In a series of speeches and articles that culminated in a scathing April 2000 essay in The New Republic, Stiglitz blasted the IMF for being every bit as secretive, undemocratic and indifferent to the poor as its critics claimed. Stiglitz's outspokenness, unprecedented for a high-ranking insider, infuriated top officials at the IMF and US Treasury Department, and eventually led James Wolfensohn, the World Bank's president, to inform him that he would have to mute his criticism or resign. Stiglitz chose to leave.
[read more]
Israel/Palestine
Settlements Expanding Under Sharon
The government of Israeli Prime Minister Ariel Sharon has steadily continued the expansion of Jewish settlements in the West Bank during the 20-month-old conflict with the Palestinians, in which control of the land is a main point of contention.
In the past few months, Israeli settlement agencies and settler organizations have set up the nuclei of three dozen new settlements, according to two Israeli groups that monitor construction and oppose the program. A Western diplomat estimated the number at 40. The rolling West Bank landscape is dotted with more water towers, more electrical generators and more mobile homes inhabited by small clusters of armed Jewish settlers under Israeli army guard, the groups reported.
The continued colonization builds on a 30-year-old national project that has progressed without letup since Israel captured the West Bank from Jordan and the Gaza Strip from Egypt in the 1967 Middle East war. Land confiscations and construction have continued no matter who ruled the country -- coalitions of the left or right, cabinets in favor of or against peace talks.
[read more]
----------
Land Grabs and Occupation
The Silent Destruction of Palestine
So much of the destruction against Palestinians which happens here is 'silent destruction.' This term was rightly used by Nigel Roberts of the World Bank quoted in an the article by Amira Hass describing the economic crisis within the Palestinian areas.
Silent destruction, though, is also an apt term for what is happening to the land of Palestinians. News cameras seldom catch the stories of land confiscation, crop destruction, or barrier construction that happens day in and day out across the West Bank, Gaza and East Jerusalem. Such stories don't seem to make 'exciting' or compelling video segments.
Yet, on and on it goes. More olive trees uprooted, more farmland confiscated, more areas declared 'fit for only settler or Israeli military use.' The 'prison' called Palestine gets smaller and smaller each day. The pressure builds and builds.
[read more]
Graphic Arts
Banksy
Weapons of mass distraction
Why is it that none of the people who need an inferiority complex have an inferiority complex?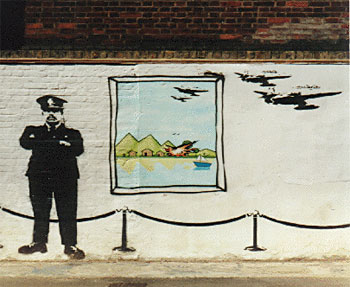 [read more]
thanks to reenhead.com
Gold Bust
Howard's End: The Squeeze On Gold
One of the biggest financial scandal stories, on the level of Enron, is about to break.
Central banks are said to have lent their gold for about 1% per annum - the cheapest borrowed money on earth. They have not reported these loans as sales meaning their official gold reserves remain constant. But the leased gold is gone.
It has been borrowed by large trading companies called bullion banks. They borrowed at 1%, sold the gold, took the money they earned by selling the gold and invested it at 5% or more.
It was sweet multi-billion dollar deal. But now they are in a squeeze.
[read more]
----------
All that glitters is not gold; Bullion Banks
Critics charge that a `gold cartel' of public officials and major bullion banks has suppressed the price of gold, possibly setting key banks up for an Enron-like tumble.
[read more]
both thanks to Ethel the Blog
Stephen Jay Gould
AS PROLIFIC and provocative as Stephen Jay Gould was on evolution, it was understandable that most obituaries on his recent death were obligated to focus on his notion of a ''punctuated equilibrium.'' Gould and colleague Niles Eldredge proposed that evolution was marked not by a continuous and gradual change of species but by sudden appearances of new species that themselves changed very little during their millions of years on earth.
Gould also wrote mightily against punctuated inequality.
Twenty years ago, Gould, a Harvard University scientist, published ''The Mismeasure of Man,'' which challenged the historical ranking of people by so-called levels of intelligence. Gould led the reader on a near-comical documentary of the ways the scientists of yesteryear tried to measure skulls, brains, heredity, and even the tattooing on criminals with the primary goal of declaring that western and northern Europeans had higher IQs than Eastern and Southern Europeans and people of color had much lower IQs. One famous example quoted by Gould was Louis Agassiz, the Harvard zoologist of the mid-1800s, who wrote that black people are part of a ''degraded and degenerate race.''
[read more]
thanks to wood s lot
----------
Another Stephen Jay Gould article from the archives — his first at Natural History
Size and Shape
The immutable laws of design set limits on all organisms
When the kindly entomologist of Them discovered that the giant queen ants had left for their nuptial flight, he quickly calculated this simple ratio: a normal ant is a fraction of an inch long and can fly hundreds of feet; these ants are many feet long and must be able to fly as much as 1,000 miles. Why, they could be as far away as Los Angeles! (Where, indeed, they were, lurking in the sewers.) But the ability to fly depends upon the surface area of the wings, while the weight that must be borne aloft increases as the cube of length. We may be sure that even if the giant ants had somehow circumvented the problems of breathing and growth by molting, their chances of getting off the ground would have been far worse than that of the proverbial snowball in hell.
Other essential features of organisms change even more rapidly with increasing size than the ratio of surface to volume. Kinetic energy, for example, increases as length raised to the fifth power. If a child half your height falls unsupported to the ground, its head will hit with not half, but only 1/32 the energy of yours in a similar fall. A child is protected more by its size than by a "soft" head. In return, we are protected from the physical force of its tantrums, for the child can strike with, not half, but only 1/32 of the energy we can muster. I have long had a special sympathy for the poor dwarfs who suffer under the whip of cruel Dr. Alberich in Wagner's "Das Rheingold." At their diminutive size, they haven't a chance of extracting, with mining picks, the precious minerals that Alberich demands, despite the industrious and incessant leitmotif of their futile attempt.
[read more]
War Against Some Terrorists
Nine months into the "war on terrorism" and it is difficult to get a handle on what's going on in and around Afghanistan. Outside Kabul, writes Edward Epstein in the San Francisco Chronicle, "kidnappings, extortion and the power of the warlords are on the rise." The U.S. military, he writes, is "getting bogged down in that country's old fractious ways." Congressional leaders are bickering with the administration over whether enough money and support is being earmarked for security in Afghanistan.
On May 27, the New York Times reported that Maj. Gen. Franklin L. Hagenbeck, the commander of American-led forces in Afghanistan claiming that the leadership of the Taliban and al Qaeda have been driven out of eastern Afghanistan. The bad news is that they are now operating out of what the Times characterizes as "the anarchic tribal areas" of western Pakistan. Maj. Gen. Hagenback said that al Qaeda and Taliban leaders were planning terrorist attacks and could attempt to disrupt the "selection of the new national government in Kabul next month."
(...)
Against the backdrop of a possible nuclear conflagration, Bush Administration officials and the Pentagon continue to insist that the war in Afghanistan against the Taliban and al Qaeda is going well.
That's their story and they're sticking to it.
[read more]
----------
CNN Debate on "Terrorism"
Chomsky v. Bennett
Is Bennett self-delusional, living in an alternate reality, or extremely cynical? I go with self-delusion.

Walt Whitman
Come, said my Soul,
Such verses for my Body let us write, (for we are one,)
That should I after death invisibly return,
Or, long, long hence, in other spheres,
There to some group of mates the chants resuming,
(Tallying Earth's soil, trees, winds, tumultuous waves,)
Ever with pleas'd smile I may keep on,
Ever and ever yet the verses owning--as, first, I here and now,
Signing for Soul and Body, set to them my name,

Happy birthday Walt! And thanks to Mark at wood s lot for reminding me. I hate sending birthday cards late.
World Cup
SOCCER-MAD U.S. CRAZED OVER WORLD CUP
"What? No We're Not," Say Blindly Obsessed Americans
As World Cup fever grips the globe, nowhere is the mania for Earth's greatest sporting event stronger than in the United States, where 280 million soccer-mad Americans are on the emotional edge, unable to think or talk about anything else. As one zealous U.S. supporter explained: "World Cup... World Cup, that's... racing?"
Yes, the insanity is almost palpable.
As they did during France '98 (above),
most Americans will paint themselves in
team colors and stay riveted to their TV
sets during the 2002 World Cup.
[read more]
Graphic Arts
The Manyo'an Collection
Eccentrics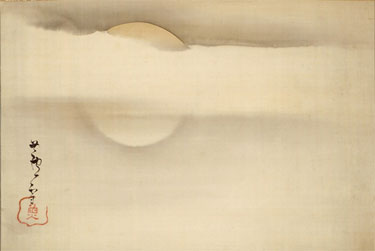 Soga Shohaku, whose work initially resembled Muromachi-period (1336-1573) ink painting, ultimately devised wild, almost surreal depictions of ghosts, demons, and bizarre Zen-like images.
[read more]
thanks to plep
Cities
What would you find if you could take a giant core sample of the Big Apple? A confusion of cables, gas and steam lines, a sliver of the subway, putrid sewers, and — below it all — huge water tunnels. Imagine venturing under New York.
[read more]
thanks to plep
Photography
Scott Mutter: A More Perfect World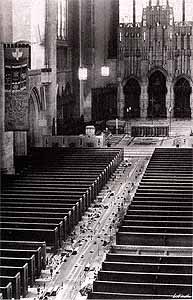 For thirty years, Scott Mutter has employed classic photomontage techniques to create a world of his own -- a more perfect world. The hallmark of Mutter's remarkable imagery is the distinct sense that the elements of each picture belong together, even though the combination may violate the laws of physics. These photographs, which Scott calls "Surrational Images," have a poetic quality that invites highly personal interpretations.They are provocative as well as evocative.
[read more]
thanks to plep
----------
The American Museum of Photography
thanks to plep
War Against Some Terrorists
Fresh memories of war
Soldiers prepare for their second mission at the Bagram military base in East Afghanistan.
Guckenheimer, who helped clear the L-shaped valley near the border of Pakistan whose twists and turns are burned into his memory, explained the nature of his company's mission. In doing so, he spoke candidly about the reality of war.
In an April interview with The Ithaca Journal at his family's Cayuga Heights home, Guckenheimer, 22, shared his experiences during Operation Anaconda. He was sent on March 6 in a company of more than 100 soldiers to participate in the largest U.S.- led ground engagement in Eastern Afghanistan.
"We were told there were no friendly forces," said Guckenheimer, an assistant gunner with the 10th Mountain Division at Fort Drum. "If there was anybody there, they were the enemy. We were told specifically that if there were women and children to kill them."
[read more]
thanks to Cursor
---------
Bush must have been steamed, as they say. Why was the rhetoric of beads and sandals emanating from the brass? Had the chiefs become flower children grown old? For the public, perhaps, it was only the appropriate commemoration of Memorial Day. India and Pakistan were shouting threats at each other across a nuclear divide. Suicide bombers were exploding in Israel. The chiefs at least provided a timely reminder of the inescapable fact that when you send young men and women to war, they get killed -- the message on the Vietnam Wall.
[read more]
Music
Bios of the great bluesman John P. Hammond and his father John Hammond, Jr. What more can you say about John Hammond, Jr than he produced or discoved such musicians as: Fletcher Henderson, Bessie Smith, Benny Goodman, Billie Holiday, Count Basie, Charlie Christian, Bob Dylan, Aretha Franklin, George Benson, Bruce Springsteen, and Stevie Ray Vaughan. If you ever get a chance to watch an interview with John Hammond , Jr., do so. He could remember details about recording sessions forty years before and knew how to tell stories.
Cool Tunes - John Paul Hammond, John Henry Hammond Jr.
Sons of legends never have it easy. Life is difficult enough without the burden of comparisons impossible to meet. Most either run screaming in another direction or coast in the slipstream of parental greatness. Perhaps most difficult of all is the attempt to achieve independence within the same field. Such has been the noble pursuit and ultimate success of John Paul Hammond (JP), first son of the most important record producer of all time, John Henry Hammond Jr. (JH).
[read more]
thanks to BookNotes
----------
Roy Rogers has his new CD Slideways at Emusic. *Hot* acoustic, resophonic, and electric slide guitar!
----------
There is also a Sonny Terry and Brownie McGhee album, Absolutely The Best, at Emusic.
Environment
Global warming definitely caused by humans: CSIRO
The CSIRO says the evidence is overwhelming that global warming is the result of human activity, and will continue to accelerate if nothing is done.
thanks to DANGEROUSMETA!
----------
Signs of Thaw in a Desert of Snow
Scientists Begin to Heed Inuit Warnings of Climate Change in Arctic
And so it has come to be, the elders say, a time when icebergs are melting, tides have changed, polar bears have thinned and there is no meaning left in a ring around the moon. Scattered clouds blowing in a wind no longer speak to elders and hunters. Daily weather markers are becoming less predictable in the fragile Arctic as its climate changes.
Inuit elders and hunters who depend on the land say they are disturbed by what they are seeing swept in by the changes: deformed fish, caribou with bad livers, baby seals left by their mothers to starve. Just the other year, a robin appeared where no robin had been seen before. There is no word for robin in Inuktitut, the Inuit language.
[read more]
thanks to BookNotes
----------
Hydrogen Puts Iceland on Road to Oil- Free Future
Iceland, with its steaming geothermal power stations, already knows plenty about alternative energy.
Now this island of lava on the edge of the Arctic plans to become the world's first society to ditch fossil fuels entirely, relying instead on hydrogen made using the power of its roaring rivers and volcanoes.
[read more]
thanks to New World Disorder
Panoramas
The links have been few the past couple of days. That work stuff again. I also spent time yesterday calibrating my pano head.
It's a simple device that lets the camera rotate around the nodal point of the lens. This means that there are not changes in the image as you rotate the camera. I bought this little device almost 10 years ago with the thought of doing segmented panoramas where you print the different panels and physically mount them side by side. It was a time of little money and the pano head was eventually buried in a box.
(Cue drums.) Technology marches on. There are a number of software image sitchers now that take overlapping images and stitch them together into a seamless whole. Now that my Mamiya is working again, it is time to take up the quest for panoramas again. This pano head allows you to mark the positions you want to use for rotating the camera. With the overlap for the stitching software, it will take 12 exposures to get a full 360 degrees. It's all marked now and I'm waiting for my film to arrive.
I also downloaded some stitching software — PanaVue Image Assembler — and went out on my back porch with my four year old Olympus digital camera and took a series of five hand held overlapping shots. This is sort of a worst case scenerio for stitching software since the images are not lined up nicely like they will be with the pano head. Put them in PanaVue and viola!
You really need to see the panos large to get the effect. I've started a Panos section which has a link to a large (403kb) version of this pano. There will be more panos to come and they will be from the Mamaiya with it's big negatives.
But wait! There's more! The makers of PanaVue take the image stitching functionality and apply it to the problem of scanning stuff larger than the scanner — like album covers. Album covers take four scans. Put them into PanaVue and voila!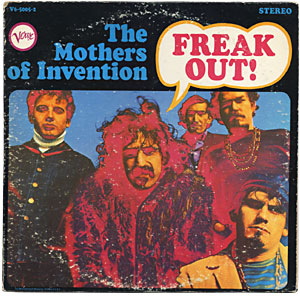 I started to retouch the image to get rid of the over 30 years of wear but I can see that it would be another time sucker so I'm resisting it. Anyone want to see more album covers? I have a bunch.
More Water
I copied my post on Water on American Samizdat and fellow harbinger Bob Morris, from Politics in the Zeros, responded with more links and a whole page, at his site, on this issue, with many links.
"Whiskey is for drinking, water is for fighting over", Mark Twain
"The wars of the next century will be about water", The World Bank, 1999
Background
Some countries already have water shortages. Increases in their populations will only heighten the shortages. To make things worse, the fine minds who brought you Enron and deregulation now want to bring you water privatization. Let the magic of the marketplace have a free hand in buying and selling water, then prices will drop and all will be well! However, as Enron has shown us, the efficiencies of the private market are a mirage, as well as being open to corruption.
A well-managed public water utility has major advantages over a private company, as funding and bonds are available at lower interest rates, no taxes have to be paid nor any return given to shareholders, and executives do not receive outlandish salaries. Most important of all, there is no profit motive that could overrule providing clean safe water to all.
We will focus on water privatization in general, with a special interest in the California water wars.
[read more]

Nuclear Madness
These links came from a variety of places — they need to be together.
Wake-up call
For the first time since the Cuban missile crisis, nuclear war is not a distant threat but a real possibility and the lives of 12 million people are at risk. But you may not have realised - perhaps because the rest of the world doesn't seem too bothered, or because India and Pakistan are a long way away. Or maybe you just don't want it to spoil your World Cup. Henry Porter says it's time to take notice
----------
The world holds its breath
Old foes India and Pakistan inch ever closer to nuclear war
The world is now facing the most dangerous nuclear confrontation since the 1962 Cuban Missile Crisis between the U.S. and the Soviet Union. Yet in the West there is little media attention to this enormous threat, and almost no public interest or concern. The crisis over Kashmir might as well be on Jupiter. The discovery of the body of a long-missing female intern in Washington has totally eclipsed news of a possible nuclear war in South Asia that could kill tens of millions and contaminate the entire globe with clouds of radioactive dust.
[read more]
thanks to Cursor
-----------
An American intelligence report says a nuclear exchange between India and Pakistan could kill up to 12 million people and injure seven million.
[read more]
thanks to Cursor
-----------
As I neared the end of this assignment, I asked Matthew McKinzie, a staff scientist at the Natural Resources Defense Council, to run a computer model of a one-kiloton nuclear explosion in Times Square, half a block from my office, on a nice spring workday. By the standards of serious nuclear weaponry, one kiloton is a junk bomb, hardly worthy of respect, a fifteenth the power of the bomb over Hiroshima.
A couple of days later he e-mailed me the results, which I combined with estimates of office workers and tourist traffic in the area. The blast and searing heat would gut buildings for a block in every direction, incinerating pedestrians and crushing people at their desks. Let's say 20,000 dead in a matter of seconds. Beyond this, to a distance of more than a quarter mile, anyone directly exposed to the fireball would die a gruesome death from radiation sickness within a day -- anyone, that is, who survived the third-degree burns. This larger circle would be populated by about a quarter million people on a workday. Half a mile from the explosion, up at Rockefeller Center and down at Macy's, unshielded onlookers would expect a slower death from radiation. A mushroom cloud of irradiated debris would blossom more than two miles into the air, and then, 40 minutes later, highly lethal fallout would begin drifting back to earth, showering injured survivors and dooming rescue workers. The poison would ride for 5 or 10 miles on the prevailing winds, deep into the Bronx or Queens or New Jersey.
[read more]
thanks to follow me here...

thanks to emptybottle.org

I've gotta get back to work!





Water

Garret mentioned his water woes and then I ran accross a couple of other pieces with the same theme. This is an issue that is going to get nastier and nastier as time goes on and bears watching. I live on a lake on an island in the Northwet (spelling intentional) and water is becoming an issue here too. And we are one of the areas that isn't having a drought! Too many people using too much water and the water table is dropping. Check out the water situation in your area.

A three part series on the water situation in Santa Fe courtesy of dangerousmeta!

Dispatches From the Santa Fe Drought

These days I'm heard saying "arrrgh" a lot because the main issue I'm grasping goes like this: In about three weeks, barring a miracle, the drought-whomped city water supply will run so low that homeowners will be forbidden from watering their plants. It's called a Stage 4 Water Shortage Emergency, and Santa Fe—a high desert city that bumps up against the Southern Rockies—has never entered such a crisis state before, though there have been three Stage 3s since 1996. (In Stage 3, which we're in now, you can water once a week.) In addition to the fatwa on yard and garden bubbly, Stage 4 would halt new construction permits—a dire outcome for a growing community. As for Santa Fe's all- important tourist economy … well, would you vacation here if the "City Different" becomes the "City Dehydrated"?
[read more]

---------

Atlanta's Growing Thirst Creates Water War

It has all the elements of a classic regional water war, pitting developers against environmentalists and state against state. Yet this battle is gripping not the parched Southwest, but the normally verdant Southeast, in a sign of future clashes around the country over an increasingly limited supply of fresh water.
[read more]

----------

A book review from the Very Early Summer 2002 edition of Ralph.

Every Drop For Sale
Our Desperate Battle Over Water in a World About to Run Out

"The water-wars like those in Cochabamba --- and its historical predecessor, the Lake Owens theft --- are just the beginning. Already bruising legal battles and sword-rattlings are erupting across the globe. The Six-Day War was just such a water-war."
[read more]





Memorial Day Weekend Barby and Swim

My daughters were up this weekend and stayed at the little apartment under the Honeymoon Bay Clubhouse. A good time was had by all.

We all went in to Seattle, Saturday night, to see the TestingTesting House Band play at the Folklife Festival. Great fun but *too many* people. I've been on the Island too long.

The girls had a barbecue Sunday night. Zoe took pictures and I put them on a couple of pages:
Better Living Through Hydroponics
A complete turn key product that can produce a very high grade and high yield of any desired vegetation. A perfectly controlled growing environment unlike anything else.
(...)
Draws less than 6 amps (about the same as your fridge!)
[read more]
thanks to abuddhas memes
Israel/Palestine
Israel: the military in charge?
Is Israel ruled by politicians or generals? In an extract from her forthcoming book, Israel/ Palestine – how to end the war of 1948 (Seven Stories), a leading scholar and commentator illuminates the perilous tensions, and chilling ideas, at work deep within the Israeli security establishment.
[read more]
----------
Letter From Israel
Palestinian Enslavement Entering a New Phase
by Ran HaCohen
The Israeli far-right – always the best indicator of Israel's true intentions – is quite outspoken: its aim is to make Palestinian life unbearable to a point that they would rather get up and go. Asked about his conception of "voluntary transfer" of Palestinians, Minister of Tourism (Rabbi) Benny Eylon compared the "voluntary" element to that of a Jewish husband who refused a rabbinical order to divorce his wife. Since rabbinical court cannot undo the marriage without the husband's consent, it should use force – excommunicate the obstinate husband, slash him, jail him etc. – until he "voluntarily" agrees to divorce. This is how the Palestinians should be "voluntarily" made to leave. And obviously, as long as they do not leave – because they cannot or will not – they should be struggling to survive rather than resist their oppression.
[read more]
----------
On May 2 the Senate, in a vote of 94 to 2, and the House, 352 to 21, expressed unqualified support for Israel in its recent military actions against the Palestinians. The resolutions were so strong that the Bush Administration--hardly a slouch when it comes to supporting Israel--attempted to soften its language so as to have more room in getting peace talks going. But its pleas were rejected, and members of Congress from Joe Lieberman to Tom DeLay competed to heap praise on Ariel Sharon and disdain on Yasir Arafat. Reporting on the vote, the New York Times noted that one of the few dissenters, Senator Ernest Hollings of South Carolina, "suggested that many senators were after campaign contributions."
Aside from that brief reference, however, the Times made no mention of the role that money, or lobbying in general, may have played in the lopsided vote. More specifically, the Times made no mention of the American Israel Public Affairs Committee. It's a remarkable oversight. AIPAC is widely regarded as the most powerful foreign-policy lobby in Washington. Its 60,000 members shower millions of dollars on hundreds of members of Congress on both sides of the aisle. It also maintains a network of wealthy and influential citizens around the country, whom it can regularly mobilize to support its main goal, which is making sure there is "no daylight" between the policies of Israel and of the United States.
[read more]
----------
Michelle Goldberg: 'Antichrist politics'
From the Senate floor, Sen. James Inhofe, R-Okla., preached what was essentially a sermon about Israel last December. "The Bible says that Abram [Abraham] removed his tent, and came and dwelt in the plain of Mamre, which is in Hebron, and built there an altar before the Lord," he said. "Hebron is in the West Bank. It is at this place where God appeared to Abram and said, 'I am giving you this land' ... This is not a political battle at all. It is a contest over whether or not the word of God is true."
As Inhofe's speech suggested, for elements of the Christian right, pro-Israel fervor has ascended to the realm of the sacred. Christian leaders Ralph Reed and Gary Bauer both say that their support of Israel -- and Israeli expansionism -- is partly rooted in biblical injunction. Bauer says, "There are a variety of Old Testament scriptures in which God is saying to Abraham that the people of Israel will occupy all the land between the sea and the river," which he says means the Mediterranean Sea and the Jordan River. "There's a belief that this is covenant land," he adds.
[read more]
----------
The Great Second-Holocaust Debate
Never Again?
by Richard Goldstein
Every time I face a rabid right- winger on TV, I get phone calls after the fact that break down predictably by gender. Women tell me I'm courageous; men say I'm a blithering disgrace. But the menacing tone of the male voices is what I notice most. And no topic—not even homosexuality—produces as vehement a response as Israel does.
Whenever I square off against some righteous hawk, male callers describe me as a bad Jew, and an egregiously pushy one, at that. "Don't go on television anymore," one guy commanded after a dustup with Alan Keyes last week. "And don't say anything bad about Israel." He made no threat, but it struck me as a stage-one warning and reminded me of how fraught speaking out against Israeli policies can be if you're a Jew.
[read more]
Nuclear Madness
Bracing for Yucca Mountain's Nuclear Forever
Deep Time, Short
In an interview, Steven Frishman, a geologist with Nevada's Nuclear Waste Task Force, talks about "downwinders," people who suffered deadly, long- term effects from the weapons testing, and how the federal government "knew it was dangerous and they weren't telling people." Now, he says, that same government, along with the nuclear industry, is "spinning the site," using "extraordinary levels of optimism and trying to convince people that it's safe because they have a political need to do it, not because it's actually a safe thing to be doing."
The problem? The waste is so lethal that by law it must be completely isolated for a minimum of 10,000 years. But many scientists (including a panel from the National Academy) dismiss that time span as a bureaucratic convenience. Others point out that much of the waste (mostly spent fuel rods from commercial and military reactors) will contain uranium, plutonium, and myriad other "iums" that will be dangerous for upward of a million years. Nevada's concern is that the site is not sound enough geologically to keep the waste from eventually getting into the groundwater, food chain, and air. DOE's own best case shows no violation of current radiation dose standards for roughly 100,000 years, but, as Governor Guinn's recent letter to Congress points out, DOE's computer models "have an uncertainty factor of 10,000."
[read more]
Religious Mergers
RELIGIOUS MERGER CREATES 900 MILLION HINJEWS
Attainment of Nirvana Still Goal, But Not So Important That You Should Miss Cousin Vijay's Bar Mitzvah
Hinjew leaders today conceded the merger of Hinduism and Judaism has not worked out as planned, as instead of forming a super- religion to fight off the common Islamic enemy, they have instead created a race of 900 million people who, no matter how many times they are reincarnated, can never please their mothers.
"On paper, this was a textbook alliance — two smaller competitors join forces to take on a larger adversary," said New Delhi resident Chandra Gopan. "But the synergies are just not there. For instance, I still believe I must pursue my own dharmic path to ultimate happiness, but when I get there, I just know my mother will find something wrong with it."
[read more]
Stephen Jay Gould
Another from the Stephen Jay Gould archives.
But the popular acclaim of dinosaurs has been fitful and episodic. We saw them in King Kong (thanks to Willis O'Brien and his brilliant technique of stop-motion filming using models, later magnified). We filled our cars under the sign of the jolly green giant Brontosaurus, the logo of Sinclair Oil (who also provided a fine exhibit at the 1939 World's Fair in New York). But dinosaurs never became a big or truly pervasive cultural icon, and some decades largely ignored them. I was a "dinosaur nut" as a kid growing up in New York during the late Forties and early Fifties. Hardly anyone knew or cared about them, and I was viewed as a nerd and misfit on that ultimate field of vocational decision—the school playground at recess. I was called "fossil face"; the only other like-minded kid in the school became "dino" (I am pleased to report that he also became a professional natural historian). The names weren't funny, and they hurt.
During the last twenty years, however, dinosaurs have vaulted to a steady level of culturally pervasive popularity—from gentle Barney, who teaches proper values to young children on a PBS television series, to ferocious monsters who can promote films from G to R ratings. This dinosaurian flooding of popular consciousness guarantees that no paleontologist can ever face a journalist and avoid what seems to be the most pressing question of the Nineties: Why are children so fascinated with dinosaurs?
The question may be commonplace, but it remains poorly formulated by conflating two quite separate issues. The first—call it the Jungian or archetypal theme—seeks the universal reason that stirs the soul of childhood (invariably fatuous and speculative, hence my dislike of the question). To this inquiry, I know no better response than the epitome proposed by a psychologist colleague: "big, fierce, and extinct"—in other words, alluringly scary, but basically safe.
Most inquirers stop here, supposing the question resolved when they feel satisfied about archetypal fascination. But this theme cannot touch the heart of current dinomania, culminating in the extraordinary response to Jurassic Park, for an obvious, but oddly disregarded, reason: dinosaurs were just as big, as fierce, and as extinct forty years ago, but only a few nerdy kids, and even fewer professional paleontologists, gave a damn about them. We must therefore pose the second question: Why now and not before?
[read more]
Better Living Through Hysterical News Reporting
Falling Coconuts Kill More People Than Shark Attacks
"Falling coconuts kill 150 people worldwide each year, 15 times the number of fatalities attributable to sharks," said George Burgess, Director of the University of Florida's International Shark Attack File and a noted shark researcher.
[read more]
thanks to MetaFilter
Intellectual Property
Hollywood Wants to Plug the "Analog Hole"
The Big Picture
The people who tried to take away your VCR are at it again. Hollywood has always dreamed of a "well-mannered marketplace" where the only technologies that you can buy are those that do not disrupt its business. Acting through legislators who dance to Hollywood's tune, the movie studios are racing to lock away the flexible, general-purpose technology that has given us a century of unparalelled prosperity and innovation.
The Motion Picture Association of America (MPAA) filed the "Content Protection Status Report" with the Senate Judiciary Committee last month, laying out its plan to remake the technology world to suit its own ends. The report calls for regulation of analog-to-digital converters (ADCs), generic computing components found in scientific, medical and entertainment devices. Under its proposal, every ADC will be controlled by a "cop-chip" that will shut it down if it is asked to assist in converting copyrighted material -- your cellphone would refuse to transmit your voice if you wandered too close to the copyrighted music coming from your stereo.
The report shows that this ADC regulation is part of a larger agenda. The first piece of that agenda, a mandate that would give Hollywood a veto over digital television technology, is weeks away from coming to fruition. Hollywood also proposes a radical redesign of the Internet to assist in controlling the distribution of copyrighted works.
This three-part agenda -- controlling digital media devices, controlling analog converters, controlling the Internet -- is a frightening peek at Hollywood's vision of the future.
[read more]
thanks to Dan Gillmor
----------
Consensus at Lawyerpoint?
Being a true account of the undertakings of the Broadcast Protection Discussion Group
----------
Hollywood vs. High-Tech
Disney's Michael Eisner and others say Hollywood will defend its intellectual property at all costs. Silicon Valley eminences like Andy Grove say those are fightin' words -- if it means trampling consumers' rights and squashing innovation.
Then it was Vadasz's turn. As the lone representative of the computer industry, he might have been expected to say something accommodating. He didn't. In a quiet voice tinged with the accent of his native Hungary, Vadasz warned that if Hollings's bill became law, "innovation would come to a screeching halt. Investment would suffer. It would create irreparable damage to a vital industry." The time had come to focus less on the rights of media giants, he said, and more on the rights of media consumers.
Chairman Hollings was only slightly less infuriated than the two CEOs. "Where did you get all this nonsense about ... 'irreparable damage'?" he wanted to know. Eisner chimed in that Vadasz's comments were just a sample of the runaround his industry had been getting from tech companies. (Later, Eisner named names -- among them Apple (AAPL), Compaq (CPQ), Dell (DELL), Intel (INTC), and Microsoft (MSFT).) Maybe, Eisner suggested, they were making too much money from piracy to be serious about fighting it.
[read more]
thanks to Doc Searls
----------
Business 2.0 Live!: Is the Information Revolution Dead?
W. Brian Arthur, Andy Grove, and Lawrence Lessig speak at Business 2.0 Live! event in Silicon Valley.
"The PC upended the business architecture, to use that quote -- that phrase -- of the computer industry. And I think digitalization and digital distribution is going to change the order and, yes, there is going to be unhappiness just like there was unhappiness in the 'computer industry' watching the new upstarts -- the minicomputer and personal computer makers -- take a lion's share of the revenue pie. But it happened and it's going to happen again." -- Andy Grove
[read more]
thanks to Doc Searls
Happy birthday Craig, you young whippersnapper.
Better Living Through Microwave Physics
Physics inside a Microwave Oven.
Microwave ovens are designed to cook food and NOT to do scientific experiments. We do not recommend that you try anything described here yourself. If you do choose to do so, you are doing it at your own risk.
Normally, when food (water) is in the microwave, the radiation is continually absorbed, keeping the overall radiation levels low. Many of the following experiments required us to run the microwave nearly empty. Electromagnetic radiation (microwaves) can build up to high intensities. This can cause high levels of radiation to reflect back into the microwave generator causing it to overheat or to be damaged. Small leaks in the oven, otherwise harmless, may emit more radiation than usual and could potentially harm bystanders.
Now that you have been warned, lets start with the fun. This page and the photos and footage stem from the 1999 annual open house of the Ohio State University Physics Department. We performed the demos for a group of Ohio high school physics students.
[read more]
thanks to MetaFilter
Scams R Us
Al Martin Raw
Scams Away: The Boom Is Falling
When will the American taxpayers wake up? It is almost too late, if Bush is allowed another term in office. The economic damage to our nation's public purse will be so severe that not even a fiscally prudent government coming in after Bush will be able to correct the problem because of the declining economy in the rest of the world.
Bush understands that it's too late. He's just operating with reckless abandon to suck every penny he can out of the US taxpayer and to consolidate within that one percent through a variety of scams, artifices, cross holdings, trust, limited partnerships, etc. the money and power they've accumulated.
It'll just be Scams Away for them until the end. In our new "War on Terrorism," it's no longer Bombs Away. It's Scams Away.
[read more]
thanks to SmirkingChimp.com
It Seemed Like A Good Idea At The Time
Brown & Michaels
Weird and Wonderful Patents
Over the years, inventors have tried to solve many of the problems of daily life. Who could forget these vital advances to the state of the art?
Musical Instrument Adapted to Emit a Controlled Flame
Patent No. 4,247,283
Issued: January 27, 1981
Inventor: Pat Vidas, Wantagh, NY
Just the thing for playing Hot Jazz! This trumpet includes a gas cartridge and spark mechanism triggered by the musician. The gas is routed so that a flame is emitted from the bell of the instrument.
[read more]
thanks to BookNotes
War Against Some Terrorists
[read more]
thanks to the bitter shack of resentment
-----------
Evildoers In The Hood
Another batch of fresh terrorist warnings from the government, and you without your skepticism
The evildoers are coming. Again.
No really, they are. This time we really mean it. Those last 17 times we only partially meant it but this time we really really mean it and look even pallid and barely animate VP Cheney is muttering through the scary side of his disquieting mouth that fresh terrorist attacks on the US are "almost a certainty."
And you know he'd never lie about a thing like that, because he's too honest and pure and despite all contrary evidence doesn't actually adore war like Oprah adores cheesecake.
[read more]
thanks to jp @ American Samizdat
----------
Iraq invasion would be error to rival Hitler's attack on Russia
THE defeat of the Taleban and al-Qaeda armies in Afghanistan, which presented an old-fashioned, conventional opposition to the US-led forces, was quick and without undue casualties.
But as Wellington said after the British Army had occupied Kabul in 1839, virtually without opposition, "the difficulties begin where the military successes have ended". Eight months after US forces entered Afghanistan there is little sign that the allies' strategy has sufficiently acknowledged that the nature of the conflict has radically changed and that kinetic energy weapon systems — however smart — cannot defeat guerrillas or suppress terrorism.
[read more]
thanks to SmirkingChimp.com