Archives
Transportation
Bodleian Library / Toyota City Imaging Project
A collection of motoring and transport images from the John Johnson Collection of Printed Ephemera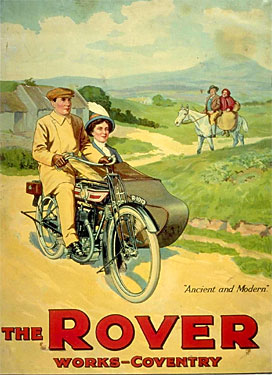 [read more]
thanks to BookNotes
Wall Street Crooks
Capitalists without a clue
Once all-seeing captains of industry, America's CEOs are now playing the Sgt. Schultz dumbo card, braying "I know no-thing, no-thing!"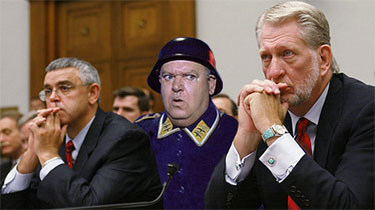 [read more]
---------
Tom the Dancing Bug
Corporate Crime
A Crime Drama in Eight Panels
---------
The current crisis in American capitalism isn't just about the specific details — about tricky accounting, stock options, loans to executives, and so on. It's about the way the game has been rigged on behalf of insiders.
And the Bush administration is full of such insiders. That's why President Bush cannot get away with merely rhetorical opposition to executive wrongdoers. To give the most extreme example (so far), how can we take his moralizing seriously when Thomas White — whose division of Enron generated $500 million in phony profits, and who sold $12 million in stock just before the company collapsed — is still secretary of the Army?
[read more]
---------
Fiscal Reforms? The Fix Is In
Nothing will change without public outrage
by Arianna Huffington
Well, it seems the most recent scandals have made a WorldCom of difference. Any politician with an instinct for self- preservation (and what other kind is there?) no longer can be seen as standing against corporate reform. So the "genius of capitalism" crowd has adopted a new strategy: publicly embrace reform while working diligently behind the scenes to undermine it.
It's a time-honored Washington ploy--the strategic retreat stage of a three-part campaign that starts with full-bore resistance, moves on to insincere support, then culminates in back-channel efforts to kneecap whatever meager reforms manage to survive the legislative process. For a textbook example of how this game works, one need look no further than the efforts of the Business Roundtable, a powerful lobbying group made up of the CEOs of 150 of the largest corporations in the nation.
[read more]
---------
W's Biz Dealings Reek of Sketchy Ethics, Too
by Molly Ivins
Pardon my rant, but I have had it with the Blame Bill Clinton First crowd. Since the day George W. Bush took office, the Clinton-haters, whose monomaniacal nastiness wasted untold amounts of everybody's time and money in the 1990s, were determined to carry their hyperbolic vendetta into this century.
We are sitting here looking at a huge mess in corporate governance, and before anyone can even get out a useful suggestion, some Republican leaps up and says, "It's all Bill Clinton's fault."
Thank you for that eternally helpful observation, but some of us would very much like to just get on with fixing things. As it happens, Bill Clinton did not appoint Harvey Pitt chairman of the Securities and Exchange Commission, a position from whence Pitt has achieved the almost-unimaginable distinction of getting himself criticized by The Wall Street Journal for being too close to business. Instead, Clinton appointed Arthur Levitt chairman of the SEC, and everyone from Wall Street to Main Street is now wandering around muttering, "If we'd've just listened to Arthur Levitt, we wouldn't be in this trouble." Levitt's strenuous efforts to save the system from itself were blocked by the business lobby.
[read more]
Music
THE INTERNET DEBACLE - AN ALTERNATIVE VIEW
by Janis Ian
"The Internet, and downloading, are here to stay... Anyone who thinks otherwise should prepare themselves to end up on the slagheap of history." (Janis Ian during a live European radio interview, 9-1-98)
[read more]
----------
Why I Download: Confessions of a Music Junkie
Tour de France
FDJeux.com's Bradley McGee won the seventh stage of the Tour de France Saturday, a 176km run from Bagnoles-de-l'Orne to Avranches, making him the second Australian to win a stage at this year's Tour.
ONCE's Igor Gonzalez de Galdeano retained the overall leader's yellow jersey. However, U.S. Postal's three-time champion Tour Lance Armstrong suffered a scare when he was caught in one of several pile-ups in the last few kilometers. The American quickly recovered and eventually finished 26 seconds in arrears slipping to eighth overall, some 34 secs adrift of Galdeano.
[read more]
Graphic Arts
[read more]
thanks to Travellers Diagram
Blame Canada!
"Propelled by strong winds from the north, the fires have created a plume of smoke from Michigan to Massachusetts that's visible as far south as Washington, D.C." — National Post, Canada, July 8, 2002
OVEREAGER, CANADA SENDS SMOKESCREEN OVER U.S. BEFORE CANADIAN INVASION PLANS FINISHED
Canada Also Discloses It Has Invaded U.S. 113 Times, But No One Has Noticed
Embarrassed Canadian generals today conceded an overzealous officer defied orders and started fires in Quebec to shroud the eastern seaboard in smoke before Canada had finished preparing its full-scale invasion of the United States.
As a result, the classic war maneuver of blinding the enemy in advance of an attack — the smoke now blankets American skies as far south as Washington, D.C. — was wasted, said Canada's Defence Chief, Lt. Gen. Ray Henault.
"We were supposed to line up on the border, then start the fires," said a clearly disheartened Henault. "It's not like we can do it again. They'll know it's us. I had a cute little house in the Poconos all picked out, too.
[read more]
Vegitarianism keeps looking better and better
Mad Cows, Mad Deer and Mad Bureaucrats
Unfortunately, both the federal and state governments are badly bungling this issue and falsely reassuring people that what happened in Britain could never happen here. The Centers for Disease Control should have made all cases of human CJD reportable to monitor the true number, but in 1999 refused to do so. The Food and Drug Administration and the United States Department of Agriculture realized a decade ago that feeding rendered slaughterhouse waste to livestock should be completely banned, but to appease the meat industry has not done so. Instead, five years ago the FDA
passed a poorly enforced regulation that all meat and bone meal from ruminant animals (cattle, sheep, deer) should be labeled not to be fed to other ruminants. However, the blood from ruminants is exempt, and in Wisconsin and other states calves are fed raw cattle blood plasma as a protein source in milk replacer and calf starter. Cattle meat and bone and blood meal is fed to pigs, which are fed to cattle, by the billions of pounds a year. Deer, elk and sheep known to be infected with mad cow-type disease can legally be rendered and fed to pigs, and pigs are fed to pigs. Deer and elk on game farms and in the wild are fed supplemental fat, protein and minerals even to this day. In other words, the US is widely engaging in practices almost guaranteed to spread TSE disease in the US.
[read more]
----------
Man who hunted in CWD area dies of brain disease
A 63-year-old Thornton man who hunted elk and deer in a Colorado area beset with chronic wasting disease died early Wednesday from a similar human brain disease.
[read more]
both thanks to Richard Kahn @ American Samizdat
Where has he been?
The pickings around her have been pretty slim this past week. Too many things dragging me away from my computer. Not to mention those pesky customers. And the Langley Arts and Crafts Festival is this weekend. I will be down there this afternoon and evening for some fine music and the street dance. But, for now, I'm back at the computer being bathed in the warm glow from the monitor. I'm feeling better already.
Tour de France
My work schedule is got in the way of my Tour reporting — so here are the results from two stages.
Stage 4 Team Time Trial
ONCE nails TTT; Gonzalez de Galdeano in yellow
U.S. Postal came in second against a strong Team Time Trial team. Lance moved up in the standings.
Stage 5
Break stays away, Kirsipuu wins stage
Gonzalez de Galdeano still in yellow
For the overall race favorites, Thursday's 195km (121-mile) fifth stageacross the lush farm country of northern France was a relatively easy day in the saddle. But for the rest of the peloton, there was the usual mix of drama, glory and disappointment.
Lance Armstrong said his U.S. Postal Service team worked well to keep him out of heavy crosswinds, while the Spanish ONCE-Eroski team successfully defended the race leader's yellow jersey for Igor Gonzalez de Galdeano.
[read more]
1. Igor Gonzalez Galdeano (Spa), ONE, at 19hr 05min 56sec
2. Joseba Beloki (Spa), ONE, at 00:04.
3. Lance Armstrong (USA), USP, at 00:07.
4. Jorg Jaksche (Ger), ONE, at 00:12.
5. Abraham Olano (Spa), ONE, at 00:22.
Lance is right where he wants to be. There is no one that has time on him that is a threat and he is only 7 seconds down which is nothing. His team is protecting him to keep him rested for the Time Trial and the mountains.
Israel/Palestine
Ain't That America
A Strange Kind of Freedom
by Robert Fisk
Inside the First Congregational Church of Berkeley, the Californian audience had been struck silent. Dennis Bernstein, the Jewish host of KPFA Radio's Flashpoint current affairs programme, was reading some recent e-mails that he had received from Israel's supporters in America. Each one left the people in the church-- Muslims, Jews, Christians--in a state of shock. "You mother-fucking-asshole-self-hating Jewish piece of shit. Hitler killed the wrong Jews. He should have killed your parents, so a piece of Jewish shit like you would not have been born. God willing, Arab terrorists will cut you to pieces Daniel Pearl-style, AMEN!!!"
[read more]
The above article also had this little gem...
James Abu Rizk, an Arab-American of Lebanese origin, told the Arab-American Anti- Discrimination Committee afterwards. "No one else, no average American, has been asked either. But that is the state of American politics today... The votes and bows have nothing to do with the legislators' love for Israel. They have everything to do with the money that is fed into their campaigns by members of the Israeli lobby. My estimate is that $6bn flows from the American Treasury to Israel each year."
I was curious as to the amount this came to per Israeli. I went to Google to search for Israeli population data and found the following. This is what Israeli children are being taught.
Akhla: The Jewish Children's Learning Network
Israel Fast Facts
Location
Israel is located in the Middle East, along the eastern coastline of the Mediterranean Sea, bordered by Lebanon, Syria, Jordan and Egypt. It lies at the junction of three continents: Europe, Asia and Africa. (...)
Population
Israel is a country of immigrants. Since its inception in 1948, Israel's population has grown seven-fold. Its over six million inhabitants comprise a mosaic of people with varied ethnic backgrounds, lifestyles, religions, cultures and traditions. The population of Israel is about 5.8 million. The population can be divided by religion into a Jewish majority (82%) and a non-Jewish minority (18%).
[read more]
What's the message here? Israeli children are being taught that the Gaza Strip, the West Bank, and the Golan Heights belong to Israel — they are within Israel's borders. They are also taught that, within these borders there are 5.8 million people of whom 18% are non-Jewish minority. What about the 3 million Palestinians living within these borders? They, apparently, simply do not exist. Israeli children are being taught that the land belongs to people who lived elsewhere and that those that have been living there for millenia have no right to this land.
I find this to be truly insidious — but that's the nature of racism.
By the way — the American subsidy to Israel comes out to $1,000 per man, woman, and child — per year. Year after year after year.
Tour de France
Impressive time-trial win boosted Lance's chances
The Tour de France began with a time trial, what the cyclists call "the race of truth."
We had driven up from Metz, a city very few Americans have ever heard of. Yet, when you enter it at night and behold the spotlighted church steeple that seems 300 feet high, then the medieval bridges and castles, and finally the sparkling river, it is a place hard to forget.
Certainly, Lance Armstrong and the U.S. Postal Team that we chanced upon in the corner of a parking lot, Saturday morning in Luxembourg, will never forget it.
[read more]
----------
McEwen scores win in Reims; Zabel in yellow
Durand comes up a few km short
You can always count on Jacky Durand. The 35-year-old bulldog of a racer just keeps on trying.
And try he did, with one of his epic trademark attacks early in Tuesday's 174.5-km stage from Metz to Reims. It didn't work. It rarely does, but it was a good show for the French fans as the 2002 Tour de France came home after three hot and humid days in Luxembourg and Germany.
Durand attacked just 6km into the stage and got reeled in with 6km to go. He didn't win the stage - his last Tour stage-win came in 1998 - but he did earn the day's Coeur de Lion prize for most combative rider.
[read more]
OVERALL AFTER THREE STAGES
1. Erik Zabel (G), Telekom, 13hr 31min 35sec.
2. Robbie McEwen (Aus), Lotto-Adecco, at 00:08.
3. Rubens Bertogliati (Swi), Lampre-Daikin, 00:14.
4. Laurent Jalabert (F), CSC-Tiscali, 00:17.
5. Lance Armstrong (USA), U.S. Postal , 00:17.
6. Raimondas Rumsas (Lit), Lampre-Daikin, 00:20.
7. Santiago Botero (Col), Kelme-Costa Blanca, 00:21.
8. David Millar (GB), Cofidis, 00:22.
9. Laurent Brochard (F), Jean Delatour, 00:23.
10. Oscar Freire (Sp), Mapei, 00:25.
thanks to VeloNews
There are those that may wonder why Lance keeps falling behind. Well, there are, generally speaking, two types of riders — sprinters and climbers. You see the same thing in runners. The 100 meter dash types are quite different from the marathon runners. Same thing in cycling. Lance is a marathon runner, sort of.
One of the things they don't have in running, is teams. Drafting is very important, especially on the flat stages. At the speeds they are traveling, most of the rider's energy is spent overcoming wind resistance, not rolling resistance. The guy in front is working hardest but he only stays there for a short time and lets others take the lead. When he falls back in the peleton, he can "rest". Doesn't seem like resting, given the speeds they are traveling, but it is. So the sprinter types can hang on in the peleton and then give that short burst of speed at the finish that they are so good at. It does make for some spectacular finishes. But it doesn't win stage races like the Tour de France.
There are 21 teams, each with 9 riders. The teams each have a captain — Lance is the captain for the U.S. Postal team. The team is there to do the work for, and protect, the captain until the point in the race when it is up to the captain, and only the captain, to do what he does so well — win overall. There are two places where a rider must do well to win the tour — the time trials and the mountains. That's when it comes down to the individual's heart and legs. The first time trial is stage 9, the first mountains are at stage 11.
In a couple of hours there will be an interesting event — the team time trial. This will test the fitness of the entire team. Each team leaves at 5 minute intervals and rides alone. They are allowed to drop some team members, I forget how many, but there is a minimum they have to finish with and the team's time is determined by the slowest rider. U.S. Postal is a favorite but hasn't done that well in the past. This year could be different. Look for Lance to gain time here.
Israel/Palestine
The New World Order and the Stone Age
Israel's Next Target: Syria
The retiring and the designated Israeli Chiefs-of-Staff sound like twins: both Shaul Mofaz and Moshe Yaalon insist that the next war is inevitable. – Yet another war? Yes: the re-occupation of the West Bank has not satiated the junta's desires at all. In fact, the on-going war on the Palestinians, with its clear genocidal features, is no real challenge for the Generals. Using one of the world's strongest armies to chase amateurish combatants armed with outdated revolvers and home-made explosives is a General's shame, not fame.
So what is Israel up to? Although incitement against Iran, Iraq and even Egypt never ceases (Hebrew Ha'aretz says [2.7] "Recent reports about Egyptian intentions to develop nuclear weaponry WERE APPARENTLY THE RESULT OF ISRAELI PSYCHOLOGICAL WARFARE and do not match intelligence information in Jerusalem, according to a senior Israeli official"; typically, the capitalised words were omitted in the English edition), Israel's most immediate target is undoubtedly Syria.
[read more]
Derek Parrott
Zoe and I spent too many hours today trying to edit video tape with nothing more than two VCRs. My head hurts. My friend, and TestingTesting House Band member, Derek Parrott is having a CD pre-release concert at WICA tomorrow night. It was supposed to be a CD release concert, but so it goes. He wanted some video clips and a slide show to go along with the music. The gentleman that was going to do it backed out three days ago and Derek came to us. The slide show went together easily. A little scanning and a little Power Point. The video was not easy without the right tools and it is rough but will do.
Anyone in Langley Wednesday night at 7:30 should make it on over to see Derek at WICA. Some good music and some good Derek stories.
Food
Maybe we should eat just our vegetables?
Fowl play
They are the ultimate 21st-century food - quick, easy and highly processed. But if you knew about the high percentage of skin, the water, and the pulped carcasses that go into some of them, would you be so keen to reach into the freezer for chicken nuggets? In a major investigation, Felicity Lawrence travels to processing plants in Britain and Thailand to uncover the disturbing truth about every kid's favourite food
Wall Street Crooks
First, a couple of cartoons to whet the palate...
A Magical Visit to the Enchanted Land of the Free Market
----------
Today's Grammar Lesson: Simile
----------
Crime & the president's restatement of yearnings
Or, the semantic antics of the overly franchised
Every scandal, it seems, produces at least one classic and defining euphemism—a judiciously chosen word or phrase diligently employed to sugarcoat the sour reality at hand. In Watergate, it was press secretary Ron Ziegler's mechanical assertion that all his previous statements were "inoperative." In Vietnam, it was the military's use of "friendly fire" to soften the dreadful truth of soldiers killed by their own side.
And now we have corporate America's glittering contribution: "restatement of earnings." It sounds so innocuous and benign. Possibly even a good thing. Earnings are good after all. And "restating" is just the boardroom equivalent of asking for a do- over on the playground. It connotes a slip of the tongue, a wrongly chosen word, a failure to carry the 1 when doing your math homework. What it doesn't sound like is, well, what it is: out-and-out fraud involving the fleecing of billions of dollars from shareholders and pension funds.
[read more]
----------
A Fox Is About to Reassure Us Hens
Can Bush scold Wall Street with a straight face?
For President Bush to pretend to be shocked that some of the nation's top executives deal from a stacked deck is akin to a madam feigning surprise that sexual favors have been sold in her establishment. Dubya may have gaps in his education, but ignorance of "aggressive accounting" techniques and other scams they don't teach in Biz 101 is not one of them.
Not only was the prez and ex-businessman himself a pro at milking failed corporations he made look good on paper, but too many family members, friends and members of his administration have been implicated in scandals of the sort he now condemns. For Bush to argue that the unraveling of corporate America is the work of a "few bad apples" is a dangerous line of reasoning for him because an embarrassing number of those apples have fallen very close to the tree of his presidency.
[read more]
----------
Books
After retiring from work as a librarian and information scientist I began developing a family library using the book lists available. Having acquired thousands of books this way, it seemed to me that the lists themselves, many of which were difficult to obtain and often inadequate, should be researched thoroughly and preserved in a widely available format. So in the Spring of 2000, I began developing an internet site devoted to the best book lists and award winners. In July of that year, I established the Booklist Center with 100 lists. During the next six months, additions brought the total to 200 lists.
[read more]
thanks to BookNotes
TestingTesting
The archive for last night's show, with Beverly Graham, is up. Pictures and sound. Another evening of music from my living room at Honeymoon Lake. Now back to our regularly scheduled programs.
TestingTesting
Every other Monday night I do a webcast, from my living room, called TestingTesting. Tonight is one of those Monday evenings. Click on in and hear some great live music. Enter your comments in the show guestbook and I will read them to the musicians.
Tour de France
World champion Freire takes Stage 2
Mapei's world road race champion Oscar Freire charged to the front of the peloton in the final meters to take his first-ever stage win at the Tour de France on Monday, as the race finished its second stage on the streets of Saarbrücken, Germany.
The 26-year-old Spaniard, who won his world title in Lisbon last October, crept up on the right side of the Australian national champion to pip him on the line and take the honors after 181km of riding from Luxembourg to Saarbrücken.
[read more]
Preliminary Overall Standings
1. Rubens Bertogliati (Swi/LAM), 9hr 18min 12sec.
2. Erik Zabel (Ger/TEL), at at 00:02.
3. Laurent Jalabert (Fra/CST), at 00:03.
4. Lance Armstrong (USA/USP), at 00:03.
5. Raimondas Rumsas (Lit/LAM), at 00:06.
6. Santiago Botero (Col/KEL), at 00:07.
7. David Millar (Gbr/COF), at 00:08.
8. Laurent Brochard (Fra/DEL), at 00:09.
9. Oscar Freire (Spa/MAP), at 00:11.
10. Dario Frigo (Ita/TAC), at 00:11.
Lance drops a place but is still only 3 seconds behind. These flat races often end with a few sprinters going for the win off the front of a large pack of riders (the peleton). Everyone in the peleton gets the same time. In the next few days you may see a small group of riders attack and break away from the main peleton. If the riders breaking away are not considered to be threats for an overall placing, the major teams will let them go. However, if a big boy is in the break, then the other major teams will try to reel them in. Lots of strategy in these races, protecting positions, as they head towards the mountains, but it's not likely that anyone will build a real lead at this point. But anything can happen. After all, it's the Tour de France.
Wade Davis
The ticking bomb
The Western ideal of comfort and wealth holds a hollow promise for the rest of the world and provides fodder for extremists, says anthropologist WADE DAVIS. It could be threatening our survival
On Sept. 11, in the most successful act of asymmetrical warfare since the Trojan horse, the world came home to America. "Why do they hate us?" asked George W. Bush. This was not a rhetorical question. Americans really wanted to know -- and still do, for their innocence had been shattered. The President suggested that the reason was the very greatness of America, as if the liberal institutions of government had somehow provoked homicidal rage in fanatics incapable of embracing freedom. Other, dissenting voices claimed that, to the contrary, the problem lay in the tendency of the United States to support, notably in the Middle East, repressive regimes whose values are antithetical to the ideals of American democracy. Both sides were partly right, but both overlooked the deeper issue, in part because they persisted in examining the world through American eyes.
The United States has always looked inward. A nation born in isolation cannot be expected to be troubled by the election of a President who has rarely been abroad, or a Congress in which 25 per cent of members do not hold passports. Wealth too can be blinding. Each year, Americans spend as much on lawn maintenance as the government of India collects in federal tax revenue. The 30 million African-Americans collectively control more wealth than the 30 million Canadians.
[read more]
thanks to wood s lot
wood s lot has more links to Wade Davis
T. Tomorrow
Read Tom Tomorrow's comments about Ann Coulter's comments about the above cartoon and our Americanism.
White House Crooks
On Tuesday, George W. Bush is scheduled to give a speech intended to put him in front of the growing national outrage over corporate malfeasance. He will sternly lecture Wall Street executives about ethics and will doubtless portray himself as a believer in old-fashioned business probity.
Yet this pose is surreal, given the way top officials like Secretary of the Army Thomas White, Dick Cheney and Mr. Bush himself acquired their wealth. As Joshua Green says in The Washington Monthly, in a must-read article written just before the administration suddenly became such an exponent of corporate ethics: "The `new tone' that George W. Bush brought to Washington isn't one of integrity, but of permissiveness. . . . In this administration, enriching oneself while one's business goes bust isn't necessarily frowned upon."
[read more]
Graphic Arts
An Etch-A-Sketch that can be controlled from a web page
I first added stepper motors to this Etch-A-Sketch a couple of years ago. The stepper motors are from 5 1/4" disk drives. These can be had at hamfests for a dollar or less and usually contain a nice 12 volt stepper motor. The belt and pulleys are from Small Parts They are called timing pulleys and timing belts, they cost less than $20 total.
[read more]
thanks to Spitting Image
Someone has too much spare time on their hands.
Indians
Truth and Consequences on the Reservation
Elouise Cobell heard the stories for years: the government was cheating Native Americans on payments for land rights. She took up the cause, and now the Blackfoot Indians are poised to reap billions.
Tour de France
Rubens who? Bertogliati takes stage and jersey
Cycling journalists love to play with numbers. All day long, the hacks were figuring the time splits among the favorites in the chase for the yellow jersey in the 192.5-km opening stage of the 2002 Tour de France.
Prologue winner Lance Armstrong revealed he wasn't interested in defending the maillot jaune when he conceded the time bonuses at the first intermediate sprint after 50km, so the jersey was prime for the picking.
[read more]
Overall standings after one stage:
1. BERTOGLIATI Rubens (Swi), Lampre-Daikin en 4h 58:21
2. JALABERT Laurent (F), CSC-Tiscali, at 00:03
3. ARMSTRONG Lance (USA), U.S. Postal, at 00:03
4. RUMSAS Raimondas (Lit), Lampre-Daikin, at 00:06
5. BOTERO Santiago (Col), Kelme, at 00:07
6. MILLAR David (GB), Cofidis, at 00:08
7. BROCHARD Laurent (F), Jean Delatour, at 00:09
8. ZABEL Erik (G), Telekom, at 00:10
9. FRIGO Dario (I), Taconi, at 00:11
10. GONZALEZ GALDEANO Igor (Sp), ONCE, at 00:12
thanks to VeloNews
The early part of the race will be contested by the sprinters — the flatlanders. Lance and his team will be up front not letting any threats get away that could build up points. The first real test will be Stage 9 — Monday, July 15. That will be a tough time trial. Lance is the favorite. What is unknown is how much time he can put on the field. There will be a day of rest after the time trial and then the big boys will come out and play on Stage 11 — Thursday, July 18 as the Tour heads into the Pyrénées.
Lance faked every one out last year. He appeared to be struggling on the first mountain stage until they arrived at the last *steep* section and Lance just went off the front and then everyone realized the race was pretty much over and it was going to be Lance's Tour. Lance isn't going to suprise anyone this year. But then, he probably doesn't need to.
There are a lot of miles to go.
Israel/Palestine
Arafat must not be assassinated. This is not some left-wing notion or a sudden burst of compassion for the Palestinian leader. No, Arafat must not be assassinated because as long as he's around there will be no peace, Israel will be able to go on holding the territories, there will be no need to evacuate settlements or come up with a political plan, the Labor Party will not have to vie for public opinion, the Likud will continue to enjoy policy successes at home and abroad, and if we return to a routine of "only" one terrorist attack a month, we will forget very quickly who is heading the Palestinian Authority, because we will be - in fact we already are - the Palestinian Authority. That is, the authority that is managing the Palestinians.
[read more]
----------
The message of the Caesarea Conference
The real message sent by the Caesarea Conference, which drew to a close last Thursday in Jerusalem, was not the prime minister's announcement of a secret understanding which he supposedly reached with the U.S government about principles of an agreement with the Palestinians. Rather, the true message of the conference was a consensus displayed by its participants: They all agreed the economy could not be rescued from its current stagnant state unless a dramatic diplomatic-security breakthrough comes about. Laden in this diagnosis is the key to breaking the vicious circle of violence which has plagued Israeli-Palestinian relations for the past 22 months.
[read more]
----------
Zionist Dreams Sinking Into Despair
Mideast: U.S.-born Israelis revise their belief in a peaceful yet democratic state.
Israel/Palestine — background
Igor Boog, over at Shou?, pointed out these three articles for those trying to put the current situation in Israel/Palestine in context. The are a must read so I repeat the links here.
From LBJ to GWB
The Full Story of Resolution 242:
How the US Sold Out the Palestinians
The quarter-century-old bedrock U.S. policy of supporting the exchange of full peace for full withdrawal had thus been reshaped by Clinton administration policymakers to supporting the exchange of full peace for a mere partial withdrawal. The promise to the Palestinians that had always been part of the demands on them to accept Resolution 242 was abandoned without a by-your-leave by a team of U.S. negotiators whose main interest lay in guaranteeing Israel's security and seeing to the furtherance of Israel's interests, and by a president who may not have understood and apparently did not care about the nuances of decades of U.S. policymaking.
This failure of understanding is the primary reason the peace process collapsed at the Camp David summit in July 2000.
[read more]
The leaders of Clinton's negotiating team, Dennis Ross and Martin Indyk, had been connected with the pro-Israeli think tank, the Washington Institute for Near East Policy, a spin-off from the American Israel Public Affairs Committee (AIPAC), the principal pro-Israel lobby organization. Martin Indyk had worked for AIPAC. They were both Jews that had lived in Israel. This made for impartial negotiations on the part of the U.S.?
----------
This article was written at the end of last year but is still very relevant.
Israel did not set out to be a right-wing apartheid-state-in-the-making, where Palestinians would be held in bantustans--if they were not expelled. But it is dangerously close to becoming just that. The religious right, with its demagogic dream of Greater Israel, seemingly has won.
(...)
As evil as terrorism is, however, it doesn't represent an existential threat to Israel. The absence of peace does. Without peace that would result in a viable Palestinian state, Israel will soon be ruling over a hostile majority-Palestinian population, and then "the situation will deteriorate in a very short time into hell," says Yossi Beilin. "I don't know what kind of hell, but it will be hell."
[read more]
----------
Ethnic cleansing attended the birth of Israel but, more than 50 years later, the country is still in denial about its bloody past. Those who speak out risk their jobs
Behind the turbulent news from Israel, a struggle for historical truth has passed almost unnoticed outside academic circles; yet its wider significance is epic. In May 1948, more than 200 Palestinians were killed by the advancing Jewish militia in the coastal village of Tantura, south of Haifa.
According to the recorded testimony of 40 witnesses, both Arab and Jewish, half the civilians were shot in a "rampage". The rest were marched to the beach, where the men were separated from the women and children. They were taken to a wall near the mosque where they were shot in the back of the head.
The "cleansing" of Tantura (a term used at the time) was a well-kept secret. When they were interviewed four years ago, several Palestinian witnesses said they feared for their lives if they spoke out. One survivor, who as a child witnessed the murder of his entire family in Tantura, said to the interviewer: "But believe me, one should not mention these things. I do not want them to take revenge against us. You are going to cause us trouble... "
[read more]
Tour de France
Armstrong rockets to prologue win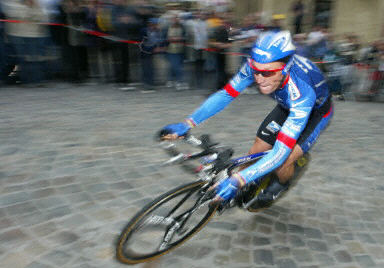 Lance Armstrong went like a rocket Saturday to win the opening prologue of the 2002 Tour de France and pick up exactly where he left off in Paris last summer.
The three-time defending champion roared over the twisting, technically difficult 7.3-km course in downtown Luxembourg, edging Frenchman Laurent Jalabert (CSC-Tiscali) by two seconds to win his 12th career Tour stage (prologues, time trials and road stages) and take the first yellow jersey of the 89th Tour.
[read more]
Dead Bugs
Another dead bug. This guy was a little one. See big pictures.
Civil War
Civil War Letters of the Christie Family
In 1861, two brothers, having just purchased a farm in Southern Minnesota, enlisted in the First Minnesota Battery of Light Artillery. Although neither expected a long tour of duty, William and Thomas Christie served in the First Minnesota Battery through June 1865. Their younger brother, Alexander, enlisted in an infantry regiment in fall 1864.
All three brothers were excellent writers, and each wrote extensively while in the Army. Their letters, full of revealing observations on war, society, and contemporary politics, are contained within the James C. Christie and family papers at the Minnesota Historical Society.
[read more]
thanks to plep
Women
FEMINAE ROMANAE:
The Women of Ancient Rome
In all of Roman literature surviving the fall of its Empire, only six short poems from a woman named Sulpicia have come down to us that speak in a woman's authentic voice. Yet more has been learned of Roman women in the past thirty years than in centuries before. From the Empress to her freedwoman, the good wife to the prostitute, the midwife to the scholar, this site presents an introduction to the history of the women of ancient Rome.
[read more]
thanks to plep