Archives
cable
Underwater Web: Cabling the Seas
A century and a half ago, the world suddenly became smaller when an underwater telegraph cable joined two nations divided by the sea. From that first link, a vast web spread across the globe.
[more]
thanks to plep
fascism
The Hard Road to Fascism
Today's antiliberal revolt looks a lot like 1920s Europe.
The United States is at a turning point in its history. Some intellectuals and journalists have compared the destruction of Saddam Hussein with the fall of the Berlin Wall or even the collapse of the Soviet Union. Others—looking to the origins of the Cold War rather than its end—have compared the momentous political and economic changes now underway with the period between 1946 and 1948, when the wartime alliance with the Soviet Union broke down.
But current changes seem deeper, more far-reaching, and at the same time less conclusive than either of these analogies suggests. American power today dominates the world in quite a different way than it did even at the end of the Second World War, when the United States and its European allies faced a powerful and implacable enemy across an increasingly polarized Europe and elsewhere around the globe. At the same time, the American Leviathan is only at the beginning of its crusade—the word seems well chosen—to democratize the world and ensure its harmony with American interests.
A more apt (and troubling) comparison is with the 1920s, when an earlier liberal order collapsed and was replaced by imperial and mega-state regimes.
[more]
thanks to wood s lot
prints
Bertha Lum, an American artist active from the 1900's through the 1930's, made a significant contribution to the Japonisme movement with her woodblock prints and paintings. Lum's prints combine sinuous Art-Nouveau curves with flat planes of color that harken back to 19th century ukiyo-e. The subject of her work ranges from children to landscapes to mysterious figures from Asian folklore and legend. Perhaps because she was a foreigner and could only experience Asian life on the outside, Lum envisioned Asia as an exotic, magical place full of lantern light, swirling smoke, and smiling women, a vision which still appeals to viewers today.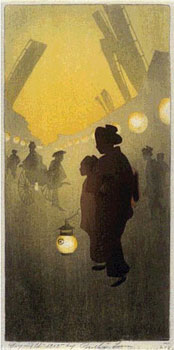 [more]
thanks to plep
i thought the republicans were for free trade?
GOP worries grow on job losses
Congressional Republicans propose tax breaks, 'buy American' rules
Concerned about the loss of factory jobs and with an eye on next year's election, some congressional Republicans are pushing protectionist and pro-manufacturing measures — which may provide cover for incumbents running for re-election. Republicans have offered a range of measures, from beefing up "buy American" provisions in defense contracting to tax breaks for manufacturing firms.
EVEN AS THE House approved free trade accords with Chile and Singapore Thursday, there was an undercurrent of deep worry about the hemorrhage of American manufacturing jobs.
"We're getting killed. Cored out to the bone," said Rep. Don Manzullo, R- Ill., who represents a northern Illinois district with a heavy concentration of machine tool and tool-and-die plants, in an interview with MSNBC.com Thursday. "There's 11.3 percent unemployment in Rockford," the largest city in his district.
Manzullo added that fellow Republican House Speaker Dennis Hastert's district, just south of Manzullo's in Illinois, is "getting hit as unmercifully as mine is. So this is big-time stuff."
[more]
Hypocrites!
tour de france
Lance takes third in the time trial and Ullrich is fourth which locks in the win for Lance. One stage to go. Five wins in a row for Lance. Sacre bleu! More later.
[update]
Armstrong closes on Tour title
Lance Armstrong is poised to claim his fifth Tour de France crown after extending his overall lead in Saturday's dramatic time trial.
The American leads second-placed Jan Ullrich by 76 seconds with just one stage left after starting the day 65 seconds ahead of his main rival.
Britain's David Millar won the 49km stage between Pornic and Nantes, somehow clocking a time of 54 minutes 5.13 seconds despite crashing.
But the main focus of attention was on the duel between the race's top two riders.
Ullrich's hopes of making up time on Armstrong evaporated when he also crashed heavily midway through the stage.
With rain and wind making conditions treacherous, the German fell as he rounded a corner, sliding into bollards at the side of the road.
He picked himself up but suffered another wobble moments later before coming home in fourth place.
"When I heard that Ullrich had fallen I did not take any risks," said Armstrong.
[more]
The rain and wet roads made for treacherous riding.

Lance Armstrong is the last of the 148 riders to go, knowing he must clock a fast time to if he is to fight off Ullrich

Up ahead it's disaster for Ullrich who slips in the wet conditions, skidding across the road to lose precious seconds

Ullrich springs up unhurt and quickly remounts his bike, but the fall has probably cost him the Tour

Armstrong does not better Millar's time, but he crosses the finish line all but assured of a fifth title on Sunday
And our man with the broken collar bone, Tyler Hamilton, took second in the time trial and moved up to 4th overall.
Overall results
1. Lance Armstrong USA US Postal 80:03:29
2. Jan Ullrich GER Team Bianchi +01:16
3. Alexandre Vinokourov KAZ Telekom +04:29
4. Tyler Hamilton USA Team CSC +06:32
5. Haimar Zubeldia ESP Euskaltel +07:06
6. Iban Mayo ESP Euskaltel +07:21
7. Ivan Basso ITA Fassa Bortolo +10:12
8. Christophe Moreau FRA Crédit Agricole +12:43
9. Carlos Sastre ESP Team CSC +18:49
10. Francisco Mancebo ESP iBanesto.com +19:30
Sunday is the last stage but there will be no chance for anyone to catch. It will be a race for sprinters and a procession for Lance. 5 in a row!
assassination as official u.s. government policy
The killing of Hussein's sons: the Nuremberg precedent and the criminalization of the US ruling elite
On the plane of morality, there exist no fundamental differences between the personnel of the Hussein regime and the Bush administration. The latter operates in every sphere with unashamed lawlessness and violence. If there is a difference in the degree of brutality against its own citizens, the "restraint" exercised by the Bush forces is a matter of circumstance rather than moral superiority over the killers and torturers of the ousted Iraqi regime
In the operation against the Hussein brothers the US military mobilized hundreds of troops and dozens of vehicles and aircraft. The American forces used automatic weapons, rockets, rocket-propelled grenades and tow missiles against four individuals armed with AK-47 automatic rifles.
The assault had the character of a gangland slaying, the vengeful wiping out of the cornered leadership of one gang by a more powerful and better-armed outfit. An unnamed senior US military official in Iraq spoke like a Mafia don, telling the UPI: "This is a very beneficial hit. They cannot feel anything other than doom, since if we can take down these guys, we can take down anybody."
The exultation of US and British officials and the media over the killings in Mosul—which included the death of the 14-year-old son of Qusay Hussein, Mustapha—can only arouse revulsion. The pleasure that these circles take in bloodletting and violence has a pathological character.
[more]
thanks to Politics in the Zeros
But when the prosecutor's own hands are dirty ... ah, well, that changes things, doesn't it? Then the goal of the process isn't to reveal, but to conceal -- and as quickly and efficiently as possible. Cromwell and the French Convention put their tyrants on trial; Lenin had his shot in a basement. This tells you something about the differences between their revolutions.
It's understandable, really, why the Bush administration would prefer to remove the Husseins from history, rather than put them back in it. The Hussein brothers may not have known as much as their father about the full history of America's relationship with Iraq, but they probably knew enough to make a public show trial a very, ah, revealing affair. Consider these scraps of known information:
One awkward find was a cache of missiles that were made in the United States. Though details of the discovery are classified, sources in Washington say that military and intelligence agencies launched an urgent investigation to find out how the weapons got to Iraq and whether American firms might have violated U.N. embargoes and U.S. laws. Recently the inquiry was abandoned when convincing evidence turned up that the missiles had been exported legally from the United States to Iraq in the years before the first gulf war, when American policymakers cozied up to Saddam as a counterbalance to Iranian ayatollahs.
[more]
At that press conference there was a gentleman who asked an extremely important question which was answered by Sanchez with "that is speculation. Next question." I later found out that the man in front of me was Fisk and the question he asked which we all want to be answered was: why was the decision made to attack with a force that would have been capable of annihilating a city block? Why did they opt for killing them when they knew their importance as sources of information on all sorts of things and the wish all Iraqis have that they be put thru trial?
Fisk started the ball rolling, sanchez was asked the same question at least 5 times in different ways and with it the question of how to prove this to the Iraqi people. And what do we get? Meaningless militareses. Beyond disappointing.
What sort of wake up call do they need? You get people saying the Americans are slow, the Americans are not fulfilling their promises. Don't fucking lose it, you are really stretching your luck, act act act. You came and gave people big hopes and you let them fall flat on their faces. I can't believe that there has not been a single big celebration, I went to the office this morning and one of the photographers was asking "so where do you think they will be dancing in the streets?". It doesn't feel like there is a reason to celebrate. People are still being killed left and right.
[more]
thanks to Magpie
Dumb and Dumber in Iraq
Human Trophies on the White House Wall
metal art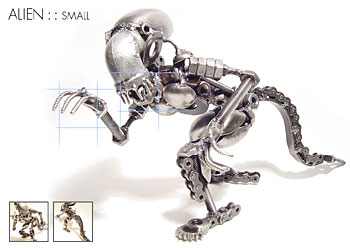 [more]
thanks to Iconomy
treason
The Integrity and Dignity of the White House Become a Scum Pond of Betrayals and Gutter Smears Under Bush
The irony for BuzzFlash is that we had asked David Corn of The Nation, last Friday, what would happen if Dick Durbin had publicly identified a "deep cover" CIA operative as two unidentified senior administration officials had done just last week (See: "Some Dare Call It Treason"). The action of those two administration representatives, also taken out of vengeance and a desire to intimidate any intelligence officer who might dare to reveal the truth to the American public, effectively destroyed the value of work being done by a CIA intelligence officer who specialized in -- get this -- tracking weapons of mass destruction. Yes, the Bush Cartel enforcers allegedly undermined the national security of the United States just to get even with someone. As BuzzFlash noted, some might dare call it treason.
So, what did David Corn think would have happened to Dick Durbin if he had been the one who publicly named the CIA operative, blowing her cover, and thus undercutting our national security in relation to tracking WMDs? Corn was blunt: the Republicans would have summarily tossed Durbin off of the Senate Intelligence Committee, censured him in the senate, destroyed his career as a senator, and perhaps, BuzzFlash added, tried to expel him from the senate. He probably also would have been prosecuted after being expelled from the senate. Of course, the right wing media shills also would have been instructed by Karl Rove to let loose with an unrelenting tirade against the "traitorous" Democrats and liberals.
But we haven't heard a peep from the highly-paid right wing megaphones about accusations that the Bush administration outed a CIA agent who gathered information on WMDs, thus rendering her work effectively useless, according to her husband. Furthermore, Durbin is being singled out by the White House for removal from the Senate Intelligence Committee for trying to IMPROVE our national security and better PROTECT Americans, while the Bush administration is undercutting our national security for the purpose of revenge and intimidation.
[more]
thanks to Cursor
Probes Expected in ID of CIA Officer
Democrats yesterday denounced the alleged disclosure by administration officials of the identity of an undercover CIA officer, and members of both parties indicated a congressional investigation is likely.
[more]
thanks to Cursor

photography
Michal Macku (*1963), Czech photographer creates his works using his own photographic technique named Gellage
[more]
thanks to wood s lot
iraq
The wrath of the conquered
America's GIs feel like living targets on Baghdad's streets, while the subjects of the accursed dictator Saddam Hussein complain more and more vocally about the arrogance and incompetence of their conquerors. The star of Gulf war champion George W. Bush is also beginning to fall at home.
56-year-old Chamis Sami al-Abid, a tomato, squash and cucumber farmer, construction machinery and beverage importer, owner of a shipping company, and the richest man in the small city of Faludja on the Euphrates River, has many good reasons to look forward to the arrival of American soldiers.
The small commercial empire he and his two brothers once took over from their father - about 100 employees, many millions of dollars in annual sales, two subsidiaries, one in Amman and the other in Dubai - suffered for years under Saddam Hussein's dictatorship. "Baghdad caused us nothing but trouble," says Abid. "We were just waiting for the end of Saddam."
Now Faludja has been liberated for the past three months, 13,000 US soldiers are camped on the grounds of a former Iraqi army base a few kilometers north of the city, the cadres of the formerly ruling Baath party have been driven away, corrupt officials have been sent home, and all trade restrictions have been lifted. Nevertheless, Abid sits in his city villa and waits bitterly for the first of the nightly US patrols.
"Just as the heat begins to let up, the first tank comes roaring along the street. The entire house vibrates. And this continues hourly until five in the morning." He says that Ahmed Husseini, the son of a neighbor, protested at the garden gate in early June. "The Americans simply shot him. These people don't know what they're doing."
[more]
thanks to Spitting Image
Sleep deprivation, loud music, bright lights, hooding and prolonged restraint in painful positions are being used by coalition forces in Iraq to torture detainees, Amnesty International said yesterday.
Presenting a memorandum detailing allegations of ill treatment, Mahmoud Ben Romdhane, head of the organisation's delegation in Baghdad, warned that the promise of human rights for Iraqis had yet to be fulfilled.
[more]
clock art
MARCEL BETRISEY
Works of art that also tell time.
[more]
thanks to Iconomy
more lies about iraq
9/11 report: No Iraq link to al-Qaida
The report of the joint congressional inquiry into the suicide hijackings on Sept. 11, 2001, to be published Thursday, reveals U.S. intelligence had no evidence that the Iraqi regime of Saddam Hussein was involved in the attacks, or that it had supported al-Qaida, United Press International has learned.
[more]
And you can download the entire report (PDF) from this page:
Congressional Reports: Joint Inquiry into Intelligence Community Activities before and after the Terrorist Attacks of September 11, 2001
In February 2002, the Senate Select Committee on Intelligence and the House Permanent Select Committee on Intelligence agreed to conduct a Joint Inquiry into the activities of the U.S. Intelligence Community in connection with the terrorist attacks perpetrated against our nation on September 11, 2001. This report (available as both S. Rept. 107-351 and H. Rept. 107-792) consists of 832 pages that presents the joint inquiry's findings and conclusions, an accompanying narrative, and a series of recommendations.
[more]
thanks to Eschaton
photography
When Edward Weston's Eye Feasted on His Beloved California
At age 20, Edward Weston, a struggling photographer, moved from Illinois to Southern California, beckoned by his sister, May Seaman. "This is the place for you without an atom of a doubt," she wrote. "Every year you spend back East is so much loss to you. This is the country you have been longing for."
Mrs. Seaman was right. From the moment he settled in California, in 1906, Weston found not only a home but also a landscape that gave him the opportunity to create some of the richest and most sensuous photographic images of the American West ever made. At his death in Carmel in 1958, at 71, after years of not working because of Parkinson's disease, Weston was acclaimed as a pioneering modernist and a master of 20th-century photography.
"Weston's objective was to find beauty in the commonplace, or discover the transcendental qualities in objects that seemed ordinary," said Jennifer Watts, curator of photography at the Huntington Library, Art Collections and Botanical Gardens in San Marino, near Pasadena, which is offering a major Weston show until Oct. 5.
[more]
Edward Weston
Photography and Modernism
In 1927 a noted critic proclaimed photography "the new art of the twentieth century" and Edward Weston among its few "unquestioned masters." Weston (1886-1958) is best known for his still-lifes of peppers and shells, his heroic portraits, and his abstract close-ups of nudes, rocks, and trees. More than a great photographer, though, Weston was a pioneering modernist, one whose work evolved in response to contemporary movements in all the arts. "Edward Weston: Photography and Modernism" shows the great strength and variety of Weston's mature work from his first experiments with modernism about 1920 until he stopped working in 1948 due to ill health.

Excusado, 1925
[more]

Our foppish self-righteousness
Since the start of the intifada, more than 800 Israelis, mostly civilians, have been killed by Palestinians. We, justifiably, call it "murder." Some were killed by suicide bombers and the rest with other instruments of death. At the same time, more than 2,200 Palestinians have been killed by Israelis - some as armed suspects, and almost all from soldiers' fire. We don't call these casualties "murdered."
But perhaps these deaths should also be referred to as murders. All the instruments of death that came from the sky, and the tanks, and the snipers were aimed at "the enemy" as the chief of staff says, or in "wartime operations" as Judge Advocate General Menachem Finkelstein says; and so there's no need to interrogate soldiers and prosecute the killers of civilians. Furthermore, adds the law-abiding JAG, "It is impossible to conduct 2,000 investigations into 2,000 deaths" (Haaretz, July 10).
But he didn't onduct investigations when there were only 50 cases of murdered Palestinians or when there were 100. So why put murderers and abusers on trial now when there are so many? Wait, he did, finally, find eight cases to
investigate, for shooting incidents.
[more]
Letters from Palestine: A Canadian Comes Home to Hebron
I made it to Palestine on Tuesday, May 28 after a brief but painful stay in Jordan. I was held at the airport for five hours and my passport was taken away. I was given a piece of paper and told to go to a certain government agency within 48 hours to get my passport from there.
It was a nightmare.
[more]
Letters from Palestine: Babies and Blockades
Yesterday was June 6, 2003, the 36th anniversary of the occupation of Palestine. It was a day like any other day. Despite 36 years of occupation, the people have not forgotten. They are well informed about everything. Iraq and Palestine are the topic of the hour.
Everyone has an opinion. Since I arrived here, I have been listening to people's analysis of the situation and what will become of Palestine. Discussions are numerous, fierce, and very funny. Humor peppers all political discussion.
However, it seems it is only me who laughs.
I spent the first few nights laughing before realizing no one else was. People are tired and angry.
Their demand now is to remove the roadblocks. No matter how I, or many others, explain the horror of the roadblocks and road closures, one must experience it to realize the level of humiliation that Israel visits on Palestinians.
[more]
thanks to Magpie
landscapes
Landscape Prints and Drawings Collection
[more]
thanks to Spitting Image
prescription legislation
Doug Grow: Senators swallow hard over Dayton's medicine
Sen. Mark Dayton has many of his colleagues smiling on the outside but fuming on the inside.
The Minnesota Democrat successfully has put the limelight on the two faces of his peers with an ingenious amendment to the Medicare prescription drug bill the U.S. Senate so proudly passed a few weeks ago.
The Senate bill -- and a similar plan passed by the House of Representatives -- is filled with loopholes, exceptions and co-pays for seniors. The bill is a far cry from the serious help that politicians of both parties have been promising to senior citizens for years.
Holding his nose, Dayton voted for the imperfect prescription medicine bill.
But he also came up with a creative approach to show his contempt. He dropped an amendment he calls "a taste of our own medicine" on the Senate floor. The amendment requires senators to receive prescription drug benefits no greater than those being proposed for senior citizens. It so happens the benefits proposed for seniors are drastically inferior to those currently enjoyed by our illustrious senators.
"I've never had so many dirty looks in my life," Dayton said of his colleagues' reaction to his amendment. "I didn't sense great enthusiasm for anything but to strangle me or have me removed from the building."
[more]
thanks to Cursor
photography
Photographed in central Finland and Lapland in 2001-2002.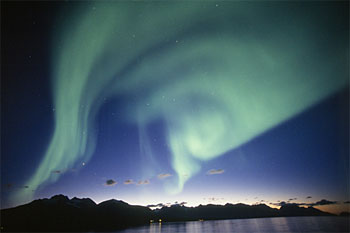 [more]
thanks to Esthet
he's back and someone should be afraid
Welcome to the Big Darkness
By Hunter S. Thompson
The American nation is in the worst condition I can remember in my lifetime, and our prospects for the immediate future are even worse. I am surprised and embarrassed to be a part of the first American generation to leave the country in far worse shape than it was when we first came into it. Our highway system is crumbling, our police are dishonest, our children are poor, our vaunted Social Security, once the envy of the world, has been looted and neglected and destroyed by the same gang of ignorant greed-crazed bastards who brought us Vietnam, Afghanistan, the disastrous Gaza Strip and ignominious defeat all over the world.
The Stock Market will never come back, our Armies will never again be No. 1, and our children will drink filthy water for the rest of our lives.
The Bush family must be very proud of themselves today, but I am not. Big Darkness, soon come. Take my word for it.
DR. THOMPSON IS BACK WITH US NOW, AND READY TO RUMBLE. HE IS FREE OF THE HIDEOUS PAIN THAT HAS PLAGUED HIM AND HIS LOVED ONES SINCE TIME IMMEMORIAL. BUT IT IS GONE NOW. THINGS HAVE CHANGED.
[more]
We can all hope for some Fear and Loathing on this campaign trail.
thanks to Eschaton
photoshopping
Happy Signs.
Signs with some added happiness.

Pong
[more]
thanks to The J-Walk Weblog
don't forget that our troubles began with a stolen election
The Best Democracy Money Can Buy: Part I
Jim Crow in Cyberspace -- The Unreported Story of How They Fixed the Vote in Florida
"The guts for Michael Moore's opening screed on how Bush 'stole' the 2000 election," writes the Village Voice, "came from investigative reporter Greg Palast, whose own book, The Best Democracy Money Can Buy, has fast become a cult fave among progressives." Now, WorkingForChange brings you an exclusive serialization from Palast's New York Times bestseller. Over the next two weeks, you can get your daily dose of Palast's opening chapter, "Jim Crow in Cyberspace" -- which we will interrupt only to bring you BBC reporter Palast's latest comments -- on Liberia, on Iraq and on the economic wars at home.
This series is part of the WorkingForChange campaign, in cooperation with Martin Luther King III of the Southern Christian Leadership Conference, to prevent the theft of the presidential election of 2004. With each excerpt we are including links to sign onto the WorkingForChange/King petition.
[...]
Here's how it worked: Mostly, the disks contain data on Florida citizens—57,700 of them. In the months leading up to the November 2000 balloting, Florida Secretary of State Harris, in coordination with Governor Jeb Bush, ordered local elections supervisors to purge these 57,700 from voter registries. In Harris's computers, they are named as felons who have no right to vote in Florida.
Thomas Cooper is on the list: criminal scum, bad guy, felon, attempted voter. The Harris hit list says Cooper was convicted of a felony on January 30, 2007. 2007?
You may suspect something's wrong with the list. You'd be right. At least 90.2 percent of those on this "scrub" list, targeted to lose their civil rights, are innocent. Notably, over half—about 54 percent—are Black and Hispanic voters. Overwhelmingly, it is a list of Democrats.
[more]
tour de france
The Tour is approaching it's final miles and the top positions remain unchanged except that Tyler Hamilton is now in 6th place in what is one of the more remarkable performances on this year's tour. He won Stage 16, the last mountain stage, with a broken collarbone.
Hamilton clinches courageous win
Tyler Hamilton clinched his first ever Tour de France stage win after a solo breakaway on Wednesday despite riding with a broken collar bone.
It was a stunning performance by the American, who injured his collar bone when he fell off in a mass crash on the first stage over two weeks ago.

Hamilton winces with pain and effort on the final climb as he attempts to stay away from the pack in the final few kilometres
[more]
Stage 17 was flat and, again, the top positions remain the same. Friday's Stage 18 will also be flat and fast and the leading teams will make sure their riders don't lose any time. Stage 19 will be the last day for anyone to challenge Lance and Ullrich is the only one with a chance of doing that. Ullrich is 1:07 down but beat Lance by 1:30 in the last time trial. I don't think Lance will let that happen again. The last stage, Stage 20, will be more of a procession into Paris. Saturday will the the stage to watch.
George Hincapie, one of the pillars of the U.S. Postal Team, has a Tour blog.
One thing is for sure though...the tour isn't over yet and we have some serious hard days coming up. The flat/rolling stages can be brutal when we're trying to control everyone from attacking us...which they do from the zero K banner. The first hour is hell until the right break gets established and then we just start grinding away at the front. Saturday is the real test and I can tell you that Lance is so focused and so serious that he's going to tear up the pavement in the TT.
[more]
In Cycling, Winning With Honor Means Everything
When Lance Armstrong was dropped to the pavement by the wayward handle of a fan's yellow bag, his closest pursuers, even Germany's Jan Ullrich, who had trailed Armstrong by only 15 seconds at the day's start, slowed to wait for Armstrong to pick himself up, dust himself off and get back in the race.
To many U.S. sports fans, casual watchers of this extraordinary bike race, what happened in Monday's Stage 15 of the Tour de France caused a collective "huh?"
But to Ullrich, who is now 1 minute 7 seconds behind Armstrong as the three-week race heads into its final five days, speeding off while Armstrong was on the ground would have been wrong.
"Of course, I would wait," Ullrich said Tuesday morning at his hotel here, where Stage 16 begins today. "If I would have won this race by taking advantage of someone's bad luck, then the race was not worth winning."
[more]
A True-Blue Fan Follows Armstrong at Tour
While Lance Armstrong has many fans from the United States cheering for him on the sides of the roads in the Tour de France, Sammarye Lewis is hands-down the most fervent.
Forget the guy draped in the American flag who sometimes runs alongside the four-time champion as he labors uphill. Forget the fellow who wears what appear to be steer horns to celebrate Armstrong's Texas heritage. Pay no attention to the man wearing and selling "Lance Is God" T-shirts.
From tip to toe, nobody equals Sammarye Lewis.
[more]
thanks to Dumbmonkey
treason
Columnist Names CIA Iraq Operative
The identity of an undercover CIA officer whose husband started the Iraq uranium intelligence controversy has been publicly revealed by a conservative Washington columnist citing "two senior administration officials."
Intelligence officials confirmed to Newsday Monday that Valerie Plame, wife of retired Ambassador Joseph Wilson, works at the agency on weapons of mass destruction issues in an undercover capacity -- at least she was undercover until last week when she was named by columnist Robert Novak.
Wilson, while refusing to confirm his wife's employment, said the release to the press of her relationship to him and even her maiden name was an attempt to intimidate others like him from talking about Bush administration intelligence failures.
"It's a shot across the bow to these people, that if you talk we'll take your family and drag them through the mud as well," he said in an interview.
[more]
thanks to Cursor
Some Dare Call It Treason
A Story of Two Unidentified "Senior Administration" Officials Who Allegedly Betrayed the National Security of the United States: No Response from the White House, and No Coverage in the Mainstream Press.
What is their crime against the people of the United States of America, if it is true? It would be an unforgivable treason: these two Bush administration officials allegedly revealed the identity of a CIA operative to conservative columnist Bob Novak, who printed her name in his syndicated newspaper column. (See The Mission to Niger)
The outing most likely rendered her future, present -- and much of her past work -- useless in helping to protect the people of this nation. What is the specialty of this alleged CIA operative? Tracking the trafficking of weapons of mass destruction.
This is a story that reveals an alleged act of cynical treason by at least two senior Bush administration officials. In a conversation that BuzzFlash had with Corn, a top-notch political journalist whose "Capital Games" column we link to frequently, Corn cautioned BuzzFlash that one can't ascertain if the CIA operative "outing" was approved by other administration officials, including Bush. On the other hand, Corn noted that the White House has not refuted the information in Novak's column. Furthermore, if the information is true -- and Novak told Corn that he stands by his sources -- the White House hasn't fired anyone or taken the first steps toward prosecuting the "senior administration officials" in question. If this is all some bizarre misunderstanding, then the White House should clear the allegations up right quick. But they haven't, according to Corn.
Yes, it is once again a probable Bush administration betrayal that is so horrifyingly ironic, hypocritical, cynical, and destructive that it is hard to comprehend. Two Bush administration officials allegedly render a CIA operative useless, whose specialty is providing valuable information on exactly the threat that the Bush administration continues to insist justified the invasion of Iraq: Weapons of Mass Destruction.
[more]
motorcycle madness
The Wall of Death has been around since the early 1900's, almost as old as Harley Davidson. Our barrel was built in 1941, but has been resurrected for the 21st century. Still using our old vintage motorcycles, we have taken our show to new levels, catching the eyes of all generations.
The Rhett Rotten Wall of Death is an extreme act of motorcycle racing and cheating death stunts. We like to call ours, "the world's steepest racecourse," and that's exactly what it is. Weekend after weekend, Rhett "Rotten" Giordano races, with life on the side of the old board track. Rhett Rotten rides a go-kart reaching speeds of well over 50 mph on the side of the vertical wall, doing the speed of the wall test ride. The go-kart is really just an introduction to our show, we are all about the motorcycles. He rides a 1957 Harley Hummer, fitted with a 250 Harley Davidson dirt bike motor. Last but not least, he rides his 1927 Indian Scout, performing breathtaking stunts on the side of the old board track. But the conquest does not stop there. It is hard work day in and day out, trying to bring a sport that is almost extinct, back to life.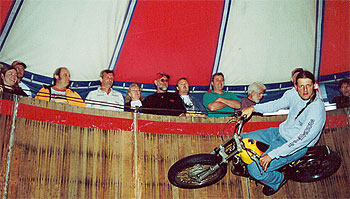 [more]
iraq
Saddam and his sons have been a useful tool for the US. Having them on the run has made then valuable tools to blame the failures of the occupation on. "Baathist" is a nice term which really doesn't mean much, like bandit or terrorist. Killing them is a nice one day story, but does not return power or security to Iraqi cities. Which, in both the short and the long term, will be the ultimate defnition of a successful rebuilding effort.
The reality is that the average Iraqi still lives in conditions worse than when the war started and political organization is limited to nonexistant. The Governing Council doesn't have real power and can't even decide on a leader. As the CSIS report goes into great detail on, the basic lack of services, combined with an ongoing hostility towards the West, which is endemic in trans-Arab culture, not just Iraqi, makes any Western led reconstruction effort fraught with difficulties. Without wider support, we cannot expect the open cooperation of the Iraqi people. Fear of Saddam is far less of a factor than we may have come to believe.
A few Iraqis took the news in their stride, still more anxious about the present chaos rather than the fate of men who were considered to have lost power for good.
"It doesn't make any difference to me," one said. "It isn't important whether they have been killed or not. The main thing is the lack of security and electricity, and all these problems with infrastructure."
Saddam is past history in Iraq. Whether he is killed or tried or fades away, most of the problems facing the CPA will not go away. Among them are the folowing:
[more]

Below is thanks to Altercation.
Name: Rich Enough to Forget My Name
Hometown: Burlington, VT
Eric,
This weekend I finally had a chance to catch up with my cousin in-law who just got back from Iraq last week. Twenty years old he is now a different person than when he left and not in a good way. His pictures tell the story. The first few rolls are of him and his buddies clowning around and striking posses with their various weapons in Kuwait. It looks like a regular old NRA wet dream, young boys and guns. The sad thing about the pictures is how young they look. When you see the Marines on TV in full combat gear they look very menacing, but strip them down to t-shirts and baseball hats and you see what the kids that they really are. The pictures at first almost made it look like a good time. There was regular college hijinx going on. It was Frat Row Baghdad style. In the latter rolls the mood started to change. You never saw any of them without helmets or vests on. He told me the night they rode into Baghdad was the scariest night of his life. The vacation was over and the shooting began. An RPG scorched the hood of his Humvee. They felt the heat in the cab. He estimated that he was 1-2 feet away from being blown to pieces. Which is a lot better than one of his friends fared. Last he saw that guy all they could find was the body and a bunch of brains sprayed all over the inside of a truck, no face or head left. He also fared better than the family he watched get killed. His unit emptied their weapons into a home when they took fire. He watched as a four year old was, in his words, "vaporized." After looking at about three rolls of film I asked him where the rest were. (He took 12 in all). He told me that he threw them away. Everything that happened after the first three rolls he wants to forget. He said he looked at them once and wanted to vomit. Do you really need the Kodak version of a scene that is already burned into your mind? The biggest tragedy of all is that his belief in America has been shattered. He went over there idealistic. He was protecting US and freeing the citizens of Iraq. Now he just feels used. "It was all a f**king waste," he told me without emotion. And he is one of the lucky ones; he is home.
religious art
[more]
thanks to dublog
9-11
You've got to see this one. It's harsh.
Weapons of Mass Redaction
Maureen Dowd
This correspondence from the Office of the Vice President to the
ambassador to the U.S. was redacted by the Office of the Vice President for national and electoral security reasons:
Dear Prince
bin
,
Thank you, my friend, for the falcon. It survived the trip on your Gulfstream. It is now eating small endangered woodland creatures at my Jackson Hole ranch.
We are pumped about the double rubout of the Hussein boys. We really needed that win. It could be a game-changer for us. The stock market killed on the killings. And the timing will help cover your royal
, too.
When the 9/11 commission report comes out tomorrow, I think you will be well satisfied with our efforts to keep you guys out of it.
We have almost as much experience as you at keeping private matters veiled. It's not good to overburden the American people with too much complicated information.
[more]
itsy bitsy machinery
Imagine machines so small they are imperceptible to the human eye.
Imagine working machines with gears no bigger than a grain of pollen.
Welcome to the microdomain, in which Sandia National Laboratories is a leader in the development of micromachines or MEMS (MicroElectroMechanical Systems).

A Gear Chain with a Mite Approaching
[more]
thanks to dublog
ping pong art
This should get you laughing.
[more]
thanks to BookNotes
liars
The Crime and the Cover-Up
By William Rivers Pitt
The scandal axiom in Washington states that it is not the crime that destroys you, but the cover-up. Today in Washington you can hear terms like 'Iraqgate' and 'Weaponsgate' bandied about, but such obtuse labels do not provide an explanation for the profound movements that are taking place.
Clearly, there is a scandal brewing over the Iraq war and the Bush administration claims of Iraqi weapons arsenals that led to the shooting. Clearly, there is a cover-up taking place. Yet this instance, the crimes that have led to the cover-up are worse by orders of magnitude than the cover-up itself.
The simple fact is that America went to war in Iraq because George W. Bush, Dick Cheney, Don Rumsfeld, Colin Powell, Condoleezza Rice and virtually every other public face within this administration vowed that Iraq had vast stockpiles of chemical, biological and nuclear weapons. America went to war because these people vowed that Iraq had direct connections to al Qaeda, and by inference to the attacks of September 11.
[...]
Recently, the scandal over the missing Iraq weapons and the Bush administration claims has focused on whether or not Iraq was trying to procure uranium "yellow cake" from Niger in order to reconstitute a nuclear weapons program. The last two weeks have shown decisively that the Bush administration used manufactured evidence, which had been denounced from virtually all corners of the American intelligence community, to justify their war. The administration's explanation for this has changed by the hour - They weren't told by the CIA, and then they were told but Bush and Cheney never heard about it, but it was only sixteen words in one speech, so everybody calm down.
No one is calming down. When the President of the United States terrifies the American people in his constitutionally-mandated State of the Union speech with nuclear threats based upon evidence that was universally known to be shoddily forged garbage, no one should calm down. When he uses that terror to make war on a nation that was no threat to America, no one should calm down. When over 200 American soldiers and thousands of innocent Iraqi civilians die because of this, no one should calm down. When that grisly body count rises every single day, no one should calm down.
[...]
"Immediately after we arrived," said Evans, "we hear that it is not only worse than before the war. It is worse than during the war. People are upset, people are angry. There were lots of stories about how the Americans are doing this on purpose. A month after the '91 war, which was much worse than this one, everything was back and working. Now, the people live in this chaos they can't even imagine. People can't go outside. Women haven't left their homes. Lots of people haven't come back from Syria or Kuwait or wherever they fled to get away from the bombing, because life in Iraq is unlivable. There is 65% unemployment, and even the doctors and nurses and teachers who are going to work don't get paid, so there's no money."
Evans met a number of Americans in Iraq who are part of the 'rebuilding process.' One such person was in the Compound, a guarded palace that is now home to Bremer's office and staff along with a number of other groups. The overall organization is called the Iraqi Assistance Center, or IAC. The man Evans met was a professor of religion and political theory at a religious college in America. He explained that his job was to collect intelligence for Bremer.
"That professor I spoke to, the one doing intelligence for Bremer, I told him that I had spoken to countless Iraqis and all of them felt this chaos was happening on purpose," said Evans. "He basically said this was true, that chaos was good, and out of chaos comes order. So what the Iraqis were saying - that this madness was all on purpose - this intelligence guy didn't discredit. He said, 'If you keep them hungry, they'll do anything for us.'"
[more]
thanks to wood s lot
This is a must read:
Why A Special Prosecutor's Investigation Is Needed To Sort Out the Niger Uranium And Related WMDs Mess
by John Dean
political art
Undine's paintings are about stereotypes, politics and clichés. The work announces itself in the same manner as the propaganda poster -- loudly and clearly. Undine forces the viewer to acknowledge that "clearly" is almost always anything but clear with any politically motivated image: a wanted poster can become a badge of honor or a proud newspaper photo might speak of controversy and partisanship. Undine's painting proves that enunciating clearly is not the same thing as clarity and that being articulate is not the same thing as being obvious. By illustrating how relevance imbues reverence, he reveals to the viewer that by taking aim, the aimer becomes the target. Undine revels in the sinister poetry of political language.
[more]
thanks to wood s lot
iraq
Who's Unpatriotic Now?
by Paul Krugman
Some nonrevisionist history: On Oct. 8, 2002, Knight Ridder newspapers reported on intelligence officials who "charge that the administration squelches dissenting views, and that intelligence analysts are under intense pressure to produce reports supporting the White House's argument that Saddam poses such an immediate threat to the United States that pre-emptive military action is necessary." One official accused the administration of pressuring analysts to "cook the intelligence books"; none of the dozen other officials the reporters spoke to disagreed.
The skepticism of these officials has been vindicated. So have the concerns expressed before the war by military professionals like Gen. Eric Shinseki, the Army chief of staff, about the resources required for postwar occupation. But as the bad news comes in, those who promoted this war have responded with a concerted effort to smear the messengers.

Issues of principle aside, the invasion of a country that hadn't attacked us and didn't pose an imminent threat has seriously weakened our military position. Of the Army's 33 combat brigades, 16 are in Iraq; this leaves us ill prepared to cope with genuine threats. Moreover, military experts say that with almost two-thirds of its brigades deployed overseas, mainly in Iraq, the Army's readiness is eroding: normal doctrine calls for only one brigade in three to be deployed abroad, while the other two retrain and refit.
And the war will have devastating effects on future recruiting by the reserves. A widely circulated photo from Iraq shows a sign in the windshield of a military truck that reads, "One weekend a month, my ass."
[more]
Now the U.S. is bringing back the Iraqi secret police. This is a must read.
Every time I think the neocons can't get any more loathsome, they go and surprise me again:
U.S. Said to Seek Help of Ex-Iraqi Spies on Iran
[more]
President Bush's "Bring Them On" Picture Album
[more]
thanks to Dumbmonkey
Fisk: The ugly truth of America's Camp Cropper, a story to shame us all
Now here's a story to shame us all. It's about America's shameful prison camps in Iraq. It's about the beating of prisoners during interrogation.
"Sources" may be a dubious word in journalism right now, but the sources for the beatings in Iraq are impeccable. This story is also about the gunning down of three prisoners in Baghdad, two of them "while trying to escape". But most of all, it's about Qais Mohamed al-Salman. Qais al-Salman is just the sort of guy the US ambassador Paul Bremer and his dead-end assistants need now. He hated Saddam, fled Iraq in 1976, then returned after the "liberation" with a briefcase literally full of plans to help in the restoration of his country's infrastructure and water purification system.
He's an engineer who has worked in Africa, Asia and Europe. He is a Danish citizen. He speaks good English. He even likes America. Or did until 6 June this year.
That day he was travelling in Abu Nawas Street when his car came under American fire. He says he never saw a checkpoint. Bullets hit the tyres and his driver and another passenger ran for their lives. Qais al-Salman stood meekly beside the vehicle. He was carrying his Danish passport, Danish driving licence and medical records.
But let him tell his own story. "A civilian car came up with American soldiers in it. Then more soldiers in military vehicles. I told them I didn't understand what had happened, that I was a scientific researcher. But they made me lie down in the street, tied my arms behind me with plastic-and-steel cuffs and tied up my feet and put me in one of their vehicles."
The next bit of his story carries implications for our own journalistic profession. "After 10 minutes in the vehicle, I was taken out again. There were journalists with cameras. The Americans untied me, then made me lie on the road again. Then, in front of the cameras, they tied my hands and feet all over again and put me back in the vehicle."
If this wasn't a common story in Baghdad today - if the gross injustices meted out to ordinary Iraqis and the equally gross mistreatment in America's prison camps here was not so common - then Qais al-Salman's story would not be so important.
[more]
Again, how are things better under the U.S. occupation?

animation

Enough politics. If you've never seen Adam Benjamin Elliot's hilarious, heart-wrenching trilogy of animations - Uncle, Cousin and Brother - head over to Atom Films' stop motion section the next time you have a quiet moment with the computer. These 5- to 8-minute autobiographical claymations are like nothing you've seen before (and you need a refresher on the Web's potential for distribution of non-blog indie content, anyway). The Guardian puts it nicely in a review of Brother:
Australian animator Adam Benjamin Elliot's true-life claymation comedy is a bittersweet tribute to his bizarre upbringing and his eccentric brother, killed by a childhood asthma attack. Resolutely unsentimental, tender, and horribly funny all at the same time, it will move the most hardbitten viewer to tears. There is no better way to spend seven minutes 50 seconds online this week.
[more]
These are wonderful animations. I forgot about what treasures are at Atom Films. Try Creature Comforts, too.

George Caesar, the Imperator of the new Rome, likes Mahmoud Abbas (Abu Mazen). He has invited him to the White House and showers him with compliments.
As in ancient Rome, the likes and dislikes of the Emperor shape the policy of the Empire. All the ministers, eunuchs, officials, proconsuls and local rulers act accordingly, while mouthing words of flattery and praising the wisdom of Caesar, irrespective of whether he is really wise, like Julius Caesar, stupid like Tiberius or downright mad, like Caligula. Caesar is Caesar.
George Bush is a simple man. His mental world, like a Western, contains Good Guys and Bad Guys. His impressions are personal and come "from the gut". They have nothing to do with logic or political analysis. Arafat made Bush angry, he is a Bad Guy. Abu Mazen is a Good Guy, mainly because he is not Arafat.
Like King Herod, who lived in Jerusalem but whose ears picked up the slightest murmur in Rome, Ariel Sharon listens to every whisper in Washington. In order to influence Bush, he always has to know exactly which way the wind is blowing. If Bush likes Abu Mazen, so Sharon, too, likes Abu Mazen.
More than that, he lays out a blue-and-white carpet for him to walk on. He invites him to his Jerusalem office, exchanges smiles and handshakes over the emblem of the State of Israel, publicly orders his people to strengthen Abu Mazen in every possible way, watching over him like a good father over a promising son.
But with friends like this, one has no need of enemies. I would advise Abu Mazen not to turn his back when Sharon is around. Definitely not.
Because Sharon's hidden agenda is far removed from his public one. As we have said many times before: don't listen to what Sharon says but pay attention to what he does.
From the day Abu Mazen was appointed Palestinian Prime Minister, Sharon's sole aim has been to topple him from his rickety chair as quickly and as forcefully as possible.
[more]
astronomy
Aroostook County, in Northern Maine, is building a 40-mile long scale model of the solar system, at a scale of 1 mile equaling the distance from earth to sun. The model extends along Route 1, between the University of Maine at Presque Isle campus and the Houlton Information Center at the end of I-95. The model has ten major components, those being the sun and the nine planets from Mercury to Pluto, with moons for Earth, Saturn, Jupiter (4) and Pluto.

Earth
Diameter: 5.5 inches
Location: Percy's Auto Sales (1.0 mile from Sun)
Moon: (diameter 1.5 inch, 16 feet from Earth axis)
[more]
thanks to The J-Walk Weblog
literary criticism
Ranting Against Cant
Harold Bloom, a staunch defender of the Western literary tradition, returns to Shakespeare, "the true multicultural author."
You like to tell your students, "There is no method except yourself." What do you mean by that?
I believe that very passionately. My friend Paul de Man with whom, as I say, I used to argue endlessly, would tell me that after a lifetime of searching, he had found the method, the "Troot," as he put it—that Belgian pronunciation of "Truth." I would say, "No, dear Paul, there is no Truth. There is only the Self."
What theory did the great critics have? Critics like Dr. Samuel Johnson or William Hazlitt? Those who adopt a theory are simply imitating somebody else. I believe firmly that, in the end, all useful criticism is based upon experience. An experience of teaching, an experience of reading, one's experience of writing—and most of all, one's experience of living. Just as wisdom, in the end, is purely personal. There can be no method except the Self.
[more]
thanks to DANGEROUSMETA!
photography
Photographs from the Lafayette Studios
Society ladies, Indian maharajas, actresses and young men with their new cars were some of the subjects photographed by James Lafayette in the late 19th and early 20th century. This database contains over 600 portraits produced by his studios and was developed over 10 years by Russell Harris, with generous funding from the Elm Trust, who generously donated it to the V&A.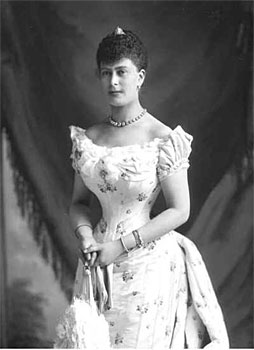 [more]
thanks to amberglow
voting
Offshore Company Captures Online Military Vote
Last year, while President Bush marshaled U.S. forces for the invasion of Iraq, the patriots at the Department of Defense awarded the contract for a new online voting system for the military... to an offshore company.
It gets worse.
Secure Electronic Registration and Voting Experiment (SERVE) is the system and Accenture (formerly Anderson Consulting of Enron bankruptcy fame) is the company. And although Accenture has not been officially implicated in the Enron scandal, they have created a reputation of their own that is already raising eyebrows.
[more]
What is it with the euphemism "offshore company"? Is France an offshore country? If a company is registered in a foreign country and doesn't pay U.S. taxes, aren't they a foreign company? And what is a foreign company doing running voting for U.S. citizens?
bottle messages
Standing on Clearwater's Pier 60, a little boy put a note in a bottle: "To whoever finds this, please write me a letter and let me know." Nineteen years went by. Roger, we got your note.
[more]
thanks to The J-Walk Weblog
archeologist finds treasures from the past!
I started going through boxes this weekend. I've been storing boxes in the bathroom. Those boxes that you carry from move to move without unpacking. The washing machine (it's in the bathroom, too) finally let go and dumped what appeared to be gallons of water on the floor. It started to get some of the boxes so I moved them. Then I opened one and looked inside. It was all over. In the process of throwing much of what was in the boxes away, I found some treasures.
Families have funny things that they do. They are sort of like rituals. Whenever we get together as a family, and pictures are taken, my siblings and I have this peculiar ritual of facing the camera, folding the right index finger at the first knuckle, and inserting the knuckle into the right nostril giving the appearance of having stuffed the forefinger into the nostril up to the knuckle. I'm not sure if my sister participates in this other that to look on with that "idiot brothers!" look on her face.
What is often lost is when these rituals begin. This one is documented. This one of the found treasures. I've been asked for this picture for years but didn't know where it was. It's a 4x5 inch Ektachrome. This is a quick scan.
It's a chilly fall morning at Gasworks Park in Seattle. The year is 1976. I had been taking family portraits with the view camera. Husbands, wives, and kids (only two) put up with this and the last pictures were of my mom and her kids. Everyone was tired and either Mike or Roger started doing the nose picking routine. Then Mark and I picked up on it (pun intended). Terry (front row) was pretty disgusted with this frivolity. (In subsequent years, Terry would participate in the nose picking pictures.) In the back row is my brother Mark, then Mike, Roger, and myself. Terry, Madelane, and my mom are in the front row.
In the early 90s, I would take my three kids over to the Port Townsend Wooden Boat Festival. Robby, my youngest, was probably around 6 or 7 when we started doing this. (He turned 21 this past Friday.) One of the rituals was the fish print. One of the activities they had for kids was a fish that the kid would paint, and then a large piece of paper was placed on the fish and the kid would rub vigorously, transferring the paint to the paper. This fish must have had some significant Karma to overcome. The results were quite striking. I found a trove of them and they scan just fine.
liars and iraq
The liars are still lying and the soldiers are still dying.
Two of the fundamental truths of military science, which all soldiers learn during their first days in the training barracks, are that shit always rolls downhill and stink always wafts its way to the top. Operations that are planned by the division staff are executed by a young buck sergeant leading a squad of even younger infantrymen, and when something goes wrong with the plan the general hears about it. Sometimes heads roll. The ideological war hawks of this administration fail to understand either of these principles, which is why the troops are sounding off.
Some people dismiss these complaints as typical of disgruntled privates bellyaching about the chow and the mail. Others, especially on the far-right, are outraged: "How dare they not support the President?" But these aren't a bunch of privates pitching a bitch about a latrine detail; the guys sounding off are mid-level officers and senior NCOs. Soldiers with experience and training who wear combat patches on their right shoulders, veterans of Gulf War I, Somalia, Bosnia, Haiti, Macedonia, Afghanistan and Kosovo.
Those soldiers know what they're talking about. They've seen peacekeeping operations done right, in Bosnia, Haiti and Kosovo. And they've seen them done wrong in Somalia and Afghanistan. One of the most common complaints we keep hearing from the troops is that they're not trained, staffed or configured for peacekeeping operations.
[more]
[more]
thanks to Yolanda Flanagan
What do you think the reactions of our fearful leaders would be if captured U.S. soldiers were treated like this?
an artist from wales
On first encountering the paintings of Thomas Jones, I probably walked right past them after only the most cursory of glances. I surely must have seen them in one of my many visits to the National Museum of Wales when I lived just around the corner from it in a dingy and cold shared house on Colum Road. At that time though, '93/'94, my interest in art was still at an awkward and an early stage, when I would relegate most anything pre-1880 to a generic boring old stuff category.
Then, on a visit to the Palazzo delle Esposizioni in Rome, in February or March '97, to see an exhibition entitled Grand Tour: il fascino dell'Italia nel XVIII secolo, I met them again, but saw them as though for the first time. Amongst all the cluttered interiors, the periwigged portraits and serenely classical landscapes, 'improved' from Nature, Jones' little Neapolitan cityscapes leapt off the wall, with their bright simplicity and deep calm.
[more]
economy
Passing It Along
by Paul Krugman
Here's another sentence in George Bush's State of the Union address that wasn't true: "We will not deny, we will not ignore, we will not pass along our problems to other Congresses, to other presidents and other generations."
Mr. Bush's officials profess to see nothing wrong with the explosion of the national debt on their watch, even though they now project an astonishing $455 billion budget deficit this year and $475 billion next year. But even the usual apologists (well, some of them) are starting to acknowledge the administration's irresponsibility. Will they also face up to its dishonesty? It has been obvious all along, if you were willing to see it, that the administration's claims to fiscal responsibility have rested on thoroughly cooked books.
The numbers tell the tale. In its first budget, released in April 2001, the administration projected a budget surplus of $334 billion for this year. More tellingly, in its second budget, released in February 2002 — that is, after the administration knew about the recession and Sept. 11 — it projected a deficit of only $80 billion this year, and an almost balanced budget next year. Just six months ago, it was projecting deficits of about $300 billion this year and next.
There's no mystery about why the administration's budget projections have borne so little resemblance to reality: realistic budget numbers would have undermined the case for tax cuts. So budget analysts were pressured to high-ball estimates of future revenues and low-ball estimates of future expenditures. Any resemblance to the way the threat from Iraq was exaggerated is no coincidence at all.
And just as some people argue that the war was justified even though it was sold on false pretenses, some say that the biggest budget deficit in history is justified even though the administration got us here with cooked numbers.
[more]
Going Home, to Red Ink and Blues
by Nicholas Kristof
Not the heat, but the humidity
The weight
Bush fiscal policy takes the load off baby boomers, puts it on their children.
photography
Tucker is a very accomplished commercial photographer. This site has his commercial work and his personal work. Both are excellent. And check out his section on his PlungerCam. I'm sure Hasselblad purists are clutching at their collective heart.
[more]
thanks to Iconomy

The Palestinians' big achievement
Here's the dilemma. Now things are quiet, we have a hudna, there is no terrorism, the number of warnings about possible terrorist attacks have fallen dramatically, so what's our rush to start negotiations? If the Palestinians lose their patience and if the hudna is canceled after three months and the terrorist attacks resume, there will certainly be no need to conduct negotiations, as it's well known that we don't negotiate under terrorism. If they decide to extend the hudna so they won't have to bear the blame for violating the road map, there is also no need to hurry to the negotiating table. In short, our political situation has never been better.
The Israeli government appears to be adopting the current quiet as a permanent situation that does not oblige action of any kind. The release of prisoners can wait - after all, nowhere does the road map state that Israel has to release prisoners - and the removal of the illegal outposts is being delayed. True, there was a minor motion a month ago, an involuntary reflex action that brought about the removal of two or
three outposts, but that has passed.
The IDF left most of the Gaza Strip and removed itself from the heart of Bethlehem, but the rest of the West Bank remains under full occupation. Freedom of movement, removal of checkpoints, going to work, transit of
merchandise - no real change has occurred in any of these areas. After all, why change old habits, especially if things are quiet and there's no terror?
[more]
Palestinians angry after Sharon blocks progress at talks
Mahmoud Abbas, the Palestinian prime minister, almost walked out of a meeting with his Israeli counterpart, Ariel Sharon, yesterday over Israel's refusal to carry out its commitments under the "road map" peace process.
[more]
Abbas' meagre achievement, lack of credibility and unpopularity among the people he was imposed on are forcing Israel to look for an alternative explanation for the dramatic failure of their plan. The handy scapegoat is, as usual, Arafat, who is accused of undermining Abbas' mission. Naturally, Israel's refusal to implement any of the roadmap's requirements, whether it is a freeze on settlements, the release of prisoners or an end to incitement and violence against Palestinians, is not thought to have anything to do with the crisis.
Abbas has been described as a weak leader by American and Israeli officials, and indeed he is. Throughout his long political career, any influence he had was derived from and dependent upon support from Arafat. It is ironic, therefore, that the Americans now think they can get anywhere by placing Abbas in a position where he is supposed to rival and challenge Arafat.
Even if Arafat does not take any steps to actively obstruct Abbas, and he has not, his mere presence makes Abbas' position all but impossible. But his removal is by no means a better alternative.
Perhaps it is for this reason that the Israelis have been escalating their campaign against Arafat. They may truly believe that with Arafat out of the way, Abbas will transform himself into a strong leader. This is another fallacy which will be instantly disproved if the Israelis carry out their threats against Arafat. Abbas will simply be further weakened and his authority further challenged by people who have so far been restrained only by Arafat's presence at the head of the Palestinian National Authority.
[more]
thanks to Aron's Israel Peace Weblog
Poverty of spirit and moral obtuseness are the salient characteristics of current Israeli policy vis-à-vis the Palestinians in the context of the road map.
Why else would the government stage a big show of "dismantling" or "evacuating" settlement outposts (that are largely vacant and makeshift), then look the other way when more outposts are established on nearby hilltops?
Why else would Sharon urge his partners in land-theft to continue settlement construction and expansion, but to do so in silence and in secrecy?
Why else would the hundreds of checkposts, permanent and ad hoc, continue to besiege our towns and villages like a burning necklace stealthily stealing all our life force, freedom, and vitality?
[more]
While Israel would like the world to think they represent all Jews, there are Jews who disagree.
Declaration on 'the Palestine issue' by
Neturei Karta of the UK
The Neturei Karta group is a spearhead group within the Jewish People, who are prepared to stand up and express openly a religious and humanitarian philosophy held in essence by large numbers (hundreds of thousands) and possibly the majority of authentic Orthodox Jews. A philosophy totally opposed to the attitude adopted by the Zionists and to Zionism as a whole.
The philosophy in essence is that for the last two thousand years or so the Jewish people have been in a state of exile decreed by the A-lmighty. The Jews were exiled from their land because they did not maintain the standards expected of them. This state of exile is the situation that exists right up to the present day. It is a basic part of our belief to accept willingly the Heavenly decree of exile and not to try and fight against it or to end it by our own hands. In practical terms, exile for us means that Jews must be loyal subjects of the countries in which they live and not attempt to rule over the established indigenous populations of those countries. And of course this includes Palestine.
The Zionist movement founded approximately 100 years ago based on secular nationalistic aims, was a complete abandonment of our religious teachings and faith - in general - and in particular regarding our approach to our state of exile and to the peoples among whom we live.
[more]
thanks to Politics in the Zeros
thanks to Politics in the Zeros
thanks to Politics in the Zeros

look down at your feet
Drainspotting is all about paying attention to your surroundings. Manhole covers, drains, grates, trench covers--someone had to design all of these. Functional and ornamental, there's a lot of interesting stuff happening down by your feet. Check it out.
[more]
korea
Walking Into Trouble
Spy flights prove North Korea is making plutonium. It may have four nukes already. But don't panic ... yet
The sense of calm may also have a more unsettling explanation: it's too late to panic. Until recently, U.S. officials thought Kim had no more than one or two nuclear devices. But administration aides now tell NEWSWEEK that he likely has three or four—primitive, but dangerous nonetheless. The new estimate changes the geopolitical calculation. If the North already has a mini-arsenal, the latest threats—including the claim that it has already finished reprocessing 8,000 fuel rods—lose their power to shock. "The clear intention is to try and drive the process with blackmail," says one senior U.S. official. "That is why we make clear we will not be intimidated."
That may sound OK from Washington's side of the globe, but South Koreans are scared. North and South Korean soldiers at the demilitarized zone exchanged shots last week for the first time in 20 months. Nobody was hurt, but it added to the jitters. And South Korea's military experts predict that its neighbor's next nuclear step will come soon. One expert at the Korea Institute for Defense Analyses says the reprocessing will probably be finished in October, followed by a nuclear test. Paik Jin Hyun at Seoul National University is more pessimistic. He thinks Pyongyang could announce possession of nuclear weapons in time to celebrate the anniversary of the Workers' Party on Sept. 9.
Neither side seems ready to blink. Still, the White House cannot ignore the risk that a cornered Kim might try to raise cash by selling the bomb to another rogue leader or to terrorists. Although the Bush administration insists it has no plans for military strikes on the North, one senior aide says the North could trigger war by exporting its nukes or fissile materials. Officials in Washington may still be sleeping tight. The worry is that they could be in for a very rough awakening.
[more]
thanks to The Agonist
music
My son went to see Phish at the Gorge on the 12th and 13th. The shows were available for download on the 15th. I've mentioned this before but it's worth mentioning again. $9.95 a show and each show takes 3 CDs. This is a service that Phish offers it's fans. Phish is a live band — if you've heard their studio CDs, you haven't heard Phish. This is a great opportunity to hear them live for a reasonable price. The Sunday show seems to be favored over the Saturday show. One thing to remember — all Phish shows are different. In fact, the Saturday and Sunday shows at the Gorge are actually one show that takes place over two nights. I wish I could have made it this year. Great shows!
Live Phish Downloads offers high quality, unedited soundboard recordings of select shows in standard MP3 and CD-quality FLAC files via a state-of-the-art delivery system. All download files are compatible with Windows, Mac and Unix, allowing for maximum flexibility and ease of use. Once downloaded, shows can be burned to disc, transferred to portable players, or played through your computer. Each show also comes with printable booklets, tray inlays, and labels if you elect to burn your files to CD.

[more]
environment
Decades of devastation ahead as global warming melts the Alps
A mountain of trouble as Matterhorn is rocked by avalanches
In the end more than 70 climbers had to be hauled from the slopes of the Matterhorn, in Switzerland, on Monday - one of the biggest mass rescues in mountaineering history - as rockfalls battered its ridges and valleys. Those climbing its slopes could have been forgiven for thinking the crown jewel of the Alps had started falling apart under their feet.
And they would not have been far wrong - for scientists now believe global warming is melting the Alps, threatening widespread devastation over the next two decades.
The great mountain range's icy crust of permafrost, which holds its stone pillars and rockfaces together, and into which its cable car stations and pylons are rooted, is disappearing. Already several recent Alpine disasters, including the avalanches which killed more than 50 people at the Austrian resort of Galtur four years ago, are being blamed on the melting of permafrost.
And in future, things are likely to get much worse - as scientists will point out tomorrow at the opening, in Zurich, of the International Permafrost Association conference. Held every four years, the meeting provides climatologists, civil engineers, and geologists with a chance to exchange research data about the icy layers that coat the ground in the world's coldest regions. Rarely has a scientific meeting been so timely.
'I am quite sure what happened on the Matterhorn last week was the result of the Alps losing its permafrost,' said civil engineer Professor Michael Davies of Dundee University, and a conference organiser.
[more]
photography
You need to go look at the large versions of these composites. This is using photography to see things in a way that the eye cannot.
Seamless City is a continuous visual image of the city made up of sequential photos of a walk through the city shot from a pedestrian point of view. Each image is visually connected to the next as the objects are in the real world.
[more]
thanks to The J-Walk Weblog
be careful what you read
Careful: The FB-eye may be watching
Reading the wrong thing in public can get you in trouble
"The FBI is here,"Mom tells me over the phone. Immediately I can see my mom with her back to a couple of Matrix-like figures in black suits and opaque sunglasses, her hand covering the mouthpiece like Grace Kelly in Dial M for Murder. This must be a joke, I think. But it's not, because Mom isn't that funny.
"The who?" I say.
"Two FBI agents. They say you're not in trouble, they just want to talk. They want to come to the store."
[...]
Trippi's partner speaks up: "Any reading material? Papers?" I don't think so. Then Trippi decides to level with me: "I'll tell you what, Marc. Someone in the shop that day saw you reading something, and thought it looked suspicious enough to call us about. So that's why we're here, just checking it out. Like I said, there's no problem. We'd just like to get to the bottom of this. Now if we can't, then you may have a problem. And you don't want that."
You don't want that? Have I just been threatened by the FBI? Confusion and a light dusting of panic conspire to keep me speechless. Was I reading something that morning? Something that would constitute a problem?
The partner speaks up again: "Maybe a printout of some kind?"
Then it occurs to me: I was reading. It was an article my dad had printed off the Web. I remember carrying it into Caribou with me, reading it in line, and then while stirring cream into my coffee. I remember bringing it with me to the store, finishing it before we opened. I can't remember what the article was about, but I'm sure it was some kind of left-wing editorial, the kind that never fails to incite me to anger and despair over the state of the country.
[more]
thanks to Eschaton
Here is the article that he was reading.
Weapons Of Mass Stupidity
Fox News hits a new lowest common denominator
thanks to Eschaton
Then again, maybe you shouldn't be reading this blog. They're watching!
dutch artists
Hendrick Goltzius, Dutch Master (1558–1617): Drawings, Prints, and Paintings
The first major retrospective devoted to this virtuoso Netherlandish mannerist features spectacular figural displays in prints, remarkable pen paintings on parchment, vivid portraits and nature studies in colored chalk and silverpoint, and paintings of mythological and religious subjects on canvas and copper. Culled from collections throughout Europe and the United States, the selection of 69 drawings, 80 prints, and 13 paintings spans the artist's entire career and demonstrates his legendary mastery of a wide range of media, subject matter, and styles.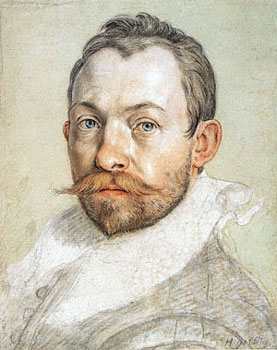 Self-Portrait, 1590–92
[more]
thanks to dublog
which way, america?
Fool Us Once, Fool Us Twice...Please
Considering the Obvious
This has been a hard piece to write. It may be a hard one to read.
There are a number of questions that need to be asked these days, and I'll try to tackle them in the coming series of articles. Today's question: Why, in the face of the obvious, does Bush enjoy such broad popular support?
[...]
We've read a lot in the semi-mainstream press about how Bush has been fooling us -- about the war, about a lot of things. John Kerry now claims he was led down the garden path regarding the invasion of Iraq, and other voices are starting to be heard, sounding a similar note. We're even seeing the leaky start of what could be an interesting stream of evidence.
But if the public was fooled, how come? This one blames the government, that one the media, another the intelligence community, still others what's preached in the churches. Some just credit (if "credit" is the word) the ebb and flow of received ideas, the ever-changing song of the collective popular mind.
Many are kind enough to fault the presumed good nature of the American people, who in the face of just-don't-know, always give the boss a break, take the Prez at his word. What could be more generous than that, more good-natured?
But no matter what song these commentators sing, it's a variation on the same sad theme -- it's not the people's fault, but someone else's. The devil made them do it.
Hmmm -- does this sound familiar, suspicious?
It's enough to start you thinking. So let's consider for a moment whether the current state of things -- the lies, the belief in lies, the deeds, our support -- is not someone else's fault after all, but falls to the people themselves and not to their "leaders."
[more]
tour de france
This Tour has had it's twists and turns. We last left Lance Armstrong with the Yellow Jersey as the Tour left the Alps behind. Stage 10 and Stage 11 were flat and Lance's position went unchallenged. Stage 12 was something else. Ullrich, last seen fading on the mountain stages, came storming back with a win in the time trial. He gained 1 minute 36 seconds on Lance, cutting Lance's lead to 34 seconds. Vinokourov was only 51 seconds behind Lance. Lance was looking vulnerable. Stage 13 was in the Pyrenees and Ullrich took second and gained more time on Lance. Lance lead Ullrich by only 15 seconds. Vinokourov made his move on Stage 14. At the end of Stage 14 Ullrich was down by 15 seconds and Vinokourov was down by 18 seconds. Lance was not looking strong. Today Lance dug down deep and won Stage 15 after crashing on the final climb. There are two more chances for Ullrich and Vinokourov. Tomorrow, Stage 16, is the last mountain stage and Stage 19 will be the last time trial. The final positions will be determined on the time trial. Stage 20 is the final stage into Paris. Ullrich and Vinokourov have their work cut out for them. Lance was back in chanpionship form today.
Overall Standings
1. Lance Armstrong USA US Postal 65:36:23
2. Jan Ullrich GER Team Bianchi +01:07
3. Alexandre Vinokourov KAZ Telekom +02:45
4. Haimar Zubeldia ESP Euskaltel +05:16
5. Iban Mayo ESP Euskaltel +05:25
6. Ivan Basso ITA Fassa Bortolo +08:08
7. Tyler Hamilton USA Team CSC +09:02
8. Christophe Moreau FRA Crédit Agricole +11:12
9. Francisco Mancebo ESP iBanesto.com +16:05
10. Carlos Sastre ESP Team CSC +16:12

reality has been a major problem
It would take too much time to chronicle the car wars, boat wars, and washing maching wars that have beset me. Not that all of it has been negative, it's just that reality can sure get in the way of blogging. Sometimes everything just seems to be much harder than it need be. Let's see if this little break from reality will let me catch up.