Archives
mary jane
Fairly decent coverage for the mainstream press.
Is America Going to Pot?
The battle heats up over legalizing marijuana.
The drug czar is ready for pro wrestling. He already has the name, and now he's got the prefight talk down cold. In every speech he makes in Nevada, where Bush appointee John Walters has traveled to fight an initiative that would legalize marijuana, he calls out his three sworn enemies as if he were Tupac Shakur. The czar has a problem with billionaire philanthropists George Soros, Peter Lewis and John Sperling, who have bankrolled the pro-pot movement, and he wants everyone to know he's ready for battle. At an Elks lodge meeting in Las Vegas, he ticks off their names and says, "These people use ignorance and their overwhelming amount of money to influence the electorate. You don't hide behind money and refuse to talk and hire underlings and not stand up and speak for yourself," he says. By the end of a similar speech at a drug-treatment center in Reno, he says, "Let's stop hiding. I'm here. Where are you?" The czar is bringing it on.
[more]
thanks to Robby
american empire
Into the Dark
The Pentagon Plan to Provoke Terrorist Attacks
This column stands foursquare with the Honorable Donald H. Rumsfeld, U.S. Secretary of Defense, when he warns that there will be more terrorist attacks against the American people and civilization at large. We know, as does the Honorable Donald H. Rumsfeld, U.S. Secretary of Defense, that this statement is an incontrovertible fact, a matter of scientific certainty. And how can we and the Honorable Donald H. Rumsfeld, U.S. Secretary of Defense, be so sure that there will be more terrorist attacks against the American people and civilization at large?
Because these attacks will be instigated at the order of the Honorable Donald H. Rumsfeld, U.S. Secretary of Defense.
[more]
Bush's Iraq adventure is bound to backfire
Let us not be fooled: The upcoming war against Iraq has nothing to do with the war against terror.
President George W. Bush's war is fueled by two things: bolstering the president's popularity as he attempts to ride on the natural wave of American patriotism unleashed by the criminal attacks of Sept. 11; and a misguided temptation to get more oil out of the Middle East by turning a ''friendly" Iraq into a private American oil pumping station.
Both will backfire and may indeed cost this president and his warmongering cabinet their sought-after second term.
To begin with, the emperor is naked because the real war on terror is far from finished. If anything it is falling apart.
[more]
america's cup
Round Robin 2 is complete and the two groups for the quarter finals are established.
Group1
Alinghi Challenge (Switzerland) —13
Oracle BMW Racing (US) — 12
OneWorld Challenge (Seattle) — 12
Prada Challenge (Italy) — 11
Group 2
Victory Challenge (Sweden) — 7
GBR Challenge (Britain) — 7
Team Dennis Conner (US) — 6
Le Défi ARÉVA (France) — 2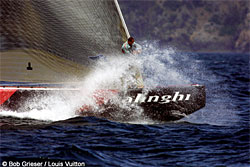 Mascalzone Latino had only 1 point and has been eliminated from the challenger's cup. Alinghi Challenge and Victory Challenge get to chose their opponent for quarter finals. Those will be announced by Monday. The quarter finals start Nov 12 with best of 7 series.
Alinghi and Victory Challenge Have Hard Decisions Ahead
As group winners, the Swiss and the Swedes pick their poison for the Quarter-Finals...
Dickson Celebrates in StyleChris Dickson won two races on his birthday to lead his team to second place...
Mascalzone Latino head home but vow to return
Swiss Alinghi team emerge as top scorers in the Louis Vuitton Cup double round robin
Dennis Returns, Dickson Steals the Show
French earn their first win on an incredible day of racing in Auckland...
comics
music
Christina Aguilera, Sex Mallet
From overblown pop confection to overblown smut doll in one icky video: A cautionary tale
Let's pretend for a moment you're willing to admit you're actually paying attention to the whole Britney Spears/Christina Aguilera Mickey Mouse Club phantasmagoria, because you're just that kind of person.
The wry type who probably has money down on which Olsen Twin will be first to get knocked up by Vin Diesel and/or be found facedown in the Viper Room in a pool of tequila and prescription Xanax. Let's just say.
Let's pretend you care deeply about these vixens' smarmy prefab selves and maybe you've even seen the new, ultra-raunchy Christina video and ogled/ cringed at her much-hyped transformation from cutesy Britney-like teen tease bomb to skanky well- oiled gyrating quasi-sexual grope machine in the span of about a year and 16 piercings and 20 gallons of L'Oreal Vamp.
[more]

Labor has pulled out of Sharon's government and Sharon is scrambling to put together a coalition to avoid new elections. Any coalition will move the Israeli government even more to the right.
Analysis / No Labor, no checks and balances
If a narrow right-wing government is formed, the most important change will apparently be the absence of the internal checks and balances that existed in the unity government's inner security cabinet, where the major security decisions were made with the participation of Prime Minister Ariel Sharon, Defense Minister Benjamin Ben-Eliezer and Foreign Minister Shimon Peres.
[more]
It's a nation where wild weeds bloom, and at the lecture, my friend asked some of the heckling soldiers: "Tell me, do you believe blacks and whites in America should have equal rights?" There was a near-unanimous chorus of "yes." And, she asked: "Do you believe Catholics and Protestants in Northern Ireland should have equal rights? "Of course."
And Arabs and Jews in Israel? Silences. Cries of "that's different," "they don't accept us," here and there a "no!" She said later: "This is what frightens me. They think it's easy to be tolerant when it's far away - that even Arabs and Jews in America should have equal rights - but not here. I wasn't even talking about Palestinians; I was talking about Arab citizens. They do not understand that it's the same. We still want to be the victims - we can't see another people as victims."
[more]
goldsworthy
Natural Art Goes Digital
Talking about and with Artist Andy Goldsworthy on taking it to the Web
The digital conceit is this: For every day during the duration of the show -- which runs through Nov. 30, including Sundays and Mondays, when the gallery is closed -- Goldsworthy is making new pieces in the environs of his hometown of Penpont, Scotland, and e-mailing a digital image or two, along with an accompanying diary entry, to the gallery. These pictures are then printed out on a consumer-model Epson printer and mounted on the empty gallery walls daily. The same material is being e-mailed to 150 or so curators, collectors, critics and Goldsworthy fans. By the end of the exhibition, the sizable white walls at Haines will likely be abundantly full, as will those lucky recipients' e-mail boxes. It's something of a conceptual play on notions of time and place, and it makes perfect sense in his continuing artistic exploration.
[more]
thanks to MetaFilter
war against some kids
Drugging our children the legal way
America's legal drug pushers are free to offer kids their potent concoctions without having to prove they're safe or effective.
Chalk up another profitable victory for those promoting the legal drugging of America's children -- also known as the good folks of the pharmaceutical industry. Earlier this month, a federal judge struck down a Food and Drug Administration regulation that required drug makers to test medicines routinely given to children.
As a result, America's legal drug pushers are once again free to offer their potent concoctions for our kids' consumption without having to prove that they are safe or effective for pediatric use.
[more]
it seemed like a good idea at the time
Darwin Awards
A friend of mine was stepping out of the shower one day, when his wife's small dog wandered into the bathroom. My friend loves to tease this dog, and having nothing at hand with which to tease, he grabbed his penis and began waving it at the dog.
[more]
thanks to abuddhas memes
social insecurity
thanks to Drudge Report
microsoft
Judge to Issue Microsoft Ruling
The federal judge overseeing the Microsoft Corp. antitrust trial will deliver her long-awaited rulings in the case on Friday after financial markets close, deciding whether to approve a controversial settlement between the software maker and the Justice Department.
[more]
violence in america
Blowback: from Unruh to Muhammad
The leading cause of violence in America is its militarized culture
One day in 1949, Howard Unruh, a 28-year-old Second World War veteran shot 13 of his New Jersey neighbors. His famous line was, "Stop me before I kill again." His military firearms training made his "walk of death" the first modern serial- killer case. From Unruh to Muhammad. Military training is designed to desensitize recruits to the grim reality of using one's weapon to kill people. Millions have been molded in this manner. Blowback is the consequence. It will be with us as long as the Empire needs war as its guarantor. There are more McVeighs and more Muhammads round the corner. You can bet on that. It's blowback. The leading cause of violence in America is its militarized culture.
[more]
american empire
DANIEL ELLSBERG'S just-published memoir, "Secrets: A Memoir of Vietnam and the Pentagon Papers" is a page- turner. The Vietnam War shaped and shadowed both of our lives for more than a decade. I, however, was a young nobody. He was the consummate insider, a brilliant military policy analyst, who enjoyed access to top-secret information, as well as to high government officials.
Why, then, I kept asking myself, did it take him so long to openly oppose the Vietnam War? Ellsberg answers my question by brilliantly recreating the mind of the insider, the person who observes discrepancies but then doesn't expose official deception. In a memorable scene, he warns Henry Kissinger, the man who will run Richard Nixon's foreign policy, that access to top-secret information breeds a dangerous arrogance; you come to believe that only you know the truth.
[more]
wall street crooks
Still Needed: Corporate Reform
It is becoming increasingly apparent these days that corporate reform isn't really happening in Washington. In the last few weeks, we've witnessed a below-the-radar rollback of the Sarbanes-Oxley Act, continued corporate earnings restatements, foot-dragging by a Congress unwilling to move ahead on the next round of critical corporate reforms, and the continuation of brazen Bush administration policies to further deregulate the energy and telecom sectors.
Chances are, though, most people didn't really notice. That's because they've probably been paying attention to the latest developments on Iraq. How cleverly Bush has been able to change the subject.
[more]
Pitt Under Fire for Not Telling All He Knew About Webster
Three investigations began today into the Securities and Exchange Commission's choice of William H. Webster to head a new board overseeing the accounting profession. House and Senate Democrats called for the resignations of both Mr. Webster and Harvey L. Pitt, the commission's chairman.
[more]
The Pitt Principle
By Paul Krugman
So Harvey Pitt decided not to tell other members of the Securities and Exchange Commission a small detail about the man he had chosen to head a crucial new accounting oversight board, after turning his back on a far more qualified candidate. William Webster, reports Stephen Labaton of The Times, headed the audit committee at U.S. Technologies. Now that company is being sued by investors who claim that management defrauded them of millions.
And what did Mr. Webster's committee do after an outside auditor raised concerns about the company's financial controls? That's right: It fired the auditor.
Mr. Pitt's response when this story broke beats anything a satirist could have imagined. "Pitt seeks probe of himself," read one headline. Honest: Mr. Pitt's own agency will investigate how he chose Mr. Webster.
[more]
halloween
Pagans Ate My Sugar Babies
Because what we really need now is the ancient, "real" Halloween to thwart those war-drunk evil spirits
'Tis the time of disemboweled gourds and spooky black cats and sickly terrifying vice presidential ghosts, of dressing up the wee ones in carefully branded molded-plastic heavily trademarked Disney- owned characters and sending them out into the 'hood with a flashlight and a cute plastic pumpkin bucket and a small semiautomatic weapon and some nice candy-corn mace.
'Tis also the time when we really, really might want to hearken back to the early days of this gloriously pagan Samhain holiday, a.k.a. the "real" Halloween, when men were men and women could powerlift an elk and the Celts were half naked and dancing around a huge Druid fire in crazy masks and animal skins and face paint. This is how it started.
[more]
The Boondocks
Pumpkin cannon inventor seeks worthy competition
Jim Bristoe is getting a blast out of his pumpkin cannon.
Bristoe figures his 30-foot-long, 2-ton contraption can fire the orange orbs up to five miles. On Saturday, he entered his launcher in the Pumpkin Propulsion Contest, where the cannon far outclassed the competition.
[more]
thanks to reenhead.com
buddhism
Although the historic Buddha, Prince Siddhartha Gautama, is said to have lived approximately 2,500 years ago, Buddhism is often viewed as the most modern of world religions.
Nontheistic, nondogmatic, nonviolent, emphasizing individual practice rather than institutional membership or obligations, the Buddhism expounded by, say, the Dalai Lama fits nicely with a modern, largely Western world view based on science and respect for the individual. Maybe that explains why it seems to attract so many physicists and psychotherapists.
Is this modernity surprising? Not really, because this Buddhism is itself a modern creation, a late-19th-century development deeply influenced by Western ideas even while emerging as a counterweight to Western colonial domination.
[more]
thanks to Travellers Diagram
american empire
For President Bush, this month's debate in the U.N. Security Council is all about Iraq and its alleged weapons of mass destruction. But for France, Russia and other countries, the issue isn't just the Iraqi threat—it's the U.S. threat, too.
[more]
Defense Secretary Donald Rumsfeld fired off a memo last week revoking the longstanding title "CINC," or "commander in chief," bestowed on Tommy Franks and the cadre of other four-star military chieftains who plan and fight American wars around the world.
He's been on a rampage for months about top generals and admirals getting to call themselves commander in chief.
[more]
four-twenty
thanks to reenhead.com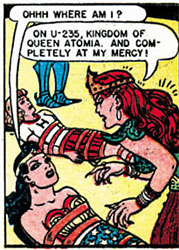 chemistry
The Periodic Table of Comic Books
Welcome to the Periodic Table of Comic Books. Click on an element to see a list of comic book pages involving that element. Click on a thumbnail on the list to see a full comic book page. For technical information about an element, follow the link to Mark Winter's WebElements. We recommend that you start with oxygen to see some of our best stuff. There's something for everyone here!
[more]
thanks to Travellers Diagram

Israeli coalition government collapses
Israel's national unity coalition government collapsed tonight after Labour party ministers handed in resignation letters following a budget row.
The resignations are a hammer blow to the Israeli prime minister, Ariel Sharon, but will not immediately put him out of office, instead forcing him to rely on rightwing minority parties in a shaky coalition.
[more]
WHAT IT MEANS: Ha'aretz columnist Yoel Marcus on the gov't breakup
Israel moved substantially to the right Wednesday. A year and eight months into Sharon's term, he found himself facing the reality of his failed leadership: There's no peace, no security, and no unity.
[more]
Red-Heifer Days
Religion takes the lead.
So how does the calf recently born in Israel figure into things? As Gorenberg explains, the ashes of a flawless red heifer — an extremely rare creature — were required by the ancient Hebrews to purify worshipers who went into the Temple to pray. In modern times, rabbinical law forbids Jews from setting foot on the Temple Mount, thus violating the site where the Holy of Holies dwelled, until and unless they are ritually purified. Without a perfect red heifer to sacrifice, the Third Temple cannot be built, and Moshiach — the Messiah — will not come. Writes Gorenberg, "[Israeli] government officials and military leaders could only regard the requirement for the missing heifer as a stroke of sheer good fortune preventing conflict over the Mount."
In 1996, thanks in part to a cattle-breeding program set up in Israel with the help of Texas ranchers who are fundamentalist Christians, a red heifer was born. There was immense excitement among messianists of the Israeli religious Right, and their American Christian counterparts. The world media covered it as a joke, but it wasn't funny to David Landau, columnist for the Israeli daily Haaretz. He called the red heifer "a four-legged bomb" that could "set the entire region on fire." Muslim leaders worried about the red heifer too, as they would see an attempt by Jews to take over the Temple Mount as a sign of the Islamic apocalypse.
[more]
elections
The most obvious aspect of that challenge is that for the first time since the nineteenth century the United States is governed by a President who, as a candidate, was rejected at the polls. "The Longest Night: Polemics and Perspectives on Election 2000" (California), a just published collection of essays by some two dozen distinguished scholars of law and history, includes several contributions from foreign observers. One of them, Shlomo Avineri, of Jerusalem's Hebrew University, notes sharply, "Certainly there is no other democratic society in which an executive president can be elected if he receives fewer popular votes than his major contender." But, as he points out, this possibility persists for good historical reasons, notably the patchwork way in which modern democratic norms were gradually and informally grafted onto the Constitution's eighteenth-century contrivances. In Avineri's words, "The democratization of the American system happened incrementally, not through revolution or rupture; new wine was poured into old vessels." He adds, "This nonviolent incrementalism is clearly praiseworthy; yet in Florida in 2000 it exacted its price."
[more]
war against the poor
Exasperated Cities Move to Curb or Expel The Homeless
Fed up with growing hordes of homeless people begging and sleeping on their streets, cities across the country have begun taking desperate new steps to restrict their behavior, or to run them out of town.
[more]
thanks to Cursor
white house crooks
Board was told of risks before Bush stock sale
Harken memo went to SEC after probe
One week before George W. Bush's now-famous sale of stock in Harken Energy Corp. in 1990, Harken was warned by its lawyers that Bush and other members of the troubled oil company's board faced possible insider trading risks if they unloaded their shares.
[more]
thanks to BookNotes
america's cup
Oracle BMW Racing Beats OneWorld, Prada Rolls On
Excellent conditions for racing on the Hauraki Gulf saw both flights of scheduled matches sailed with the exception of one afternoon race. This was an important day for the Louis Vuitton Cup with the schedule being held to.
[more]
Flight 8 will be sailed today along with the previously abandonded Flight 4 races, weather permitting. Tomorrow should be the final day of Round Robin 2, with Flight 9 and, hopefully, the other abandoned races.
The challenger cup quarter-finals will be divided into two groups of four and who will be in those groups is starting to be clear. Alinghi (only 1 defeat), OneWorld (2 defeats), Prada (a slow start in Round Robin 1 but has come back very strong in Round Robin 2), and Oracle (looking stronger) should be in the first group. Victory Challenge, GBR Challenge, Team Dennis Conner, and Mascalzone Latino look like the second group with the French Le Défi ARÉVA being eliminated. The racing has just begun.
why privatization isn't always a good idea.
For-Profit U.S. Schools Sell Off Their Textbooks
Students already have to worry about exams, essay deadlines and staying awake through math class. In Philadelphia, they have a new worry: What if your school becomes a victim of the stock market meltdown?
[more]
globalization
Do as we say, not as we do
While Lula's Brazil kowtows to the free market, Blair's Britain only pretends to do so
Democracy in Brazil both won and lost on Sunday night. It won because, for the first time in its history, the nation chose a man of humble origins and radical views to be its president. It lost because that man is now forbidden to be radical. The strictures imposed by the capital markets and the International Monetary Fund prevent him from intervening in the economy or commissioning the new social spending so desperately needed by the poor. Instead, he must follow the economic model to which all governments must adhere: a model that subordinates democracy to the free market.
This, at any rate, is the story the world is telling itself, and the story which all those of us who are unhappy with the way the world is run have endlessly reiterated. Over the past few months I have begun to see that it is, in one respect, quite wrong. There is not a single economic model, universally applied. There are two models. One of them is the market fundamentalism to which the poor nations have been forced to submit. The other is the way the rich world lives.
[more]
thanks to also not found in nature
A few years ago, Canada, Mexico and the United States signed a document known as the North American Free Trade Agreement (NAFTA); it became effective in 1994. It was touted [if you're familiar with the legal term 'touting,' you'll know I've chosen the right word here] as the savior of the North American economy. It was going to reduce or remove all those horrid barriers to the free exchange of goods and services between various jurisdictions. We would all prosper; life would be grand; and we would all eventually die at ripe old ages in splendid luxury. Even more importantly, it was going to defend us against those Eurobastards who had made such large strides toward an economic union that was at least partly designed to challenge the financial clout of North America.
Since it was government and the business community doing the touting, the usual suspects rose up in righteous anger against this expected rape of the people and their resources. Labor, leftist, and social activist groups predicted chaos, more losers than winners, and a crystallization of more wealth into pockets that were already full to overflowing.
Guess who was right?
[more]
thanks to wood s lot
Wednesday October 30 2002
halloween
Primeval terror (since 1929)
You think Halloween has pagan roots? Guess again. Two new histories of America's second favorite holiday reveal the truth.
Of all today's holidays, Halloween seems like the most primeval. Its bats, witches, spooks, skeletons and monsters surely indicate roots reaching back before the dawn of science and Christianity; the whiff of prehistoric campfires clings to its sable robes. Well, guess again.
Halloween has been creeping up on Christmas to become the second biggest annual bonanza for U.S. retailers, a Grim Reaper that harvests $6.8 billion per year in exchange for candy, costumes, cards and party supplies. That success sets it up for the kind of debunking that Christmas has endured recently, as historians have shown that what we think of as time- honored Yuletide traditions are actually only about 100 years old. Likewise, as two new books document, the seemingly ancient customs of Halloween turn out to be recent embellishments to a holiday that used to be a pretty low-key affair. And forget those Transylvanian villagers and superstitious medieval peasants -- Halloween is as American as the Fourth of July.
[more]
his Halloween, Dracula and Frankenstein's monster seem positively cuddly. To inspire some real fear, try dressing up as one of these current and former chief executives.
Kenneth Lay, Former Enron CEO
During the late 1990s, Enron (otc: ENRNQ - news - people ) was synonymous with the new economy and turned itself into an energy- and electricity-trading powerhouse. But it turns out that the company's growth was largely gas and hot air. Beginning in October 2001, it was revealed that Enron used off-the-books partnerships to boost profits and hide debt. A host of other shady dealings, including accusations that Enron bribed foreign governments and manipulated the power market, emerged as well. Enron is now bankrupt--and former CEO Lay is facing dozens of civil suits and possible criminal charges down the road. Boo!
[more]
music
Live webcast will be broadcasted on Nov 1.
[more]
war against some drugs
Court Backs Doctors on Marijuana
A federal appeals court ruled for the first time Tuesday that the government cannot revoke doctors' prescription licenses for recommending marijuana to sick patients.
[more]
american empire
CIA Concerned US War on Terror is Missing Root Causes
The US Central Intelligence Agency has warned that US counterterrorist operations around the world may not eliminate the threat of future attacks because they fail to address the root causes of terrorism, according to new documents.
In an unusual display of candor, the CIA pointed out that continued instability in Afghanistan, challenges facing Saudi rulers and the festering Israeli-Palestinian conflict were likely to fuel radicalism in the Muslim world.
[more]
Hady Hassan Omar had made up his mind. He was going to kill himself if he wasn't released by New Year's Eve.
It wouldn't be easy. Three cameras recorded his every move. The lights in his cell weren't turned off for weeks at a time. And the guards watching him through the plate-glass wall were rotated round the clock. He would lie under his prison-issue blanket for as many as 20 hours a day. It was the only privacy he could get.
[more]
thanks to BookNotes
In Washington, the official concealment of the oil factor reveals its importance to U.S. rulers who back an attack on Iraq. The U.S. economy, now wobbling after booming last decade, in part needs more and cheaper oil for growth to resume. Under a market economy, growth is to profits what air is to people—essential. Enter Iraq. The nation of 23 million human beings has the world's second-largest estimated crude oil reserves. Moreover, boosting Iraq's oil production could also weaken OPEC's power. It's safe to assume that this, too, is a goal of U.S. rulers. Saudi Arabia is OPEC's leading oil producer. Currently, some in Washington are less than thrilled with Saudi elites. For U.S. rulers, a tighter grip over Persian Gulf oil production could also serve to beat down the German-led European Union and Japan as the global economy stagnates. Likewise on the home front in a time of economic stagnation, a U.S. war against Iraq looms as a hammer to pound the U.S. working class into further political obedience.
[more]
Remapping the Middle East
Whose War Is It This Time?
As the Bush Administration beats the war trumpets against Iraq, a remarkable similarity can be discerned between the Middle East today and eighty years ago. The important question is whether the United States is likely to succeed in reshaping the strategic landscape in this troubled region more than did the British. There is a legacy of imperial domination, trickery, un-kept promises, and double-speak, all of which have combined to undermine the notion that any progress or healthy transformation, could ever emanate from dealing with the West, be that at the military, diplomatic, or economic levels.
[more]
And last, but not least, a fine rant by Tom Tomorrow.
The New York Times downplayed the DC antiwar march, noting vaguely that "thousands of protesters marched through Washington's streets," while the Washington Post gave a more accurate accounting of 100,000 Americans from all walks of life coming together to oppose the Administration's march to war. I'm not sure how the former fits into the conspiratorial worldview of the anti-Raines crowd, but the latter paper presumably had no choice but to present a more accurate picture, given that many of its readers would have actually witnessed the event firsthand.
[more]
america's cup
The schedule for Round Robin 2 of the challenger's cup is a mess. There were three days of high winds that kept the races from being sailed. There were already races that will have to be rescheduled. In order to catch up, the race organizers scheduled Flight 5 and Flight 6 for Tuesday and then the wind died and only two races in Flight 5 were completed. Flight 6 and Flight 7 are scheduled for Wednesday.
Frustration and Elation - Prada Extends Winning Streak
But more races are abandoned as GBR Challenge asks for Redress...
Squalls streaking across the Hauraki Gulf meant a two-hour postponement on both race courses before action resumed on the shorter, 12.5 mile Course B.
Once racing got underway, frustration soon set in as the wind died and massive wind shifts gave fits to tacticians, sailors and Race Officers alike.
[more]

photography
[more]
Joel-Peter Witkin
Joel-Peter Witkin has been called 'part Hieronymous Bosch, part Chainsaw Massacre.' His photographic tableaux, carefully arranged and painstakingly printed, offer us the chance to transcend subject matter, and enter what Witkin calls a world of 'love and redemption'."
The Bone House.
Somewhere between depraved and divine, Joel-Peter Witkin has created a space that's occupied by no other living photographer. His latest book, The Bone House, documents his progression from child photographer to where he stands alone today. Heady words, true, but deserved. Joel-Peter Witkin is a fearless image-maker.
[more]
both thanks to Riley Dog

The Wolf Who Cried Wolf:
Charging Anti-Semitism and Extending the Iron Wall
For this is the shadow cast by the Iron Wall, Zionism's long-standing policy towards the Palestinians, which has led to a half-century of systematic expropriation, ethnic cleansing, massacre, torture, incarceration, and occupation of the native. When Zionist theoretician Ze'ev Jabotinsky first formulated the doctrine of Iron Wall in 1923, he laid the question of colonialism bare. He understood that "The natives will always struggle obstinately against the colonists," as they are bound up with their land with the "true fervor that any Aztec looked upon his Mexico or any Sioux upon his prairie." Given that the Palestinians "will struggle against colonizers until the last spark of hopeis extinguished," Zionism must ensure "there is no hope left, until we have removed every opening visible in the Iron Wall." Force was to be not only a pre-condition but the condition for Zionist success, via the Iron Wall.
[more]
The army must stop the olive thieves
It would be a mistake to regard the settlers' robberies of Palestinian villagers' olive harvests as merely another serious crime. This collective theft signifies a change in the current military conflict between Israel and the Palestinians and is a revolution in the history of the settlements in general. For the first time in the current conflict, Israelis are stealing and confiscating Palestinian food. Even if they won't admit it, it can be seen as laying the groundwork for Transfer, not by the state but by a group of settlers. In Yanun, south of Nablus, most of the residents have already been forced to leave their homes.
[more]
Before Jewish fascism takes over
elections
JUST when control of Congress hangs in the balance, President Bush is losing the popularity he so desperately needs to gain control of the Senate and keep power in the House. According to the Fox News survey of Oct. 22-24, Bush's job approval has slipped to 60 percent, from 66 percent two weeks ago and 69 percent in August. His personal favorability has dropped to 62 percent from 72 percent in August.
[more]
thanks to Politics in the Zeros
this is pretty shocking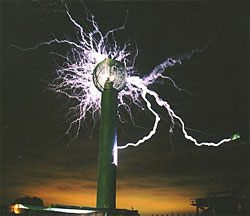 Lightning on Demand
The principal goal of Lightning On Demand is to design, construct and operate a proposed large-scale experimental platform known as the Advanced Lightning Facility. This facility will consist of two 12-story resonant transformer structures, capable of generating 300ft lightning discharges continuously through open air -- and deliver current intensities similiar to those of natural terrestrial strikes.
The physics of air under electrical breakdown limits the maximum practical size of a Tesla Coil to about 12 stories in height. Greg Leyh started Lightning On Demand (LOD) in 1996 as a focus for designing and constructing a Tesla coil system that would operate at this limit. In addition to posing an interesting engineering challenge, this facility will provide a unique scientific research platform for studying natural lightning phenomena -- and operate as an world-class educational attraction for the general public.
[more]
thanks to consumptive.org
economy
Consumer confidence plunges
Closely watched measure of consumer confidence is dramatically worse than expected in October.
U.S. consumer confidence plunged to its lowest level in nearly nine years in October - posting its most dramatic decline since the Sept. 11 terrorist attacks -- as a pillar of the U.S. economy showed severe signs of strain.
[more]
thanks to DANGEROUSMETA!
comics
brazil

Brazil's Lula: A Challenge to Washington?
The U.S. and international bankers don't know what to make of a leader who puts the needs and aspirations of his people before those of foreign investors.
On Jan. 1, 2003, Luis Inacio Lula da Silva -- elected in a landslide victory with over 61 percent of the vote -- will become president of Latin America's largest country. Lula, as he is commonly known, received three million more votes for president than George W. Bush did in the United States in 2000.
Leonardo Boff, a progressive theologian in Brazil, declares that Lula's triumph represents "the victory of a project from below, one of the poor." Lula's first act as president-elect was to create the Secretariat for Social Emergencies. Its primary responsibility is to end hunger and malnutrition among more than 20 million Brazilians.
[more]
crowd control
Respected scientists on both sides of the Atlantic warned yesterday that the US is developing a new generation of weapons that undermine and possibly violate international treaties on biological and chemical warfare.
The scientists, specialists in bio-warfare and chemical weapons, say the Pentagon, with the help of the British military, is also working on "non-lethal" weapons similar to the narcotic gas used by Russian forces to end last week's siege in Moscow.
They also point to the paradox of the US developing such weapons at a time when it is proposing military action against Iraq on the grounds that Saddam Hussein is breaking international treaties.
[more]
The article also mentions the use of non-lethal weapons against hostile crowds. I guess that would mean demonstrating civilians.

testingtesting
The show is over and I have the sound archive up for Sue Pyper's show. Check it out. It's late and I'm crashing.
testingtesting
It's time for TestingTesting tonight. We will feature Sue Pyper, who is down from Canada for the show. The show starts at 7pm (pacific). The TestingTesting site has showtimes for other times zones around the world. Click on in to hear some fun music webcast live from my living room.
elections
Leftist Handily Wins Brazilian Presidential Race
With 99 percent of the ballots tallied in Sunday's runoff, Mr. da Silva was leading handily with 61.2 percent of the vote, compared with 38.8 percent for his rival, José Serra of the centrist Brazilian Social Democratic Party, which has governed this nation of 175 million people for the past eight years. His dominance, with nearly 52 million votes, gives him an indisputable mandate to remake Latin America's most populous country.
[more]
Election Officials Braced for Big Problems at the Polls
Two years after the election fiasco in Florida, when hanging chads in the deadlocked presidential contest alerted the world to major flaws in how Americans vote, the states have made little progress in overhauling their election systems.
[more]
What a contrast in elections. Brazil is able to hold an election and have 99% of the votes counted before the day is over. We have a system where the rich do all they can to keep the poor from voting or, if they do, from counting their votes. And they call this a democracy.
painting
Turner Online is an introduction to the art of one of the most celebrated British artists: Joseph Mallord William Turner (1775-1851).
[more]
thanks to plep
american empire
Anger Builds and Seethes as Arabs Await American Invader
But on the edge of the crowd, Hassan Hossam reflected on a deeper fear in this part of the world that if the United States attacks Iraq, it would go on to impose long-term military control.
"This is totally rejected because Arabs are the only people who should rule their country," Mr. Hossam, a 32-year-old sales clerk, said. "President Bush is trying to take us backward, to many years ago," he said. "If America occupies an Arab country, it would mean the whole Arab world on fire."
[more]
thanks to Blowback
Tinker, Banker, NeoCon, Spy
Ahmed Chalabi's long and winding road from (and to?) Baghdad
If T.E. Lawrence ("of Arabia") had been a 21st-century neoconservative operative instead of a British imperial spy, he'd be Ahmed Chalabi's best friend. Chalabi, the London-based leader of the Iraqi National Congress (INC), is front man for the latest incarnation of a long-time neoconservative strategy to redraw the map of the oil-rich Middle East, put American troops -- and American oil companies -- in full control of the Persian Gulf's reserves and use the Gulf as a fulcrum for enhancing America's global strategic hegemony. Just as Lawrence's escapades in World War I-era Arabia helped Britain remake the disintegrating Ottoman Empire, the U.S. sponsors of Chalabi's INC hope to do their own nation building.
[more]
thanks to Blowback
On the campaign trail this fall, George W. Bush has been selling his hard-line foreign policy as a strategy for protecting Americans. But the opposite now appears to be true: Bush's tough-guy rhetoric in the face of complex world problems is adding to the dangers confronting Americans.
The latest episode of Bush's unintended consequences is North Korea's admission that it is pressing ahead to build nuclear weapons.
[more]
thanks to BookNotes
Pakistan's role as a clandestine supplier shatters the Bush administration's efforts to paint that country as a flawed but well-meaning member of the coalition against terror. Pakistan today is the most dangerous place on Earth, in large part because the administration does not understand the forces it is dealing with there and has no policy to contain them.
[more]
thanks to BookNotes
kittens out of control
thanks to Thumbmonkey

Naboth had a Vineyard
by Uri Avnery
Had they been there last Saturday at sunset, most Israelis would not have believed their eyes.
In the middle of Havarah, a small village south of Nablus, 63 Israelis, men and women, young and old, were standing together with dozens of Palestinian villagers. Jews and Arabs talked together, drank juice offered by the hosts, exchanged addresses and phone numbers. The local children were wearing stickers brought by the guests, showing the flags of Israel and Palestine. Nobody bore arms.
All of them looked happy, and with reason: they had just finished a hard day's work at olive picking. They had been together under the trees. They were together when the settlers opened fire.
[more]
a new chris van allsburg
Author-illustrator boasts plenty of drawing power
"What if?" and "What then?"
Chris Van Allsburg likes those questions. They spark his imagination, lead him in unexpected directions -- perhaps aboard a train headed for the North Pole or into a kindhearted widow's home, where a witch has left her aging broom. "I have these images in my mind, sometimes just fragments," says the author-illustrator of such celebrated picture books as The Polar Express and The Widow's Broom. "I begin to wonder, `What if two bored children discover a board game? What then?' " What if the game was magic and a jungle suddenly grew in the house? What if a rhino ran rampant and a lion appeared on top of the piano? What if a volcano spewed lava on the living room floor?
Why then you would have Van Allsburg's 1981 tale Jumanji, which won the prestigious Caldecott Medal and was made into the 1996 movie starring Robin Williams. With its blurring of the lines between reality and fantasy, the book is emblematic of Van Allsburg's wonderfully weird and often enigmatic works.
[more]
thanks to MOBYlives
The World of Chris Van Allsburg
going down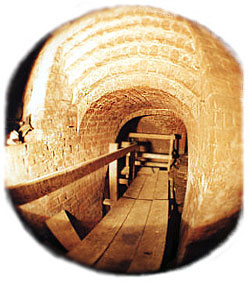 The enigma of Liverpool's labyrinth
Tycoon Joseph Williamson dug a vast, bizarre network of tunnels under Liverpool almost 200 years ago. Were they the city's first job creation scheme, a rich man's whimsy or a shelter from the end of the world?
[more]
Friends of Williamson's Tunnels
Welcome to the fascinating world of the Williamson tunnels - a strange underground kingdom which has lain beneath the city of Liverpool in north-west England since the early 1800s.
[more]
Williamson Tunnels Heritage Centre
"Vaulted passageways cut out of solid rock: archways thrown up by craftsman's hands, beautiful in proportion, elegant in form, but supporting nothing. Tunnels formed here - deep pits there."
[more]
thanks to enthusiasm
comics
wall street crooks
Bad Press
How business journalism helped inflate the bubble.
Pick up The Wall Street Journal today, and the business pages are full of stories about the men and women who built the stock market bubble. Months into the current downturn, the saga of Enron, WorldCom, Arthur Andersen, and other 1990s cheats has become the biggest running business story in decades--and business journalists are hot on the trail. Should we blame sticky-fingered CEOs? Self-dealing analysts and accountants? Board members asleep at the switch? Absolutely. But there's another sector of the economy, deeply implicated in the collapse, whose conflicts of interest, ethical lapses, and naïve enthusiasms have so far received little press attention: business journalism itself. (...)
Fallacy #2:We can give readers useful advice about which stocks to pick.
Few business journalists spend much time analyzing balance sheets. But even if they did, they wouldn't be of much help to folks trying to figure out how to invest their 401(k)s. This truth was forced on me when I set out to learn high finance (after years of writing about it) at Columbia Business School. Here I was, a 40-something guy on a fellowship for mid-career business journalists, surrounded by 20-something whiz kids who would shortly go off with their newly minted MBAs to dazzle Wall Street. And what was the first lesson our finance professor drove home? That even after spending two years and $60,000 at Columbia Business School, none of them would be able to outperform the markets except by sheer luck or inside information.
[more]
thanks to Ethel the Blog
looks ok to me
Allen Read
Allen Walker Read, etymologist, died on October 16th, aged 96
FOR much of his long career studying language Allen Read sought the origin of OK, perhaps the most useful expression of universal communication yet devised. You can use OK not simply to indicate agreement but, with appropriate facial expressions, shades of agreement, even disagreement. It is a vocabulary in itself. No wonder that OK has found its way into nearly every language in every country, and beyond. It was the fourth word, if you can call it that, heard on the moon, spoken by Buzz Aldrin. For etymologists, establishing the origin of OK became something of an obsession, equivalent to mathematicians' long quest for the proof to Fermat's last theorem.
[more]
thanks to MetaFilter
photography
Ruben Ochoa
Unidentified Shopping Cart Incidents
2002
[more]
thanks to Riley Dog
war against some drugs
Drug Warriors Crusade Against Reform Initiatives
On drug policy, the voting public has proven ready to lead spaniel-like politicians by the nose, voting for one liberalization measure after another. But government, state and local officials have begun a crusade to scuttle reform initiatives around the nation.
[more]