Archives
Saturday December 15 2001
THE SOU'WESTER ALLIANCE:
AFGHANISTAN'S FORGOTTEN WARRIORS
Hardy Seafarers Suffer from Lack of Respect, Ocean
As the dust and smoke of battle settles across Afghanistan, all eyes have turned to the triumphant Northern Alliance, but there is another courageous Afghani confederation, one whose contributions have been all but lost in the proverbial fog of war. These are the poor, proud tribesmen in bright yellow slickers and waterproof hats, turned up at the brim, of the Sou'wester Alliance.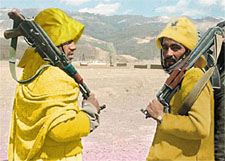 thanks to MetaFilter
Cool Web Graphics
Eric Stamen does some interesting stuff and links to the like minded. These are some current links from his blog.
16thandmission
This is an interactive piece that Eric has done, which he describes as "This interface is an investigation of the corner of 16th and Mission Streets in San Francisco." A more complete explanation. It's interactive so move that mouse around and click on things.
SHOWstudio Interactive
This is beautiful. Put your sound on and play with your mouse. So to speak.
Bits and Pieces
Daniel Brown did the SHOWstudio Interactive. This is something else he has done.
I Can't Stop Thinking
Scott McCloud has dome some innovative books on what comics are. This is part of his ongoing experiments in different ways of presenting comics online.
Microwave Experiments
This isn't about web graphics. But as Eric says, "I love the internet..."
Israel/Palestine
The situation in Israel/Palestine is degenerating quickly. This could destabilize the entire region.
Sharon aims to stir uprising against Arafat
The Israeli army drove deeper into Yasser Arafat's shrinking realm yesterday, storming four West Bank villages with tanks and helicopter gunships, killing eight Palestinians, and arresting more than 40 others.
In the Gaza Strip, F-16 fighter planes bombed a building in Gaza City used by Mr Arafat's elite Force 17 unit, injuring five people, and damaged an empty building near by. An Israeli security source said the planes had attacked "military targets alone".
With Mr Arafat made a virtual prisoner in his Ramal lah headquarters by the tanks 100 metres from his door, Israel attacked four Palestinian sites in the West Bank simultaneously: Hebron and the villages of Dura, Salfit and Assira Ashmalia.
In Salfit its troops killed six Palestinian policemen. In Hebron they pursued four armed Palestinians in a car, opened fire and killed two.
The scale of yesterday's raids was intended to show Mr Arafat that he is no longer master of the West Bank and Gaza.
'Israeli death squad disarmed men and shot them'
The salami solution to Palestine
Breaking relations with Arafat has left few options
Israel aims to destroy Arafat's power but save his life
Israel's military has been ordered to destroy the authority of Palestinian leader Yasser Arafat.
Israeli military sources said the current military operation is meant to whittle away Arafat's rule until the point where he either flees into exile or succumbs to the demands of Israel and the United States to crack down on Islamic insurgents. The sources said Arafat himself is not a target of assassination.
thanks to Drudge Report
Arafat adviser: IDF attacks are 'declaration of war'
IDF strikes on Palestinian cities, institutions, and the TV and radio building in Ramallah constitute "a declaration of war against the Palestinian people," Nabil Abu Rudaineh, an adviser to PA Chairman Yasser Arafat, said yesterday.
"Mr. Sharon's war against the Palestinian people is pushing the situation toward further tension and instability," Rudaineh said in a press statement. "Israel has officially begun a war aiming at the destruction of the Palestine National Authority [which] has always been Ariel Sharon's goal and plan," Palestinian Minister for Culture and Information Yasser Abed Rabbo said in a statement to the press. "Israel's aggression since last night included acts of revenge aiming to destroy all the accomplishments of the Palestine National Authority and were in no way related to fighting terrorism," he added.
Left-wing MKs decry cabinet decision
The security cabinet's decision that Palestinian Authority Chairman Yasser Arafat is "irrelevant" is itself irrelevant, MKs from the Left said yesterday.
"It expresses a certain amount of frustration, and is an important, maybe even a worthy wish, but you cannot simply wish reality away," said former foreign minister Shlomo Ben-Ami (Labor).
"Arafat is the leader of the Palestinian people and that is who we have to deal with."
Arafat Won't fight his own people
...even if he has to fight everyone else
The Arrogance of Occupation
An Israeli Political Scientist speaks out
Settler Violence and September 11
A Report from the Mean Streets of Hebron
New links
I updated the links under the nav bar. These are the links that I regularly read. The list changes as I find I'm no longer reading some links while I'm reading others regularly. I also did some reorganization. Some links fall naturaly into these categories while others may seem to be forced. So it goes. Subject to change without notice.
New links under Personal Blogs: Blowback, dak.com, Cursor, eric.stamen.com (focused on web graphics, particularly interactive), JOHO The Blog, DANGEROUSMETA!, and abuddhas memes.
New links under News Blogs: Alternet, Common Dreams, and Progressive Review
New Links under Newspapers: Seattle PI, Seattle Times (I live north of Seatlle and these are the local regional papers), Washington Post, Village Voice, Guardian - World News, Guardian - Middle East, Frontier Post, Dawn
New links under Magazines: The Atlantic, SatireWire, Tikkun, and Exquisite Corpse.
New links under Editorial Comics: get your war on and Political Strikes.
Beaver Report - Day 20
We had a big windstorm last night. I got up this morning and the power was out. My electric clock read 5:32. I went to look at the lake and the tree the beaver was chewing on was down. Now, all the other trees the beavers had chewed down around Honeymoon Lake have gone in the lake. Did this one? Nooooo! It falls on the boat.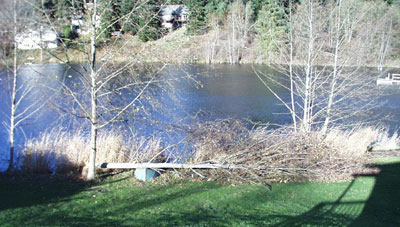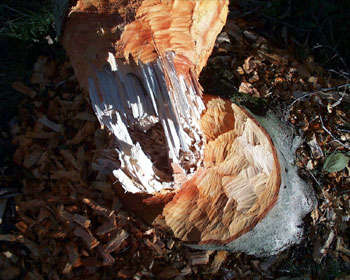 At least I don't have to drag it out of the lake in order to cut it up. Now I just have to repair the boat.
The power came back on 5:30 this evening.
The War Against Some Terrorists
They call this 'the slaughterhouse'
thanks to BookNotes
If You Don't Want American Flag Stamps, Watch Out!
thanks to BookNotes
Israel/Palestine
What is happening in Israel/Palestine is so depressing. Sharon is repeating his disaster in Lebanon. If a little military violence and murder doesn't work then we will use a lot more. With Sharon and the right wing extremists in power there is no exit.
Sharon aims guns at Arafat as ties are severed
David Aaronovitch: Revealed: the self-destructive doctrine according to Ariel
'Who will the Israelis now have contact with? Ahmed al-Bloggs at number 47 Stone-thrower's Street?'
Music
A very interesting article reviewing a book about musical scales. If you are interested in music this is a must read. Even if you don't play.
thanks to JerryKindall.com
The Web
I missed the celebration of America's first site on the web. 10 years this past Wednesday.
thanks to weblog wannabe
Essential Sites
Firda is always good at finding those little sites that put some meaning back into life.
Get a new computer for Grandma!
And last, but certainly not least.
Found! The longest bird penis ever.
Thursday December 13 2001
I love airplanes. I grew up around airplanes. My dad was a pilot in the US Air Force until he retired in 1961. I started working at Boeing in 1965 and spent over 28 years working in the aerospace industry. I worked mostly for Boeing but I also spent 3 years at Northrop.
I worked in Engineering. We always used to jokingly say about a design, "If it looks right, it is right". As far as airplanes design goes, if ever an airplane looked right it was the Lear Jet. Built in the early 60s by Bill Lear. Bill had his fingers in a lot of pies. He invented the 8 track tape. Only those of a certain age may remember that.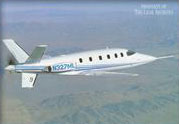 His last project was one of his most interesting - the Lear Fan. At the time, I was working at Boeing as a wind tunnel model designer. We were working on the leading edge of airplane design and followed what else was going on in the industry. The Lear Fan was state of the art in propulsion and construction and it *really* looked cool. Unfortunately, Bill died before it's completion.
This is the cool part of the story. His widow, Moya Lear, took over the project and completed it. I followed the saga of the Lear Fan. They had to have first flight by the end of 1980. I think it had to do with funding or it may have been an FAA thing. That part I don't remember. I do remember that it was a remarkable story that we followed. Everyone who loved airplaines was rooting for Moya and her team. They made it by the end of the year. First flight was officially December 32. That's not a typo.
Excerpts from her book An Unforgettable Flight.
One of the many talented people here on Whidbey Island is one of Bill and Moya's children, Tina Lear. Tina is a great singer/songwriter. She has been on TestingTesting, the Internet webcast from my living room, several times. You can hear her at her last TestingTesting show.
I just received Tina's newsletter. Her mother, Moya, died December 5.
I'm writing this for two reasons. The first is to remember an amazing woman. The second is that Tina included a poem, in her newsletter, that means a lot to her. It's also a poem that speaks to me as I follow a world going mad.

Keeping Quiet, by Pablo Neruda
Now we will count to twelve
And we will all keep still.
This one time upon the earth,
let's not speak any language,
let's stop for one second,
and not move our arms so much.
It would be a delicious moment,
without hurry, without locomotives,
all of us would be together
in a sudden uneasiness.
The fisherman in the cold sea
would do no harm to the whales
and the peasant gathering salt
would look at his torn hands.
Those who prepare green wars,
wars of gas, wars of fire,
victories without survivors,
would put on clean clothing
and would walk alongside their brothers
in the shade, without doing a thing.
What I want shouldn't be confused
with final inactivity:
life alone is what matters,
I want nothing to do with death.
If we weren't unanimous
about keeping our lives so much in motion,
if we could do nothing for once,
perhaps a great silence would
interrupt this sadness,
this never understanding ourselves
and threatening ourselves with death,
perhaps the earth is teaching us
when everything seems to be dead
and then everything is alive.
Now I will count to twelve
and you keep quiet and I'll go.
Wednesday December 12 2001
I'm late posting today. Customers kept calling up and wanting me to do work. That was inconsiderate of them!
Transportation Revolutions
Much ink, and many pixels, has been devoted to the Segway Human Transporter (SHT), formerly known as IT and Ginger. Check out their website and then check out another trasnportation revolution:
The War Against Some Terrorists
The ghost of Christmas future in the land of the free
HEY, GRANDMA! Are you home? I just picked up our new flag at the Wal-Mart Patriot Center. You want me to take down the old one?
"Bless your heart, Bobby. What would I do without you? It's been so long since I could afford my arthritis medicine, I can't even pull on the flagpole rope. And you know what trouble I'd be in if somebody passed by and reported us flagless. President-for-Life Bush made that a federal crime back in early- 2005, I believe."
[read more]
thanks to BookNotes
Bin Laden in Pakistan, source claims
Osama bin Laden escaped the embattled Tora Bora base to Pakistan 10 days ago with the help of tribesmen from the Ghilzi tribe, according to a firsthand account Wednesday by a senior Al Qaeda operative and Saudi financier. Abu Jaffar, who spoke from an Afghan village still sympathetic to Mr. bin Laden and his fighters, says that several days later, bin Laden sent his 19-year-old, married son Salah Uddin back to act on his behalf. He is now the only bin Laden family member inside the Tora Bora terror base.
[read more]
thanks to BookNotes
I guess we will be invading Pakistan next...wait! We alread have. Pakistan is now a wholly owned US subisdary. Now what!?
What do Somalia, Yemen, Sudan, the Philippines, Iraq, and Garden Grove and Long Beach, California have in common? They all appear to be harboring terrorists of one stripe or another. If President Bush is steadfast in his belief that "if they [countries] fund a terrorist, they're a terrorist. If they house terrorists, they're terrorists," look out California!
(...)
Garden Grove? Long Beach? Home to terrorists? That's right. During the past year, Time magazine and several other mainstream publications have identified organizations -- with home offices in the Golden State -- that are plotting coups, planting bombs in other countries and raising money for more of these activities. And they're not your usual Cuban exile groups.
Two organizations -- the Long Beach-based Cambodian Freedom Fighters (CFF), and the Garden Grove-based Government of Free Vietnam (GFV) -- are finally drawing some attention from the U.S. government these days.
[read more]
By Any Standard, This is a War Against Afghans
The bombing of Afghanistan by the United States is being reported in the press as "The War Against Terrorism". That war was never initiated by ordinary Afghans whom we are reportedly saving from terrorism (and yes, they are certainly the victims of Taliban and Mujahadeen terrorism). Even American citizens were not included via their congressional representatives, to decide if the US should initiate a war in Afghanistan. It was an executive decision, made with only the justification that it was a War Against Evil, a War Against Terrorism. Let's call it what it is, not a War Against Terrorism, but a War Against Afghans.
[read more]
Eight Weeks in Jail: Life on Ashcroft's Enemies List
Demotivation
"Whether you're a pessimist, underachiever or a chronic failure, I personally offer my unconditional* guarantee that Demotivators™ will truly inspire you to new lows!
E.L. Kersten, Ph.D.
Founder and COO

* some conditions apply.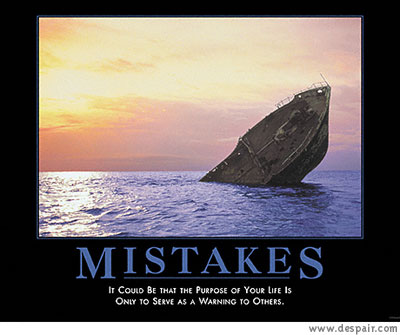 [read more]
thanks to Progressive Review
Insults
When only the worst is good enough.
You scullion! You rampallian! You fustilarian! I'll tickle your catastrophe!
Thy food is such as hath been belch'd upon by infected lungs.
[read more]
thanks to Progressive Review
Global Economy
Shirts Off Their Backs
The Global Economy, as Told Through a Tee
You don't have to be Marx to see capitalism's contradictions surging from the surface of a shirt with "God Bless America" on the chest and "Made in Honduras" on the label. The contradictions only glared more garishly when President Bush urged us to express our patriotism—and celebrate "our way of life"—by going shopping. That relatively comfy way of life depends, of course, on the accessibility—the cheapness—of consumer goods. Even as the wages of the middle and working classes decline (while the wealthy rake in ever more riches), we still have to be able to afford fancy sneakers and trendy clothes, DVDs and MP3s, SUVs and the gas they guzzle.
About 85 percent of all clothes Americans buy are made overseas, a market valued at some $260 billion a year, according to the textile and garment workers union UNITE. The apparel industry, though hardly unique, offers the baldest example of how companies push consumer prices down—and profits up—by perpetually decreasing their most controllable cost of production: labor. According to a National Labor Committee investigation, labor costs can represent as little as two-tenths of one percent of the $14.89 price tag on a shirt made in El Salvador. That is, the worker gets three cents.
(...)
That's pretty much the case in the entire industry, anti-sweatshop advocates say, including in the U.S., where a mostly immigrant workforce slogs away in urban factories not much different from the ones back home. Garment shops that do uphold labor standards—like the Athletic Cap Company in Brooklyn—can't stay afloat unless they find a niche willing to pay for treating the workers like human beings. Co-owner Artie Farkas, who does a lot of business with unions, says a cap that costs him $2.50 to make costs 80 cents to make in China. Despite his intense post-9-11 emotions, he says, "I didn't even think about making caps with American flags. How could I compete?"
[read more]
The War Against Some Terrorists
How We Lost Afghanistan
Fighting Terror on $1 Billion a Month
by Ted Rall
Powell loses power over Pentagon
Let Them Eat Teddy Bears
U.S. Watches Afghans Sink Into Starvation
Everyday Life in Afghanistan
by Ted Rall
3,500 Civilians Killed in Afghanistan by U.S. Bombs
Everybody's Got Their Own Terrorist
Israel/Palestine
Prisoners of Their Pasts: Arafat, Sharon Battle On
Hamstrung Palestinian, defiant Israeli show little vision for peace, experts say.
Old Hanukkah Story Irrelevant and Dangerous
Irony lives
Sweatshop Stars and Stripes
How Chinese communism is profiting from America's post-Sept. 11 love affair with the flag.

Israel/Palestine
A couple of links from Ethel the Blog
Analysis / Arafat's nightmare: Israel bombs the jails
Yasser Arafat and his security services are afraid that Israel will bomb the prison facilities where arrested Hamas and Islamic Jihad suspects are being held. They have long been aware of the growing bitterness and alienation in the West Bank and Gaza toward the leadership, and if the prisoners are killed in an Israeli attack, Arafat and his men will be immediately blamed for it. The Palestinian street will also be suspicious of collusion among Arafat, the Israelis and Americans to eliminate the intifada activists now being held in Palestinian Authority jails.
Last night, there were reports that the PA security forces had halted their sweep as a result of the Israeli attacks. A Palestinian security source said that a group of Hamas prisoners in Nablus were transferred to a safe place, for fear that Israel would bomb the prison, just as it bombed the old Nablus prison in an attempt to kill Mahmoud Abu Hanoud.
[read more]
The war they wanted
Isreal stoked the anti-Islamic fire to secure U.S. support
Alex Fishman is the main commentator on security matters for Israel's largest mass circulation paper, Yediot Achronot, a publication with right-of-center politics. Fishman is known for his excellent contacts in the military. On Sunday, Nov. 25, Fishman issued a prediction based on the recent assassination on Nov. 23 by Israel's security services of the Hamas leader, Mahmud Abu Hunud. It was featured in a box on the newspaper's front page.
It began, "We again find ourselves preparing with dread for a new mass terrorist attack within the Green Line (Israel's pre-'67 border)." Since Fishman was entirely accurate in this regard, we should mark closely what he wrote next. "Whoever gave a green light to this act of liquidation knew full well that he is thereby shattering in one blow the gentleman's agreement between Hamas and the Palestinian Authority; under that agreement, Hamas was to avoid in the near future suicide bombings inside the Green Line, of the kind perpetrated at the Dolphinarium (discotheque in Tel-Aviv)."
Fishman stated flatly that such an agreement did exist, even if neither the Palestinian Authority nor Hamas would admit it in public. "It is a fact," he continued, "that, while the security services did accumulate repeated warnings of planned Hamas terrorist attacks within the Green Line, these did not materialize. That cannot be attributed solely to the Shabak's impressive success in intercepting the suicide bombers and their controllers. Rather, the respective leaderships of the Palestinian Authority and Hamas came to the understanding that it would be better not to play into Israel's hands by mass attacks on its population centers."
In other words, Arafat had managed to convince Hamas to curb its suicide bombers. This understanding was shattered by the assassination of Abu Hunud. "Whoever decided upon the liquidation of Abu Hunud," Fishman continued, "knew in advance that that would be the price. The subject was extensively discussed both by Israel's military echelon and its political one, before it was decided to carry out the liquidation. Now, the security bodies assume that Hamas will embark on a concerted effort to carry out suicide bombings, and preparations are made accordingly."
[read more]
Let's see...Hamas isn't sending in the bombers because of an agreement with Arafat and Israel knows this. Israel murders a Hamas leader knowing it would provoke Hamas into sending the bombers in. Then Israel blames Arafat for the Hamas bombers. Israel then can send in the F-16s and tanks with impunity. What a con game. Who is the real terrorist?
Let's not forget that Ha'aretz, as linked to earlier, reported that Israel tried to kill the same Hamas leader when he had been in a Palestinian jail for 9 months but only succeeded in freeing him.

Beaver Report - Day 16
Your intrepid beaver reporter ventured out in the dreary Northwest rain to bring you these exciting pictures.
Our beaver buddy went all out this morning (or it might have been last night.) He even did some more chewing on the front of the tree in the upper left picture. (For the purposes of this investigation, the house side is considered the front and the lake side is considered the back.) The side pictures show a lot of work done and the back picture (lower right) shows a complete circling of the tree for the first time. A day's work (Or was it a night's work?) well done! This beaver is finally living up to the adage busy as a beaver. He seems to be in a final sprint to the finish! Time will tell.
Enron - Fraud, Our Most Important Product
Dan Gillmor's entry Sunday, Enron and Corporate Hide-and-Seek, has some good links that are worth repeating.
Companies need to be kept in check
BY Dan Gillmor
Molly Ivins: Tossing out Enron's dirty laundry
The Dangers Behind a Leap of Faith
Taliban R Us
Crusading for a Christian nation
It was a carefully crafted scene that is being played out across the nation as Christian conservatives, energized by the spiritual revival brought on by the Sept. 11 terrorist attacks, campaign to post the 10 Commandments in public buildings throughout the country. The biblical laws, which some Christians insist should be established as American doctrine, have become a weapon in a long-standing battle to erase the line separating church and state.
In what some experts say is developing into one of the biggest 1st Amendment challenges in decades, Christian conservatives have declared war on civil libertarians for the soul of America. A grass-roots movement that began three years ago in the Bible Belt South has intensified in recent months, with dozens of efforts under way to defy U.S. Supreme Court rulings prohibiting school prayer and the placement of religious symbols in public buildings.
[read more]
Anyone read Margaret Atwood's The Handmaid's Tale? It get's scarier all the time.

AMAZING NEW "SEGWAY HUMAN TRANSPORTER" APPARENTLY NOT CHECKED FOR ACRONYM
Honestly, We're Not Making This SHT Up
thanks to AlterNet
The War Against Some Terrorists
Selective Justice
The US Has Been Sponsoring Terror in My Native Latin America for Decades
by Bianca Jagger
Lots of wars on terror
The Bush doctrine is now a template for conflicts worldwide: to every action a disproportionate response
The Failure of War
by Wendell Berry
thanks to RageBoy
Israel/Palestine
Hamas supporters clash with Palestinian police
Police defy Arafat call for arrests
Israeli Fires on Gaza City
thanks to Robot Wisdom

Photoshop Tennis
A hush falls over the small crowd of spectators. Minutes tick slowly by. Suddenly, a player volleys.
The announcer cries out, "Rush has ditched his first direction and turned around with a colored filter, practically obliterating the layers underneath."
Welcome to Photoshop tennis, an online contest in which the players are Web designers, a Photoshop document is the ball, and a send button is the racquet.
[read more]
Rules of the Game
It's a pretty simple idea really. One player emails a photoshop document to the other containing a single layer. Each player progressively adds a layer until the match is over, either by time, withdrawal or mutual consent. A guest adds comments in real time and the people watching vote for a winner
[read more]
The above site has the results of previous games but it was a game of amateur photoshop tennis that I found first, this morning, that got me laughing. Part of the success of the game seems to be the quality of the running commentary.
The following game of amateur photoshop tennis is between Jim and Noah. The commentary is by PhotoDude. I'm not sure they followed the above rules strictly but it was a very satisfying game.
Ladies and gentlemen...(cue the drum roll)...Jim versus Noah Grey.
The Jim versus Noah Gray game is one of 6 games of Underground Photoshop Tennis hosted by JimFormation.com.
FOLLOW THE BOUNCING SYLLOGISM
1. Aiding terrorists is a crime, perhaps punishable by death
2. George Bush and his chief cleric, John Ashcroft, get to decide who is a terrorist.
3. Ashcroft told a congressional hearing, "To those who scare peace-loving people with phantoms of lost liberty, my message is this: Your tactics only aid terrorists."
thanks to Progressive Review