War Around
the World

North Africa / Middle East
02-22-44
page 3
Feb 17
Shove off at 0800 with Syrian guide to see what we may of Damascus. Drive to the great mosque of Omayad. Stand amazed in the vast court surrounded with handsome colonnade, with the bell tower carrying up the warm yellows and reds of the arches and columns against the cloud-filled sky. Bits of early mosaics still cling to the upper walls and in a number of places they fan out above the capitals of the columns in a mist beautifully satisfactory pattern.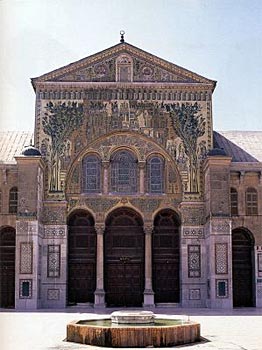 The tremendous interior was ravaged by a. set fire some years ago, is vast cold and empty, save for a few fragments of fine decoration and small sections of the original ceiling.
To "The Street Called Straight," the oldest in the world, in the world's oldest city. Destroyed by the French and. rebuilt.
Gate to The Street Called Straight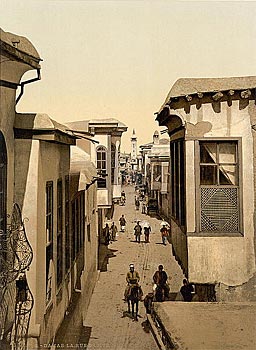 The Street Called Straight
To underground church of Ananias, a dismal vaulted cave, the little altar and the adjoining smaller crypt where he lived.
Church of Ananias
Detour at Zahle for Ba'albek, thirty miles away.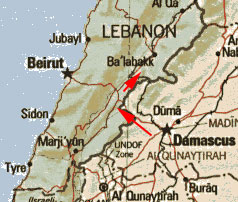 At last here they are, that unsupported row of Roman temple columns, standing like sentinels against the dark cold wind-swept sky.
The temple of Jupiter, as I look aloft up the warm, rich surface of the majestic pillars to the fins free carving of the cornice, the whole great mass moves intact downward under the illusion of the racing sky, just as the stone George Washington used to do atop his tall column in Baltimore, when I was a boy.
George Washington, Baltimore
We walk like pygmies through the tremendous portal of the temple to Bacchus.
It is now 1530. We have come over the Anti-Lebanon Mountains from Damascus to this howling valley of the winds.
The narrow streets of Beirut, a very little tram with French school children climbing over the tailboard of the back platform, passing up their books.