War Around
the World

North Africa / Middle East
03-14-44
page 2
March 05
Get word from Colonel McDonald that he and I will fly to New Delhi at 1230 in C-48 staff ship, with upholstered seats! Rest of shipmates must wait for night flight, because of shortage of ships due to what's cooking in Burma.
The C-48 was the same as the C-47 except that it had originally been a commercial airliner and had comfortable seats.
Temperature in plane 120° from sitting in sun. Take off 1335 and head out over Great Indian Desert. The only green thing is the drab olive of the plane's wing.
The surface and the villages scattered over it appear to be models a few feet below us, just like a Bel Geddes layout at the New York World's Fair.
The 1939 General Motor's "Futurama" Building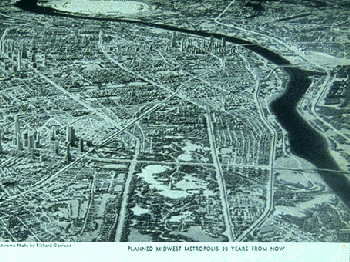 We bank over the bright town, shoot over the field and land at New Delhi, at 1730. Our voyage of 3100 miles is ended, and old dusty Cairo seems years ago.