Doris MacLaughlin Coale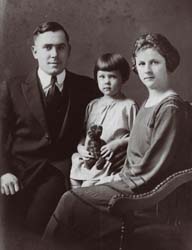 The gentleman is my Grandfather, Millard D. MacLaughlin, born in 1896. The women is my Grandmother, Marie, born in 1899. The girl is my mother, Doris, born in 1920.
I am doing an oral history of my mother. These are her stories and pictures. This will be continually updated.
There are things that I've thought about that wouldn't happen nowadays.
Please enter your comments about all this in Doris's guestbook. These comments will be passed on to my mother. You will need to fill out "Your name" and the comments for it to work. Thanks! Or straight on to the guestbook.