Millard and Marie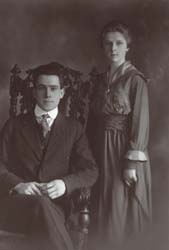 "Well, Nanna and Grandpa were married on March 20, 1918. From the looks she looks more like she's 16 than 18. I think this was taken before Dad went overseas. Before he went into the military because he looks very young and so does she. She looks like a little girl".- Doris
Question:
How did your parents meet?
Doris:
At a basketball game. At a basketball game in Brewer. I don't think Grandpa was playing. I think he was in the audience. They were upstairs, or something. And three or four girls from Bangor High walked in. And there was a blonde girl. And he looked at her. And he looked at her awhile and said [in a whisper] "I'm going to marry that girl". And he did.
It was strange, I don't know. They got married in 1918. Dad was stationed at, I think it was Love Field, Texas. And he came back on a furlough. And they got their... they had to wait three days for a marriage license. So they went up and got a marriage license. And then, it was a Wednesday night, and they went all over town. The Methodist's were having a Wednesday night prayer meeting. Everyone was busy except the Episcopalians, well the Episcopal minister. So he was the one who married them.
So then they walked out to the train station, no they walked down to downtown Bangor and went into Sweet's Drugstore and had an ice cream soda. [pause, softly crying] Then he got on a train and went back to Love Field.
Then later on, that summer, my Grandmother was going down to New York City and she asked Mother to go to. And I think Janet, and I think Jean, went down too. And they stayed with Uncle Rob, Jean's father, down in, uh, its a little north of New York City.
And so of course everybody knew that this was, in fact, Mother and Dad's honeymoon. So, nothing was said. But Dad had come in from the field out on Long Island. And he hadn't brought any clothes with him, or anything, so Uncle Rob sort of on the sly said "Millard here's a pair of pajamas for you."
So Mother was so embarrassed to be undressing so she put on a BIG BIG nightgown over her clothes and then she got undressed underneath. And so my Dad went into the bathroom and he came out. And I don't know where Uncle Rob got them, but they were all ruffles. Around the neck. Around the sleeves. Around the bottom. [laughs]
And that was their wedding night.